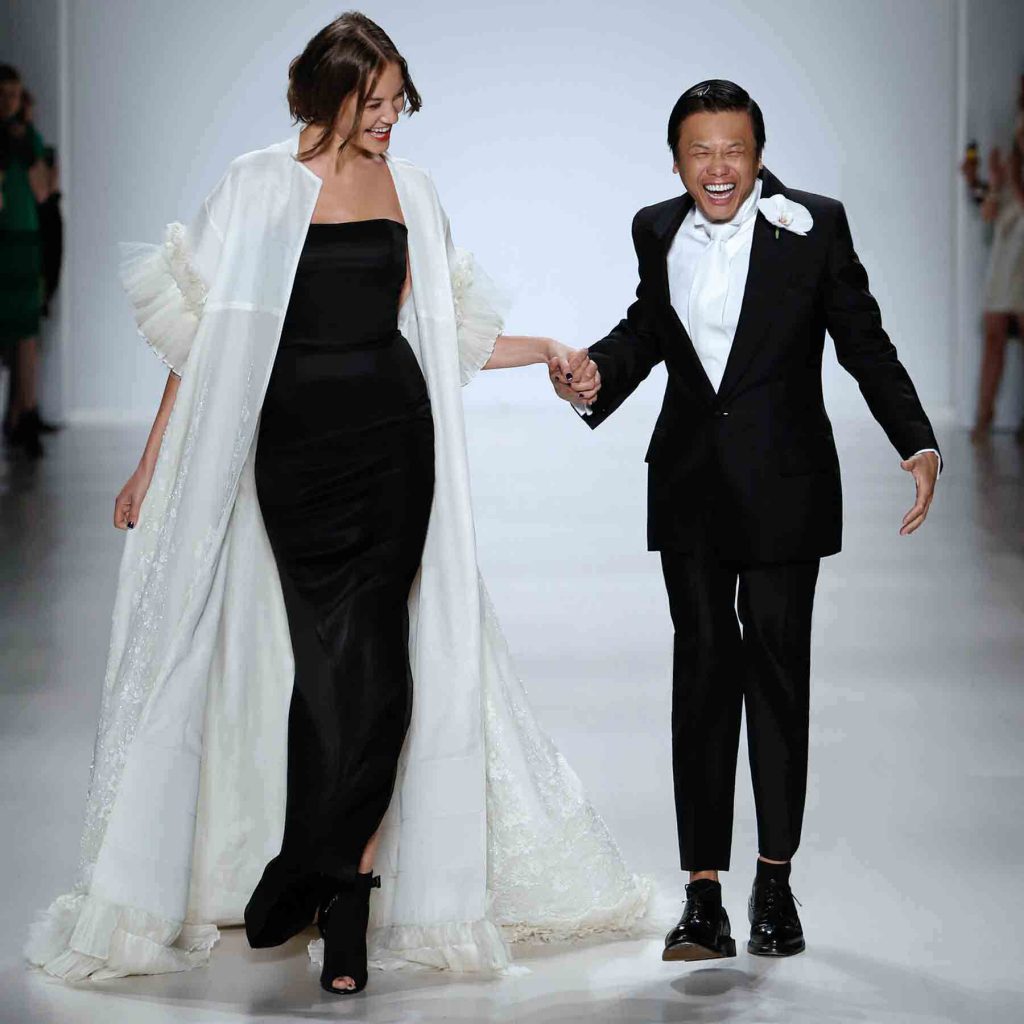 Zang Toi at his Spring/Summer '15 Show
5AM If I'm travelling for trunk shows I have to leave for the airport by now, as my assistant likes to book me on early-morning flights. Otherwise if I'm in New York, I wake up just past nine.
9AM The first thing I do is check my e-mails. My inbox is usually flooded overnight. Not really a big breakfast person, I like to have a big cup of freshly made black coffee by the window and some fresh fruits or seven-grain toast with French butter and jam. My apartment is filled with Louis XVI furniture and a François Linke bed – I collect French antiques, also paintings from my good friend and a very talented painter, Natasha Zupan. I even commissioned her to paint a pair of life-sized Marie Antoinettes in my living room.
9.30AM My current favourite skincare brand is vBeauté. Its products are amazing! Julie Macklowe, who is a good friend and founder of vBeauté, introduced it to me. Organic and fragrance-free, I especially love the Eye Never anti-ageing eye cream and Lite Up skin-lightening serum. In the summer, I use the Day Job anti-ageing sun cream, which has SPF 30. I've since recommended vBeauté to my family and my ladies, and they all love it. Clothes-wise, I subscribe to a uniform. In the summer, I wear white exclusively and in the winter, it's black with a touch of charcoal grey – either a plain signature cotton velvet mini kilt, or a kilt with House of Toi crest embroidery, with cashmere tights, bamboo T-shirt, and a cashmere cardigan. For black-tie events, I wear my Loro Piana cashmere or black velvet dinner suit with Charvet's tuxedo shirt and tie, fresh white Phalaenopsis boutonnière, and custom JM Weston wingtips. And when I feel uber luxurious, I put on my broadtail coat with hand-beaded "T" crest lining and Hermès alligator gloves.
10.30AM Typically it takes me an hour or so to get ready in the mornings. The last thing I put on before I head out the door are my Cartier ankle bracelet (my good luck charm) and white Tahitian South Sea pearl cufflinks. I walk from my apartment on 75th Street along Madison Avenue to my atelier on 48th Street. Usually I have my face buried in my BlackBerry, returning e-mails and calling the office as I go.
11AM I have a cup of soy latte at the office before diving straight into work. I go over a list of to-dos and notes I sent out the previous night with my assistants, whom I call the HOT (House of Toi) Angels. Regular days see us looking at fabric swatches for the upcoming collections, meeting with representatives from mills, visiting fabric showrooms, doing fittings with clients or working with my office and production manager. I travel eight out of 12 months in a year, so my appointments are scheduled back-to-back whenever I am in New York, and my time is entirely dedicated to my devoted team. My next travel destination is Venice, one of my favourite cities in the world. I never really get to take a vacation, though. It is more of a work holiday. Currently I am putting the finishing touches on my Autumn/Winter '15 collection that was inspired by the mystic beauty of Venice, to be showcased at New York Fashion Week. Personally, I've always felt that after-parties are a bit self-indulgent, so I am planning a small exhibition in my new atelier after the show to showcase Michael Turek's work. He is a very talented young photographer, and all the proceeds from the sale of the photographs will go to The Human Rights Foundation. I am very excited to be doing this to promote a young talent and support a meaningful cause. With Spring/Summer '15, we celebrated our 25th anniversary – something I'm extremely proud of. I'm humbled to be able to represent Malaysia on the international fashion scene. I recognise that I'm very fortunate and am very grateful to all the people who have helped me over the past 25 years. One of the proudest moments in my career was when I was knighted by the king of Malaysia. Coming from a small village, that was a huge recognition and validation, and I was delighted to be able to share it with my parents and family. For my Spring/Summer '15 collection, I wanted to pay homage to America, my adopted home. I first came to the States 33 years ago with just USD300 in my pockets and founded House of Toi in 1989. Now, I am truly living the American Dream. On the other hand, the orchid motif you see in the collection is to pay tribute to Malaysia, which has been so kind to and supportive of me over the years. I featured orchids in my first Spring collection, and it felt appropriate to reintroduce it in my 25th Anniversary collection. Also, I reissued the jacket from my Spring 1990 collection (that put me on the fashion map) with silver orchid buttons. Fashion has definitely become much more fast-paced from when I started, but it has also become more accessible, especially with the aid of social media. I regularly tweet and use Facebook to connect with fans of the brand. I'm also on Instagram (@ZangToi). However, the downside to all this connectedness is that customers sometimes find it hard to digest fashion at this speed.
8PM After work I stop by the gym for 30 minutes on the treadmill and 30 minutes on the elliptical. I also love Gyrotonic as it really opens up your body. Then, I walk home and cook myself dinner. I love cooking, especially Italian, Chinese, and Malaysian. I like to host small parties, usually an intimate party of six. If I'm heading out, I usually frequent Café Boulud and Sant Ambroeus for casual dinners. When entertaining clients, I go to Daniel. And for my own guilty pleasure, it's either Masa or Kurumazushi.
LATE I get ready for bed but bedtime rituals include reading the New York Post and Financial Times, sending notes to my Angels, and going through my inbox to make sure all e-mails have been responded to. I like to stay up late – when everyone is asleep, it is quiet and peaceful, and that is when all creative ideas come to me.