Zang Toi takes his latest creations to the next level in the Toi – The Dressmaker collection, fusing the designer's Malaysian heritage with state-of-the-art technology. Mysterious wayang kulit motifs are printed on luxurious taffeta, inspired by Toi's very own Spring/Summer '90 collection.
Going Digital
Where the traditional silk screening process is costly, labour-intensive, and requires a large minimum yardage, digital textile printing allows for fabric to be printed in remarkably small runs, with no design barriers while being environmentally friendly. Creativity is heightened to the nth degree: digital photography and even paintings can be embraced in this new process, allowing designers to produce unique, breathtaking creations.
The Collaboration
"Fun with technology has never been more fashionable," says Zang Toi of his latest collaboration with Epson. For the Japanese printing company, the chance to work with the designer became an opportunity to showcase the versatility of its range of SureColor digital textile printers that print on a variety of fabrics. Here, Epson's wide colour gamut allows for accuracy and vibrance, turning the designer's sketched visions into reality. Consider the life-like motifs of Toi's wayang kulit, which showcase even the most minute details. Subtle specks of gold are reflected against the vivid ochres, while detailed outlines reveal the mysterious visage of traditional Malaysian art. Says Toi, "It's just amazing that the machine uses the silk-screen technique, but works more like a photocopy machine. On my experience, it complements the fashion industry, and hopefully will eventually cater to the couture market, too."
The Technology
Taking centre stage for Epson's range of digital printers are its Micro Piezo and PrecisionCore technology. Unlike conventional thermal inkjet systems, the Micro Piezo printheads eject droplets of ink via mechanical pressure and do not use heat, making it compatible with a mélange of inks and mediums. Epson F-Series dye-sublimation printers use Epson UltraChrome DS, a specially formulated ink that produces outstanding images with vibrant colours, intense blacks, sharp contours, and smooth gradations. This all-new ink technology exhibits excellent light and wash fastness, as well as resistance to alkaline and acid perspiration.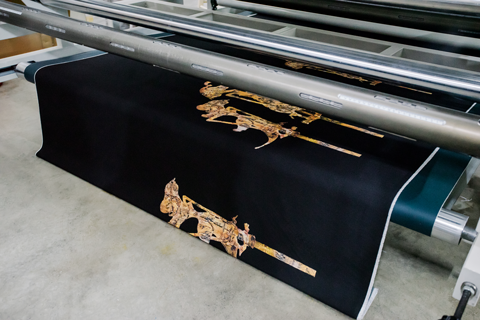 Did You Know?
Epson Ultrachrome DS Ink contributes to a healthy environment, and the 100 percent nickel-free formulation also makes the printed textile and garments certified safe for babies and toddlers up to 3 years old, in accordance with the Oeko-Tex standard 100 class 1 criteria.