ARIES March 21 – April 20
Refuse to get drawn into heated discussions. A run-in between the Sun and Pluto gets April off to a fiery start. So even if faced with a choice between everyday obligations and a chance to indulge yourself, don't worry – you'll find a way of handling both and you'll have nothing to apologise for.
Mantra of the month Darkness and night are mothers of thought.   
TAURUS April 21 – May 21
Your ideas will go down well, especially if you're changing your routine radically. However, there are always people who feel they have to object, on principle. Make it clear you won't be undermined. You'll be too busy looking after your own interests.
Mantra of the month Don't expect both ends of the sugar cane to be sweet.   
GEMINI May 22 – June 21
Study your track record and decide what the next phase should entail. This doesn't indicate a painful break or new direction, but it does point to a reassessment of how your life's taking shape. Hopefully, you're not far off.
Mantra of the month You cannot gather roses if you're terrified of thorns.
CANCER June 22 – July 23
You mustn't let every comment or criticism shatter your confidence. The Sun's positive connection with Jupiter on April 2 should remind you and others that it's largely your efforts that have brought some telling chapters to a successful conclusion.
Mantra of the month When you chase two rabbits both get away. 
LEO July 24 – August 23
A breakthrough in tricky negotiations will encourage you to approach them with renewed vigour. Even puzzling areas can be clarified. Learn how to combat interference without appearing hostile. Save your energy for big developments around the corner.
Mantra of the month When lost, find a way or make one. 
VIRGO August 24 – September 23
Don't obsess about minor events or activities and miss out on the main thrust of what's going on. Your opinion counts for a lot. So let your sixth sense help you develop ideas that are more radical than your usual style might suggest.
Mantra of the month If you're wondering when to begin, it's almost too late.
LIBRA September 24 – October 23
You are ready to reveal your vulnerable side and also keen to show you're less acquisitive than it might seem. The Lunar Eclipse in your sign early in April won't make you fragile or indecisive. But it will mean you're more perceptive than usual.
Mantra of the month Honour that is lost never returns.
SCORPIO October 24 – November 22
You're encouraged to do what suits you although there will be those who think you're rather self-centred. If even simple things seem unnecessarily complicated, rely on your intuition to tell you when to keep a low profile and who to avoid.
Mantra of the month Better to bend far than break. 
SAGITTARIUS November 23 – December 21
Faraway places or romantic episodes will appeal so your attention is being drawn to the ease with which others escape. You wouldn't ever abrogate your responsibilities entirely but you can dream and open up long overdue discussions.
Mantra of the month A bargain is something you don't need, at a price you can't resist. 
CAPRICORN December 22 – January 20
Suggestions from colleagues or friends may seem to work against you. Listen to what's being said. Try to see how important it is to trust those close by and not to see every new development as a threat. As support grows, minor discrepancies are irrelevant.
Mantra of the month Don't wait for your ship to come in – row out to meet it.
AQUARIUS January 21 – February 19
Although conversations are peppered with talk of a richer lifestyle, you're secretly devoted to everyday situations. Home is where they understand you and the source of your greatest happiness is close by. That doesn't mean life cannot be an adventure.
Mantra of the month An ounce of discretion is worth a pound of wit. 
PISCES February 20 – March 20
Go along with unexpected professional or financial developments, but don't let them distract you from worthwhile experiences. Don't push yourself just because people demand more of you, or assume anything left undone falls within your remit.
Mantra of the month Adversity introduces you to yourself.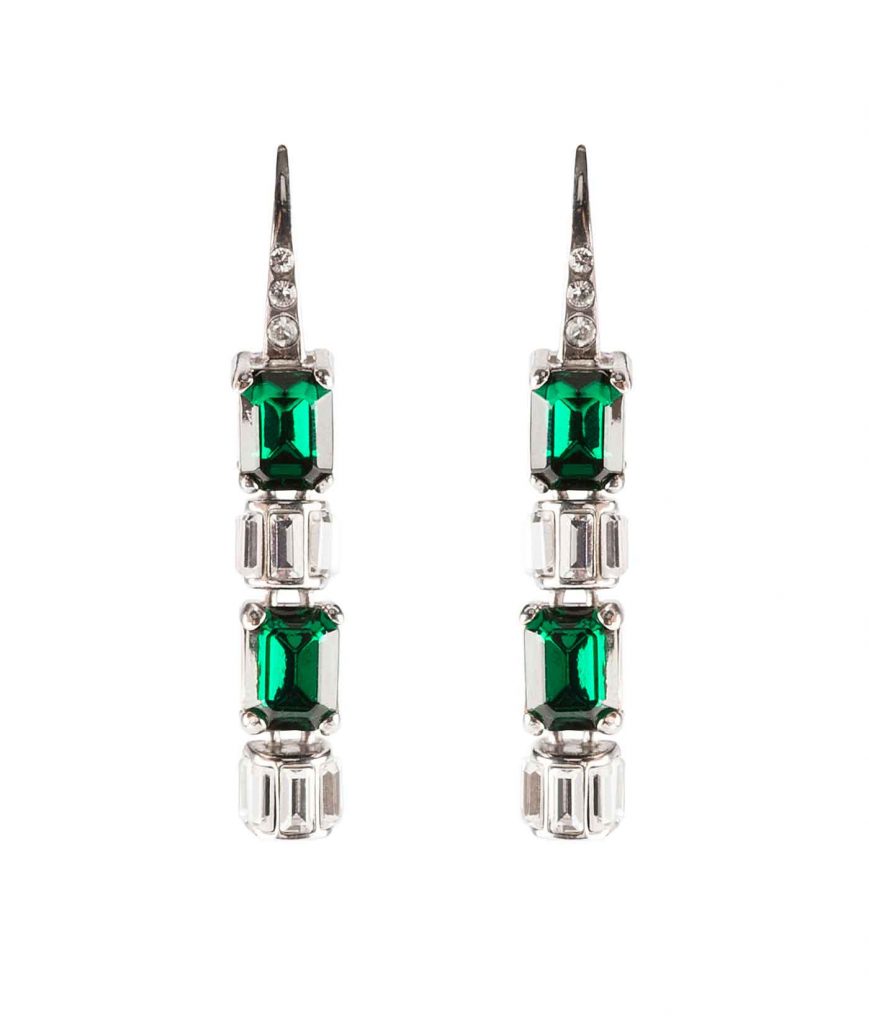 Earrings, Prada