Since the birth of the first Harper's BAZAAR Pink Project in 2008, BAZAAR has delved into a subject that was once considered taboo, and has pledged to raise breast cancer awareness in one way or another. From collaborating with Nick Munro, award-winning British designer and pewter collaborator at Royal Selangor, to an exclusive pink T-shirt partnership with LA fashion label, T-Bags, the message of courage over adversity has never been stronger. Ten years later, and the conversation continues as BAZAAR turns to some of Malaysia's most prominent fashion designers to be a part of a project that's dear to our hearts. The result is nine exclusive pink merchandise, from pearl-studded ribbons to batik-inspired tote bags in a show of solidarity and a symbol of empowerment. With proceeds going to Breast Cancer Foundation, BAZAAR invites all women of strength and character to join us on our journey of highlighting breast cancer awareness through our series of fashionable images, which capture the essence of pride, love, and life. With each turn of the page, remember: wear a ribbon, make a difference.
BAZAAR has also teamed up with some of the swankiest places to have tea in Kuala Lumpur where you can get your very own BAZAAR Afternoon Tea Set for 2. Join us in raising breast cancer awareness by tucking into some sweet treats and sipping on great coffee:
Tedboy Bakery
https://www.instagram.com/p/BKKFkXpBXWz/?taken-by=tedboybakery
Tedboy serves only the highest quality products on their shelves by serving wholesome goodness goods, bread and pastry free from preservatives and additives. As Ted (the little boy) and the bakery grew they promised to emphasize on serving fresh ingredients, homemade recipes and healthy drinks every day to their customers. Tedboy Bakery not only produces good and healthy food and drinks, but they continuously contribute to the society by donating unsold bread & pastries to charity homes. This is a gesture that they hope will touch peoples' lives.

Part of the proceeds of the afternoon tea set by Tedboy Bakery in collaboration with the BAZAAR Pink Project 2017 will be channelled  to the Breast Cancer Foundation.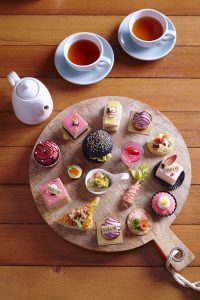 A delightful afternoon tea for 2 consisting of sweet raspberry and strawberry themed desserts, mini juicy chicken burger bites and salmon cheese canapes
The afternoon tea set is made available in the month of October at;
Tedboy Bakery (Bangsar Outlet)
No. 10, Jalan Telawi 4, Bangsar Baru, 59100 Kuala Lumpur
Saturdays & Sundays : 2pm – 6pm

Tedboy Bakery (Petaling Jaya Outlet)
Level G, The School Jaya One, No. 72A, Jalan Universiti, Seksyen 13, 46200 Petaling Jaya, Selangor
Saturdays & Sundays : 2pm – 6pm
*Price per set is RM89 NETT serves 2 pax
(The first 20 early birds at each Tedboy outlet will receive two limited edition designer pink ribbons)
Facebook: facebook.com/tedboybakery
Instagram: @tedboybakery
Website: www.tedboy.com
#TedboyxBAZAAR #Tedboy #BAZAARPinkProject2017 #HARPERSBAZAARMY