In a veritable melting pot that is Berlin, cuisine really is the culture.  Armed with @berlinfoodstories and Google Maps, we had the best currywurst (Curry 36), doner kebab (Imren "the doner kebab unicorn") and gelato (Rosa Canina's Raspberry with Basil) -- we could say "in the world". After perusing the Top 10 of street food, we were ready for some serious dining. Of course, in this German anomaly, you'd have the best Spanish food in the former Royal Danish embassy, now the fabulous designer Hotel Das Stue, of ubercool Patricia Urquiola interiors and animal-themed accoutrements, inspired by its neighbour, the famous Berlin Zoo. So diverse is this eclectic scene that the feature décor at Cinco is a magnificent ceiling of hanging copper pots …
Catalan chef Paco Pérez named his gorgeous German outpost after his fifth Michelin star, combined with his 2-star family-owned seaside restaurant Miramar that dates back to 1939, at Llanca off the coast of Girona, and the 2-star Enoteca at the Hotel Arts in Barcelona. When Cinco opened in 201X it immediately got the trademark star of approval for its progressive Mediterranean cuisine. "It belongs to all of us," he says humbly of his success, citing his team, his family, who work hard every day to create his cuisine of "beautiful things".
Perez's nine-course "Gran Viaje", he says, "is a journey through the Mediterranean Sea" within another journey that is Berlin. "We wanted to show our point of view of the Mediterranean in displacement to Berlin, and concretely to the Das Stue Hotel," he defines. We opened this sea-in-city adventure with molecular-inspired snacks that ranged from hydrogenated vegetarian sandwiches to a liquidated Ceasar salad, and fresh razor clams versus hot fried octopus, each abstracted from the track of traditional tapas.
Within the unconventional textures, deep flavours, and Catalan play of colour-and-light, was a sea of deliciousness: marinated tuna in roasted juice freshened up with neon balls of salmon roe; peas prepared three ways as a twist on the classic; sweetly pungent calamari tartar and truffle shaving floating about a consommé of button mushrooms. Fans of the ubiquitous uni pasta would behold Perez's nouvelle sea cucumber carbonara, dramatically illuminated with bright egg yolk from a Miro canvas, which altogether fumed with umaminess. My favourite? The sweetest red "carabinero" prawns served on a bed of creamy arroz meloso.
The wines were inspired accompaniments, where sommelier Janine Woltaire captured the story of each composition, while delivering scope, from our favourite, the Bernkasteler Doctor Riesling 2010, a lively bouquet with the marinated tuna, to the deeply complex T Amarela Parcela Valdemedel that was served with the exquisite pigeon and mole dish. "I always look for elegant and pure wines," says Woltaire. "Often they show a beautiful Mediterranean side with a salty and mineral finish, to represent Paco's cuisine and his connection to the sea."
Every dish roused our curiosity and awakened our senses, and yet were not so avant-garde that we had to "encounter" rather enjoy them, as we thoroughly did. There was intelligence in technique and art in the plating, but always with underlying clean tastes, and a dash of familiarity right to the end. Comfort dessert was composed with whimsy and novel touches. A slice of the best brie in a hydrogenated sandwich.  Red fruits, some fresh, some dehydrated sheets, with smoked sheep milk ice cream. "We always play with our imagination, like a child, and translate that into a dish. But we think when we cook," says Perez on this four-hour "grand journey" could only come from the imagination and intelligence, right through the heart, with the artist's hand of Paco Perez.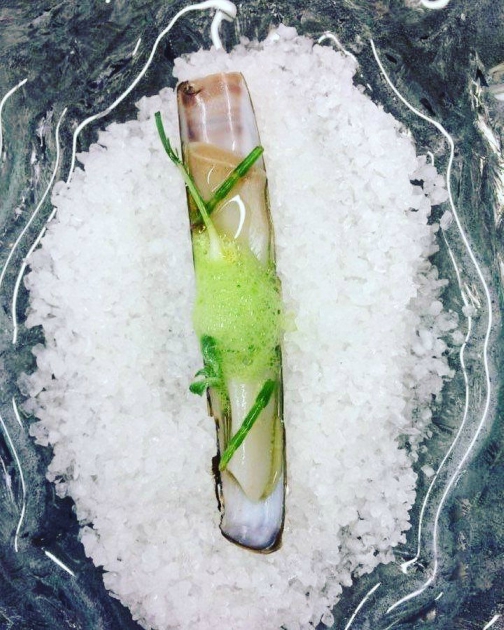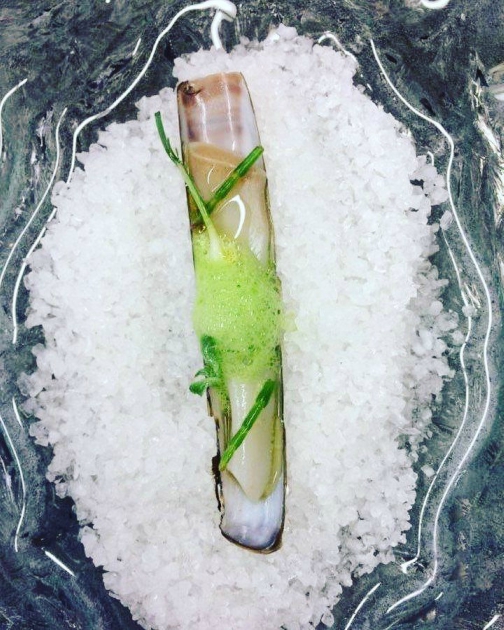 Razor Clam Tapa