Shareen Ramli is the modern day embodiment of your every woman. She has a candid sense of wit and candour that is refreshing and quite simply, joyful. Not only does she possess the powerhouse talent as a singer but as an equally exceptional performer. A performer who can hold and control the attention of her audience with arresting showmanship.
On Saturday, 13 August 2016, Shareen is treating the city with an indulgent evening with a special show @ LiveHouseKL. An escapist occasion not to be missed.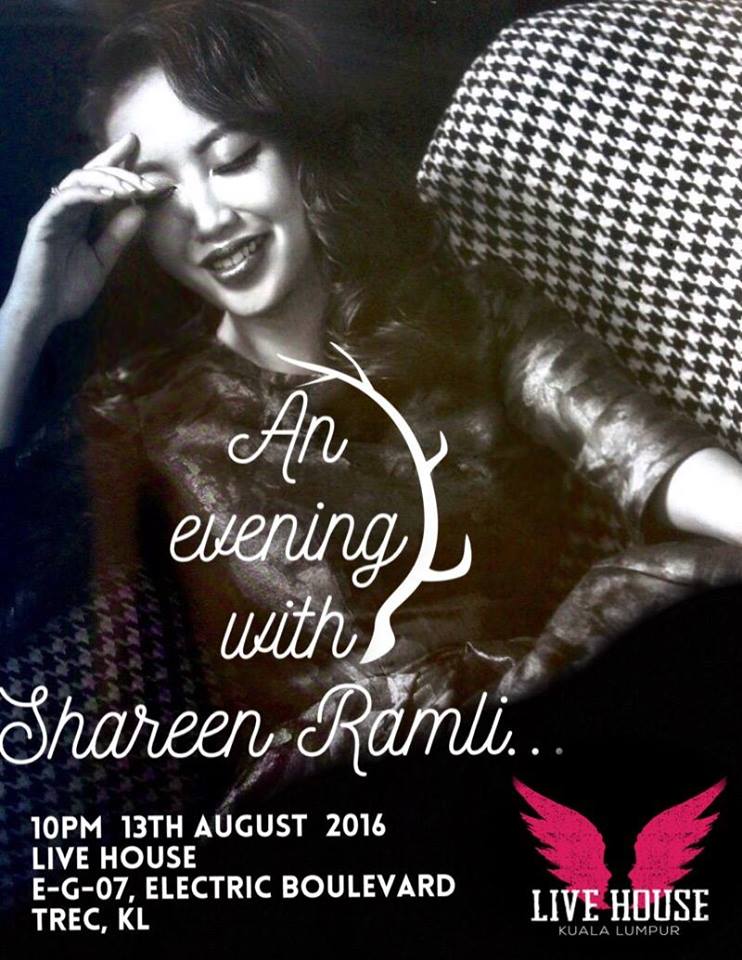 Your set on Saturday is inspired by…
and what can we expect?
I've had a long break from live shows, my health was getting compromised and my body needed some unscheduled TLC. I decided to celebrate my SELF this year, like stepping into another new phase, and when my friends at Live House suggested that Stella get her groove back, it was an immediate Lets Go. Thanks Steve, Russell, Joseph @ LiveHousekl

The set list will be a fresh one, lots of new songs I have not delivered before, a lot more soul, bluesy feel.

I had planned for me to come back with the guitar too, but I had an unfortunate accident and we will have to wait for my hand to heal and play the next show.
How do you curate a set list?
and how do you get into a groove of inspiration?
I have a list on my phone that is constantly updated whenever my heartstrings get pulled towards a song, be it from memory that just suddenly appears or something that I've just heard from my everyday.

I curate the set list from that list, and it's usually based on the kind of feeling I want to send out during the show. I'd imagine the arrangement and new form I want it to take and start drawing it up from there. Live versions are sometimes tricky, delivery is not usually how you imagine it on radio.

Routine? A cup of coffee, sandwich (crisp sandwiches are the best), and complete lock down with ear plugs on.
Having been in the industry for many years, how do you today measure success?
Success is a funny thing. It can drive you towards imbalance. Today, I measure it one day at a time, one show at a time. I have worked on my vocals a lot more this time for the show, so I hope it translates. It's more about me working on my self these days, so that would be my a triumph for me already.
Who is your dream duet partner?
and what song would you sing…
My dream duet partner has always been Eddie Vedder from Pearl Jam, for his unique tone and delivery (and possibly because he was my teenage crush haha). We'd probably have to do one of his songs from his 10 or versus album first. I'd pick Jeremy.

But recently I have added (please don't kill me) the older, huskier Justin Bieber. I'd like to do You're all I need to get by, the old Marvin Gaye and Tammi Terrell classic.
Most memorable moment on stage?
I have been so lucky to have been on stage the number of times I have done in the many years I've sung. There is a magic about being on stage that gives me a high, and the energy that I feel from the room. I'm always grateful for that wonderful energy I get from the people that come watch my shows.

I sang on the most beautiful stage designed for me on the beach of Four Seasons Langkawi 3-4 years ago. 7 nights consecutively I walked up that stage and sang to a new crowd. Thanks BMW. That was epic.

But I also sang a song once for my friends at CARIF for a special tribute night for those suffering from cancer. I had someone video my song Angel, for a kid that was a sufferer and could not make it to the show for obvious reasons but really wanted to see me sing. Cried buckets after. Yes I'm soppy.
One piece of advice you would give yourself 10 years ago?
It's okay to put yourself first sometimes. Cut out noise.
In the words of Shareen Ramli…
MUSIC IS… Mine, Groovy, Big. 
ART IS… Manic, Grounding, Bold. 
LOVE IS… Magic, Giddying, Bipolar. 
LIFE IS… Movement, Growth, Beautiful. 
Book your table for An Evening with Shareen Ramli