It is time to reconnect with yourself! Or create cherished moments with loved ones. Get creative and whip up the most unexpected dessert. Concoct the perfect caffeinated drink for the little house party, toast with a good cup of coffee while catching up on video calls with friends, or send a loved one a virtual beverage with heart-shaped coffee art. You choose!
The newly relaunched Nespresso Barista Creations flavoured coffee range is crafted to achieve the perfect balance between roasted coffee notes and sweet indulgence. You may choose to savour between these three signature step-by-steps of the delicious Vanilla Éclair, Caramel Crème Brulée or Cocoa Truffle.  Or create your very own coffee indulgence. These suggested recipes will surely inspire both you and your loved ones to awaken the barista within.
MAKE TIME FOR YOURSELF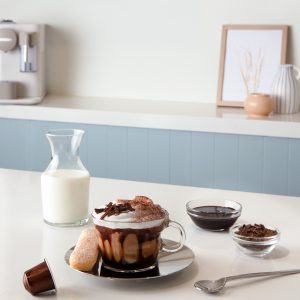 When you're having 'me time', what's better than a good book and a good cup of coffee in your hands? Unwind with our signature Dark Tiramisu Mocha recipe, featuring BARISTA CREATIONS' Cocoa Truffle. With dark cocoa meeting the cereal roasted notes of a Latin American Arabica espresso to inspire a richness reminiscent of dark chocolate truffle, this is truly the best combination for an ultimate relaxation session.
Ingredients:
Cailler Chocolate Powder
Dark Chocolate Sauce
Tiramisu Syrup
Milk
Preparation:
1. Drizzle 5ml of dark chocolate sauce at the side of VIEW Cappuccino Cup
2. Add 2.5ml of tiramisu syrup 3. Pour milk into Aeroccino Milk Frother to minimum level and prepare Cappuccino hot milk froth
4. Pour 40ml of milk into cup and fill the cup with 80 ml milk froth
5. Extract coffee 40ml of Cocoa Truffle coffee into the cup
6. Dust with cocoa powder or chocolate flakes