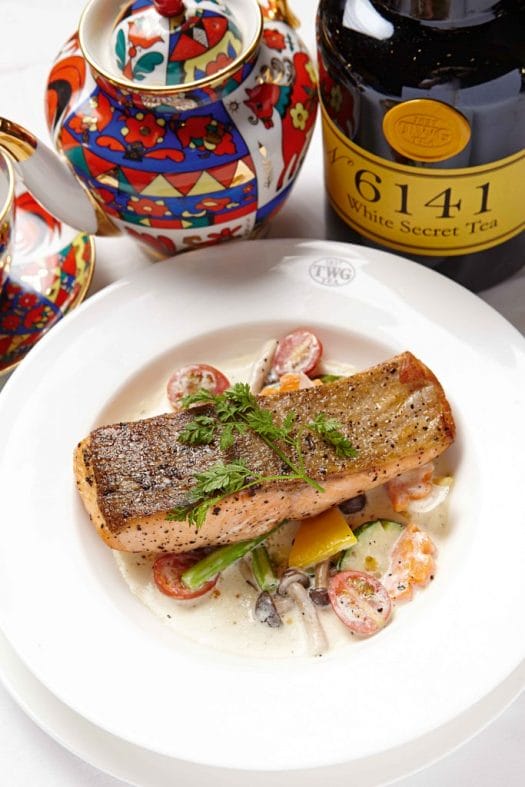 White Secret Tea and salmon pairing

White Secret Tea
A bouquet of summer fruits bursts onto the palate with the last notes of passion fruit left behind to refresh your taste buds. The White Secret Tea pairs beautifully with salmon, as it brings out the natural meaty flavours of the fish.
Maharajah Darjeeling Tea
The king of teas makes a magnificent combo with a hearty Wagyu beef burger. A luscious blend of mysterious spices blends wonderfully with the juicy tenderness of a Wagyu meat. The ultimate pairing of luxurious elements.
Silver Moon Tea
A popular choice for a lovely afternoon of desserts. When artfully doubled with a chic fruit tart of berries galore, a delicate sweetness of vanilla envelops the palate with a slight hint of spice. A splendid green tea to balance the sweetness of the tart.
Chocolate Earl Grey
Yes, what could be more brilliant than chocolate paired with chocolate? More chocolate, of course! In a world's first, the classic Earl Grey is given a revamp with the addition of pure dark chocolate. In a harmonious fusion, the bergamot and chocolate blend blissfully well and is best enjoyed with a creamy chocolate dessert.
Gyokuro Samurai Tea and salad pairing
Gyokuro Samurai Tea
The highest quality of green tea, the Gyokuro Samurai boasts a beautiful intoxicatingly sweet scent of fresh grass. Its hint of seaweed lingers on the palate with every sip. The tea was cultivated by the sea, hence elements of the ocean have been embedded into the tea leaves. It pairs perfectly with salads.
www.twgtea.com