Masterpiece London is a yearly event which brings together over 150 leading galleries worldwide, exhibiting the best of art, antiques and design. This year, the gallery with the most impressive jewellery collection was Symbolic and Chase, a gallery on London's prestigious Old Bond Street that specialises in exceptional jewellery and objets d'art.
Jewellery aficionados know the classics from the houses of Van Cleef & Arpels, Bulgari, Cartier and Buccellati but Sabba is the contemporary brand for budding collectors to know now. Alessandro Sabbatini established his own collection in 2013 after paying his dues at Cartier and the 28 year old has since made waves in the jewellery scene for his intricate yet delicate handmade jewels. Earrings are Sabbatini's forte – an element of movement is incorporated in every design, from the way the stones are set to the way in which the earrings perfectly frame the face.
Sabba is exclusively represented by FD Gallery in New York and Symbolic and Chase in London, with only 40 one of a kind pieces made a year. One of the exceptional Sabba pieces at the Symbolic and Chase stand were earrings designed to showcase a pair of stunning six carat cabochon Colombian emeralds, with clusters of brilliant-cut diamonds radiating from the stones.
Following the success of the 'Jewels By JAR' exhibition at the Metropolitan Museum of Art and after hearing so much about his work, it was a personal highlight to be able to see firsthand a piece by the discreet jeweller Joel Arthur Rosenthal. JAR is viewed by many as one of the most accomplished jewellery designers of the twentieth century but as only 70-80 pieces are made a year, pieces are predominantly bought from the JAR flagship store on Place Vendome in Paris or at auctions.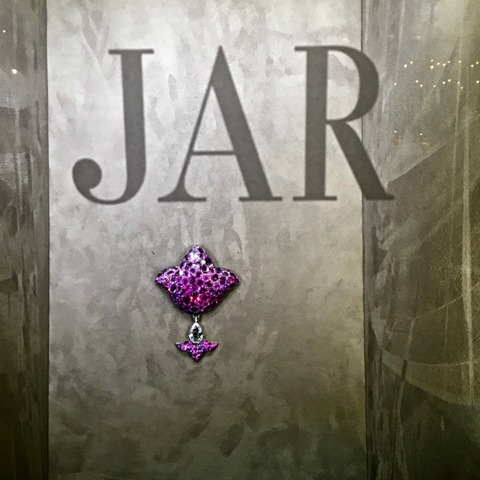 The JAR piece on display at Symbolic and Chase was a coloured sapphire brooch set using the pavé technique for which he is known for, featuring a pear shaped, D coloured and internally flawless seven carat diamond. The piece had sold but was on display for remaining days of Masterpiece. 
All in all, Symbolic and Chase should be on every jewel enthusiast's list of places to visit in London as the exquisite pieces for sale redefine the notion of wearable art.
Photography by Gemma Lim
Read more of BAZAAR's contributor, @GemLim on the Art world and beyond.