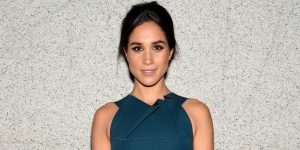 With Prince Harry and Meghan Markle now officially engaged, plenty of important questions are popping to mind. For example, where will they tie the knot? What will Markle wear? And, what will her name be once they have officially married?
Well, according to Royal Central, in the United Kingdom, wives automatically take their husband's title, meaning Markle would be HRH Princess Henry of Wales (admittedly a little weird).
However, she would likely not be Princess Meghan. Royal Historian Marlene Koenig explains that like William, Harry will likely be made a Duke — therefore his wife will be a Duchess.
"Most likely, he will be created a Duke. Sussex is available so [Markle] would be HRH the Duchess of Sussex. Her rank would be a princess by marriage of the United Kingdom, Great Britain, and Northern Ireland," Koenig said.
Prince Harry told reporters that he'd reveal more about how he proposed later on. They are due to give a television interview to be broadcast in the evening.
They will get married in spring 2018.
Harry opted for a smart navy suit and tie, while Markle wore a white belted coat from Canadian brand Line, with nude ankle-strap Aquazurra heels and Birks earrings.
The couple looked lovingly at one another after the photocall.