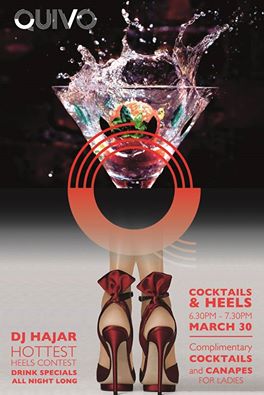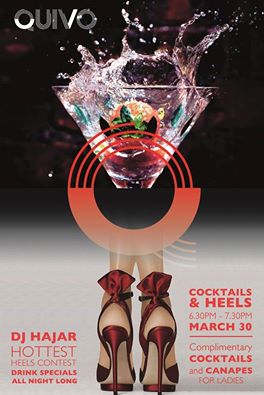 Colour the town red with your sexiest stilettos and hit the town this Wednesday evening (March 30th, 2016)! Ioin the festivities of a new rendition of 'Ladies Night' that is skipping to a different tune. Quivo's Social Hour kick-off party – Cocktail and Heels will begin at 6.30pm. Prepare for a night of lipstick wine and dine, complimentary handcrafted cocktails and signature canapes that will set the Wednesday night cocktail hour circuit on fire. Setting the tone for the sultry evening is  DJ Haj, making a rare appearance in KL's after-dark scene. Spectate and experience her curated and unique nu-disco beats.
BAZAAR caught up with the men behind the night, General Manager of Food & Beverage of Valiram Group, Joerg Hontheim and Senior Restaurant Manager of Quivo, Bernard Joseph on what it means for Quivo to embody the aura and persona of a woman…
Three characteristics Quivo would have if it were a woman? bold, vivacious and unforgiving.
Signature specialty for the on-the-go #girlboss? Quivo Minis. The only thing better than a burger is several tiny burgers. These juicy, delectable bite-sized portions are perfect to pop in the mouth
Best after-work comfort drink + dine solution? Mangosteen Mai Tai, a tropical treat of gold rum, lime juice, orange liqueur, almond syrup, topped with fresh mangosteens and who can't resist our Papa's Mac and Cheese? Creamy, dreamy and cheesy- a  piping hot, classic comfort casserole topped with Dungeness crab cakes, roasted garlic and herbed breadcrumbs.
Quivo is located at the Connection Precinct, Level 3 of Pavilion KL. As space is limited, please ask for Mr. Bernard Joseph, Senior Restaurant Manager at +603 2141 7711 to make a reservation.
#quivo
#quivomoments