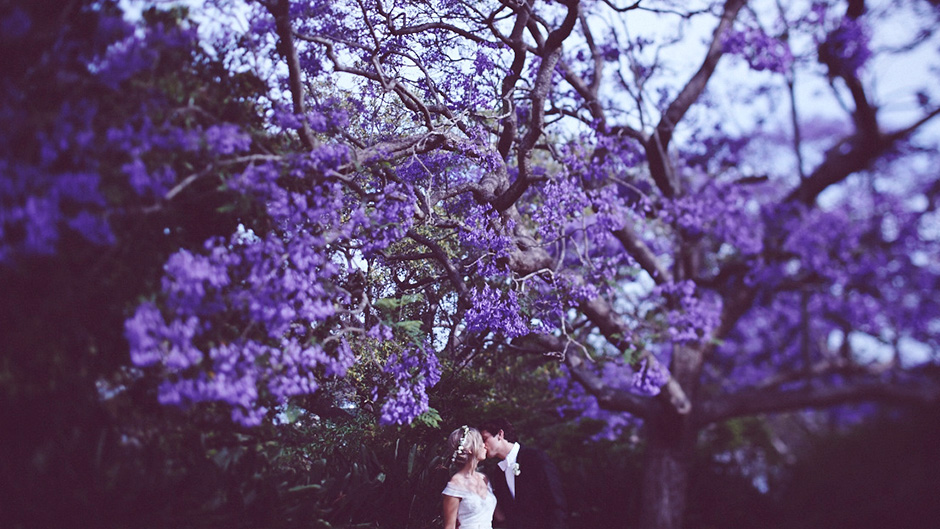 I'm going to say something controversial… I didn't love planning my wedding. Not one little bit.
Some women seem to genuinely enjoy the process of comparing paper weights for invitations, or hand-dying vintage doilies to use as bunting. I was not one of them.
My fiancé and I were in no hurry, so a two year engagement seemed like a pretty 'chill' choice. The downside? I spent what felt like a lifetime in the dreaded wedding planning zone – a place where time stands still, and every conversation I had started with "So how's the wedding planning going?" In the beginning I feigned excitement over the joy of choosing floral arrangements or wedding dress shopping (kill me now), but towards the end I have to admit I turned into the 'Indifferent Bride' – which most people didn't really know what to do with. *shoulder shrug*
Don't get me wrong – the day itself was magical and being married to my SO is pretty cool, too, but, for me at least, getting there was a bumpy road.
In the hope that my struggles weren't in vain, I'm sharing the 11 lessons I learnt along the way. Brides-to-be, you're not alone!
1. The wedding is not actually about you. 
Or your partner. And definitely not about you both as a couple. Sounds odd, right? It's true. Somehow what is supposed to be a day devoted to you and your significant other becomes all about placating everyone else in your combined lives. And that's ok. The sooner you accept it, the smoother the road to the altar will be.
2. You and your partner will probably/most definitely fight. 
And often about totally ridiculous things. It's inevitable, so if/when it happens don't sweat it too much. It doesn't mean your marriage is doomed or that you don't love each other deeply. Arguing over whose friend get lumped with sitting next to your strange second cousins or what colour font the place cards should be is part of the process. And when it's all over you'll laugh about it. I promise.
3. Accept, then forget, the wave of 'shoulds'.
Your nearest and dearest may suddenly become very opinionated about weddings, and they feel it is their duty to inform you what youshould wear/eat/drink/where you should honeymoon/what to call your future children (yikes!). Try to remember that your friends and family only want you to have the very best day possible, and that their advice is coming from a good place. Then, ignore all of it and do only that which resonates with you, within reason. I did a lot of nodding and smiling, which seemed to do the trick.
4. Spend money only the stuff that's important to you.
Weddings are expensive, and budgets can get out of hand really quickly. Figure out the things that are important to you and your partner – for me (sorry I mean us) it was food, flowers and an epic dance floor. Spend money on only those VIP items, and save where you can on the rest. I bought my dress off the rack (and on sale!), we mixed the videographer altogether and my husband got his suit at a sample sale. On the day, no one will notice what you scrimped on.
5. Don't rely on small children.
Flower girls and pageboys are adorable in photos, but little ones are not to be relied upon when it comes to performing official duties like ring-bearing or walking down an aisle. By all means include them, but don't bank on them. My (adorable) neice has a proper tantrum before we were due to walk down the aisle, and you know what? It really didn't matter that we had one less flower girl.
6. Forget the 'wedding shoe'
Use the opportunity to buy a killer pair of heels that you really, really love and hang the expense! One benefit of wearing white is that almost any coloured shoe will work. If shoes are you thing, this is when you should splurge. For me? It was a pair of Azzedine Alai sandals that I'd been eyeing off for months. They were perfect on the day, because I also now wear these babies to work the cost per wear ratio is going down by the day.
7. Be social
A wise woman said to me that one of her favourite memories of her wedding day was actually looking through photos the morning after. Guests are probably going to snap photos and post them to social media, whether you have an official hashtag or not. My advice would be to just embrace it and start a hashtag prior to the big day. At least that way you can pour over all your pictures the next day in one feed. #winning
8. Don't try to be the 'cool bride'
I got a little carried away with trying to the the "cool bride" because I was terrified of being labelled a bridezilla. Which is good in theory, but a wedding is also a pretty big deal and so some excitement is warranted. By continually brushing off offers for help, or changing the topic when the 'w' word comes up, you're going to miss a bit of the fun. Revel a little.
9. Different is good.
For goodness sake let your bridal party choose their own dresses. They are (probably) all grown women and have figured out what suits them by now. I set a few guidelines – floor length, a vague colour palette, no sequins – but ultimately my (many) bridesmaids picked their own frocks and as a result each of them looked gorgeous (I'm biased) but more importantly they felt like themselves.
10. Reception dresses are not just for the Kardashians
Changing into something shorter and less restrictive (hello off-the-shoulder neckline) was one of the best decisions I made on my wedding day. You don't have to make a big thing of it; I just snuck out after the first dance, did a switcheroo and slipped back onto the dance floor. Some guests didn't even notice I'd changed until hours later. I felt so comfortable and a less formal frock really helped to set the celebratory tone of the reception.
11. Weddings can bring out the weird in people.
Another wise friend (thanks guysssss) told me that often those closest to you might start projecting their own issues on to you in the lead up to your big day. Be mindful that a big life event like this can trigger underlying issues for close friends and family, and they may not realise their own behaviour. Coping strategy? Allow them vent but don't let their anxiety derail your own bridal-zen. At the end of the of the day the only important thing is that you and your partner are making a comittment to each other. The rest is just (overpriced) frosting.
12. It may not be the best day of your life.
And that's probably a good thing. Personally, I had a blast on my wedding day but my now husband didn't have half as much fun as I did. The stressful period leading up to it, all of the attention on the day, the pressure for everything to go right… there's a lot going on that can impinge upon your enjoyment of the day. My advice is to go into it with zero expectations. Who knows? You might just be pleasantly surprised.
Via: HarpersBAZAAR.com