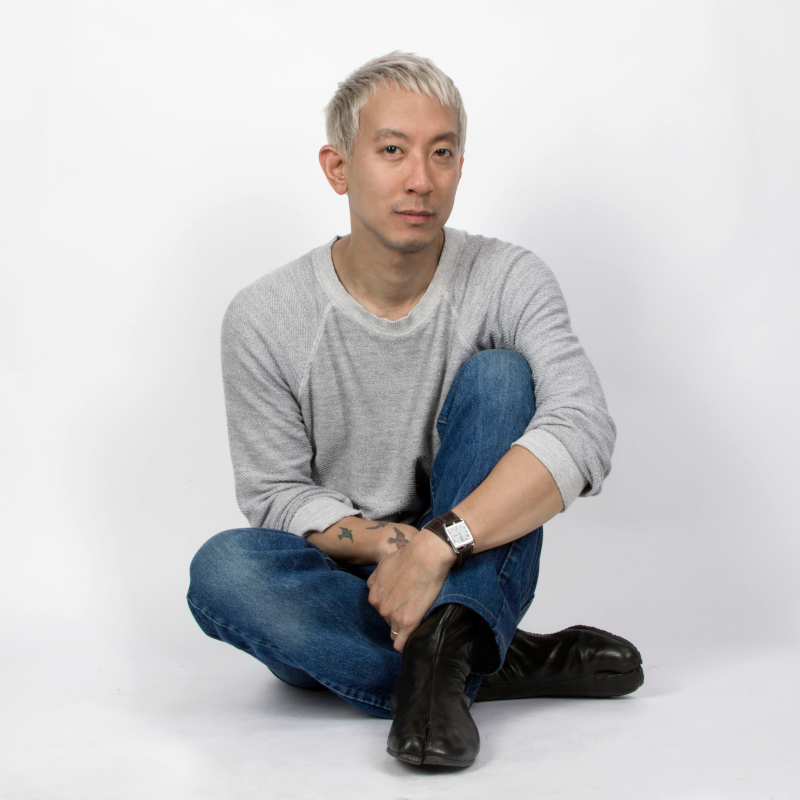 7AM I wake up, thanks to my Google Home. I'm always tempted to tell it to wake me up in another 15 minutes, to prevent me from going back to bed but Eno & Zoë, my Shiba Inus, act as my back-up alarm. They paw at my bed, demanding I take them on their morning walk. As I slip on my uniform—vintage Levi's 517 bootcut jeans, Entireworld organic cotton tee, and classic Maison Margiela Tabi ankle boots—I see that my kids are already waiting by the door. I guess they really have to go!
8.30AM We walk 3.38 kilometres around the Silver Lake Reservoir. I think they liked it; however, I'm exhausted. I stop by Lamill in Silver Lake for coffee—black, no sugar—for sustenance. It'll help me walk up that steep hill back home. I'm dreading it, but we have an amazing view of the Hollywood sign and Griffith Observatory on the way to my house, so it'll be worth it.
9.30AM Once home, I indulge in a long hot shower. Lately, I've been lathering with Aesop's Geranium Leaf Body Cleanser. If the coffee doesn't wake me up, the geranium, mandarin, and bergamot notes definitely will. For face, I just use water as to not strip any natural oils, and I finish with Aesop's Parsley Seed Anti-Oxidant Facial Treatment, which is perfect for LA's deceivingly polluted air.
10.25AM I dial in for my conference call with Miu Miu in Paris. With the time difference there is a limited amount of times we can do this. It's the end of the day in Paris but we're excited to catch up and discuss a new collaboration for an upcoming project.
11.30AM I take an Uber to my office aka Soho House West Hollywood (SHWH). Since I create my own schedule, I often break my own schedule. In an effort to restore a sense of order, I work from SHWH at least twice a week. While in my car, I catch up on the latest in fashion, entertainment, and politics, all of which influence my work. I search Google for images which can be very time consuming but it's worth it when I find the perfect image for a "Siduation"—it can take anywhere from 15 minutes to a week. From there, I use a number of programmes, from Photoshop on my laptop to Snapseed on my phone, to complete a project.
12PM I arrive at SHWH and claim a cosy couch in the Sitting Room. With its floor-to-ceiling windows, it's easy to get lost staring out at the jaw-dropping 360º view of LA, but seeing other creatives there motivates me to work. I can always come back to the view when I'm in need of a break, or I can hit up the raw bar. Mmm … oysters!
4.30PM There's a 6pm vinyasa flow class I signed up for at Hype Silverlake. I usually go for the spin classes, but my legs are so sore from last night's session and this morning's hill. I decide to leave now, otherwise there's a possibility I could be stuck in LA traffic—it really is the worst.
5PM Such is life, LA traffic is unpredictable. I can already see that I'll be arriving at Hype an hour early, so I have my Uber driver drop me off at Sleeper, one of my favourite designer vintage shops. There's a nice selection of Comme des Garçons, Jean Paul Gaultier, and Yohji Yamamoto pieces, but I leave empty-handed. I've promised myself not to buy anything unless I get rid of something, thanks to Marie Kondo. All my belongings bring me joy, which means I won't be buying anything soon.
6PM I arrive at Hype on time, set my intentions, and I'm ready to flow. I'm also ready to eat.
7PM Originally, I was going to cook a meal at home. Instead, I decide to treat myself, and while I'm at it, surprise my partner with takeout from our favourite Italian restaurant, Speranza. So, off I go, but not until I freshen up, of course. I spritz myself with Falls from Régime des Fleurs. The notes of tropical spices, hapu'u tree ferns, rushing water, green mist, wet jungle moss, monkeypod bark, and manoa red clay do a fabulous job at masking that yoga mat smell.
8PM I'm finally home and ready to stuff my face with pasta. I can afford the calories—tonight anyway. I'll just walk up that steep hill with the dogs again tomorrow morning.