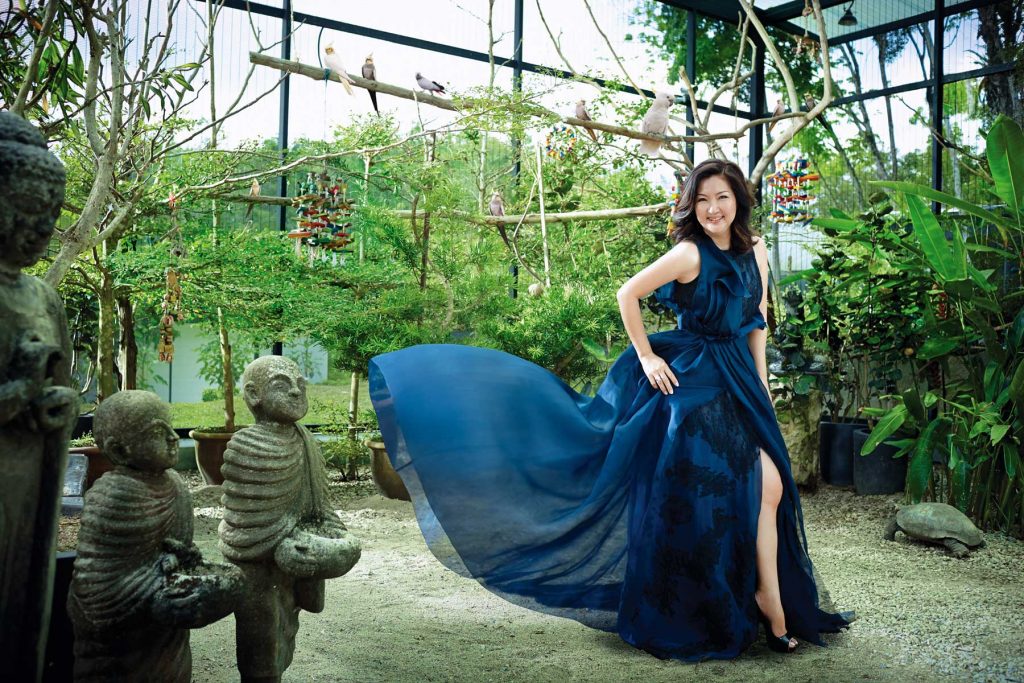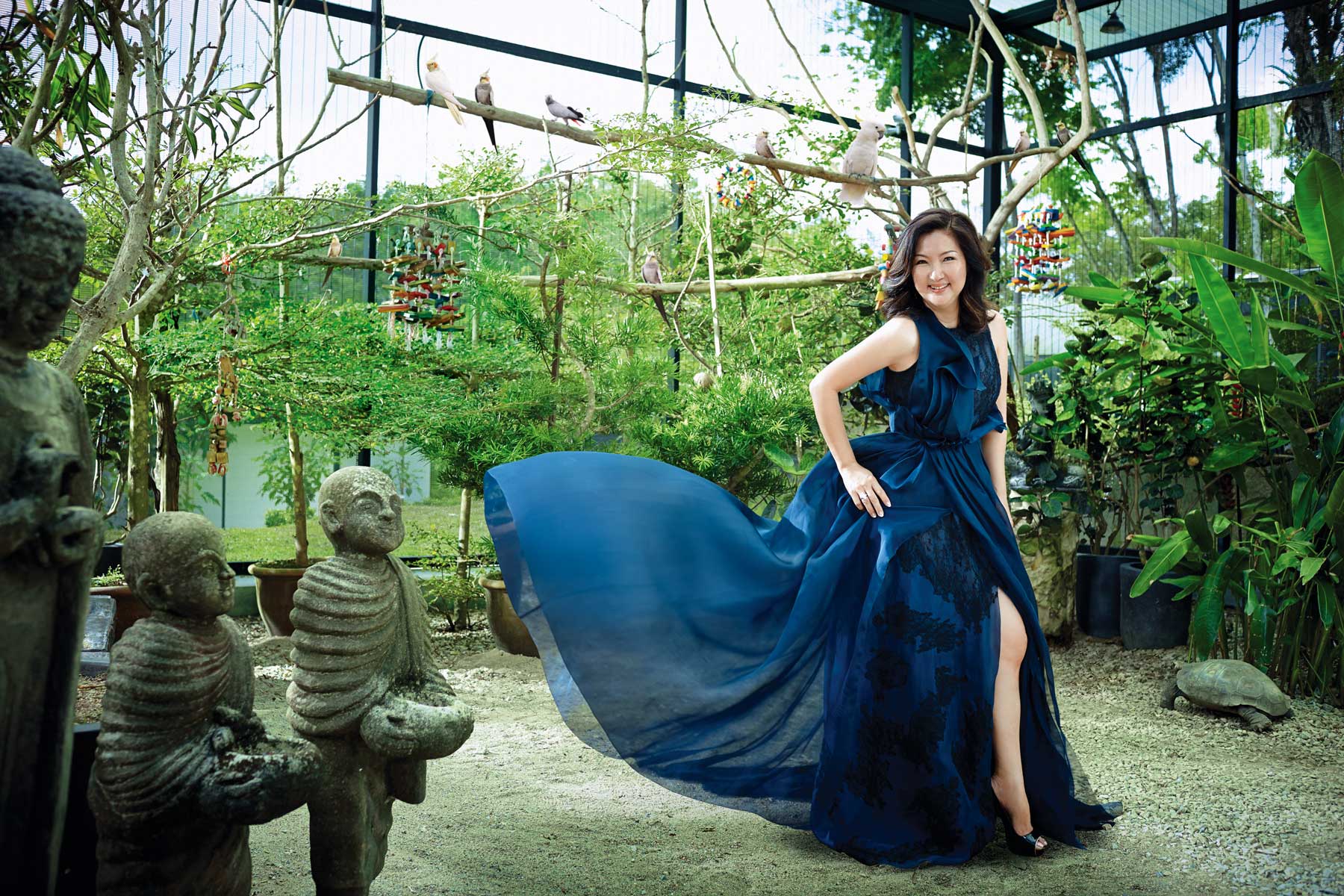 Dato' Ruby Khong in her aviary at the Kechara Forest Retreat
People often travel the road constantly trampled on, but what if one decides to walk the path less travelled? Dato' Ruby Khong, who in 2010 was on the list of Forbes Asia's Heroes of Philanthropy, is single-handedly making charity mainstream. As the driving force behind Kechara Soup Kitchen, a foundation that aims to feed and provide medical aid to the homeless people of Malaysia, she actually began her journey like any other fashionable lady, decked in Chanel from head to toe.
When she first met her spiritual guide in India, His Eminence Tsem Tulku Rinpoche, Dato' Ruby had on her sunnies, T-shirt, jeans, bag, wallet, and shoes – all from Chanel. "My spiritual guide was skillful. Had he told me, "You should not spend money on this and that," I would have said goodbye!" says Dato' Ruby of her first meeting with the man who set her on the path to where she is today. Being the youngest of three sisters, Dato' Ruby was very close to her mother and they shared the same admirable qualities, which she has passed on to her children. "Growing up, my parents had many issues, and my mother kept it all to herself. She was a strong lady who raised me and my sisters well. My mother did not teach me how I should grow, or behave," explains Dato' Ruby. "It is because of my mother's character that I have become who I am."
A mother of three children herself, Dato' Ruby talks about them with unbridled pride. "Elena, 28, my firstborn, and I share a very special bond. She is very attuned and sensitive to my feelings. As they say, the firstborn will always be the baby of the family, no matter how old they are," she says cheerfully about her eldest daughter. "Elisa, 27, on the other hand, is gregarious. She is an extremely kind person, and Clifford, 26, my son, is a robot with a mind," she laughs, explaining, "He is tremendously disciplined, well organised, and does not like to see people suffer."
"My mum has always seen me as another sentient being. Because of this, we are able to have open conversations, as she views me as more than just her child," explains Pastor Elena Khong, who is on her way to becoming a nun. "When I was 14, she told me that if she had known back then what she knows now, she would never have had children. I was gobsmacked until she elaborated – she said she loves us but having children meant she spent 18 years focusing all her time, energy, and resources on a few individuals. If she had spent the same amount of time without kids, she could've focused on and changed the lives of perhaps thousands of people. I know to some it can sound harsh, maybe even extreme, but I chose to view it differently. I realised then how much capacity my mother has to love. It was at that point I resolved never to have kids, which made my decision to become a nun much easier. But over the years, she has been extremely tolerant of my crazy ideas. I've gone from wanting to be a pilot, to a Navy SEAL (quickly quashed when I realised you have to be American), to an environmental activist, to a politician, to a marine biologist. At every step of the way, she never once told me I was crazy. Instead, she would put materials in my way or send me on experiences to help me learn more about that path. For example, when I wanted to be a marine biologist, our next family holiday was to Australia, where every activity we did and every hotel we stayed at was something dolphin-related."
Dato' Ruby's influence on her children is inspiring. It is all about giving and helping those around them. When Clifford was asked the one thing he would change in the course of history, his reply was, "to stop the assassination of Mahatma Ghandi, an incredible man who could've continued to do so much more." His words are a true reflection of the way his mother has raised her kids in a positively incredible manner.
Her second daughter, Elisa, shares the same exuberant laughter as her mother, as well as a pure love of giving. She is currently the corporate communications director of Kechara Soup Kitchen and Kechara Rainforest Retreat, which supports the development of conscious individuals through programmes that instil universal positive values. "We should seek opportunities to give towards others living with less than ourselves. Kechara Soup Kitchen provides that very opportunity and has given me the privilege to practise generosity, care towards others, and most importantly, equilibrium – to view everyone being equally worthy of my love and attention regardless of their ranking in society."
Everybody and anybody who has had the pleasure of meeting Dato' Ruby would agree that her positivity and cheerfulness inspire all those around her to make a difference in the world. As the late Mother Teresa once said, "We think sometimes that poverty is only being hungry, naked, and homeless. The poverty of being unwanted, unloved, and uncared for is the greatest poverty." Clearly, Dato' Ruby and her family are well on their way to making the world a better place.
Images: Soon Lau/Show Up Pictures