Love is in the air
Since we all deserve a little love in our lives, we're ready to play matchmaker with chart-topping romance books to fall in love with! Whether you prefer your love stories cute, funny, dark, or bittersweet, we'll help you find a romantic book you can fall hard for, because infinite happily-ever-afters awaits you.
Scroll below to see our favourite feel-good romance books to fall in love with. And if by book 3, you still haven't found your pick, check out our 18 Best Romance Books Of 2022 for some inspirations.
Pride And Prejudice
By Jane Austen
Since its immediate success in 1813, Pride and Prejudice has remained one of the most popular novels in the English language. This classic novel follows the romantic clash between the opinionated Elizabeth and her proud beau, Mr. Darcy,
A Love Letter To Whiskey
By Kandi Steiner
This is a heartbreaking yet wholesome romance book to fall in love with this month. Kandi Steiner delivers her most achingly poignant work in this international bestseller about two lovers fighting the curse of bad timing.
Love & Other Words
By Christina Lauren
Macy Sorensen is settling into an ambitious if emotionally tepid routine: work hard as a new pediatrics resident, plan her wedding to an older, financially secure man, keep her head down and heart tucked away. But when she runs into Elliot Petropoulos—the first and only love of her life—the careful bubble she's constructed begins to dissolve. Told in alternating timelines between Then and Now, teenage Elliot and Macy grow from friends to much more—spending weekends and lazy summers together in a house outside of San Francisco devouring books, sharing favourite words, and talking through their growing pains and triumphs. As adults, they have become strangers to one another until their chance reunion.

Icebreaker
By Hannah Grace
This sports romance follows Anastasia Allen, a competitive figure skater and Nathan Hawkins, the captain of the hockey team who is forced to share a rink when a misunderstanding happens. Nate and Stassie find themselves stuck together in more ways than one – eventually, igniting sparks between them. This TikTok sensation is a must-read!
Reminders Of Him
By Colleen Hoover
After becoming a sensation on TikTok with her novel It Starts With Us, Colleen Hoover drops another heart-wrenching story that leaves you sobbing and smiling. This novel follows Kenna Rowan who returns to the town where her 4-year-old daughter lives after serving time in prison for a tragic mistake. However, everyone in her daughter's life is determined to shut her out, making it hard for her to rebuild the bridges she burned.
Book Lovers
By Emily Henry
Winner of the Goodreads Choice Award 2022 for 'Romance', this enemies to lovers book will have you swooning. The book follows author Nora Stephens who keeps bumping into her rival, Charlie Lastra, a bookish brooding editor from back in the city. It would be a meet-cute if not for the fact that they've met many times and it's never been cute. But, as they are thrown together again and again, they start to uncover more about life, love, and joy.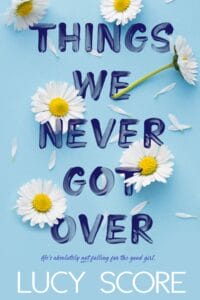 Things We Never Got Over
By Lucy Score
A little bit quirky, funny, and romantic, this romance book follows Naomi who unexpectedly gets stuck in town with no car, no job, no plan, no home, and her 11-year-old niece. While figuring things out, she ends up getting help from the town's brooding, grumpy, and handsome man, who ends up rocking her and his world in more ways than one. On top of the romance, this book also has a side of mystery to it.
Jasper Vale
From Wall Street Journal bestselling author Devney Perry, Jasper Vale is a small town, fake relationship romance novel. This romance book follows Eloise Eden after she spends one weekend in Las Vegas and gets engaged to Jasper, her sister's fiancé's bestfriend. Her only hope is to keep this marriage a secret until it's annulled. Then she'll pretend it never happened.
Except Jasper begs her to stay married and fake it for three months so she can accompany him to a wedding.
Twisted Games
By Ana Huang
When her brother abdicates, she's suddenly faced with the prospect of a loveless, politically expedient marriage and a throne she never wanted. And, as she navigates the intricacies—and treacheries—of her new role, she must also hide her desire for a man she can't have – her bodyguard. Twisted Games is a slow to medium burn contemporary royal bodyguard romance.
Go to Amazon.com or Kinokuniya.com.my to purchase.