Don't be surprised when you hear seasoned travelers (and shoppers) refer to Shanghai as the "Paris of the East." While the two cities have many differences, they have much in common on the fashion front; Shanghai (like the City of Light) is a shopper's paradise. As China's style capital, Shanghai is home to a population of insatiable shopping addicts—and the fashion landscape is primed to cater to their favorite pastime. This bustling metropolis has become one of the most cosmopolitan cities in the world, with all the luxury brands you are already familiar with...and then some. Expect streets lined with luxury labels, boisterous plazas, colorful open-air markets, glitzy malls and trendy unique boutiques.
The endless luxury offerings make sense once you consider the stats: more than half of the world's retail development resides in China, with 35 million square feet currently under construction in Shanghai alone. Major roads like Huaihai Road and West Nanjing Road are lined with shiny new malls—which are home to glittering flagships for key labels like Prada, Chanel and the like. Boutique luxury brands to love—like Isabel Marant and Victoria Beckham—fill the racks in department stores like Lane Crawford. In addition, expect to find edgy international shops, like 10 Corso Como and Dong Liang, curating a completely unique retail experience for their demanding clientele.
If you're heading to Shanghai, sharpen up your bargaining skills and increase your credit card limit. Warning: You may need to buy some additional suitcases at the end of your trip. Here, our expert tips to shopping this complex and exciting retail Mecca.
MULAN HUAGE
1788 Jingyan Lu, near Shangpu Xi Lu, Shanghai, Shanghai Shi, China, 200231.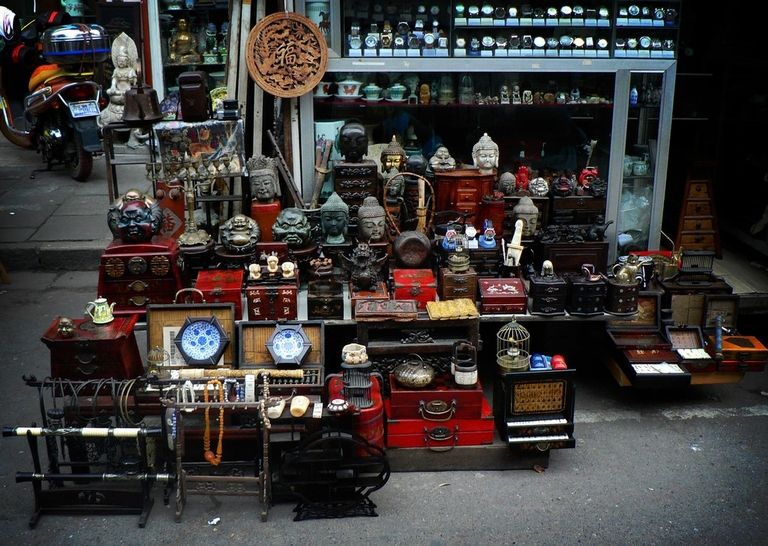 Shanghai's original antique market on Dong Tai Road has been demolished and turned into a residential complex–but not to worry. Enter Mulan Huage in Pudong, a massive bargain market where you can find everything from Mao and communist memorabilia to porcelain tea plates and sets, old lacquered boxes, brightly painted opera masks and even taxidermy animals. It's worth a wander just to see what you may find, and remember, bargaining is completely acceptable and assumed here. Assume the price told to you has been marked up at least 50%–so get your bargaining skills primed before this trip.