It's finally here! After years of anticipation, Starbucks' sixth Reserve Roastery and third in the U.S. opened its doors in Chicago on Friday, November 15. Located in the massive former Crate and Barrel building (it covers 35,000 square feet!), the coffee playground takes over an entire corner on Magnificent Mile and houses five stories of coffee, pastries, pizza, sandwiches, cocktails, tasting flights, merchandise, and more. We got to take a sneak peek and let me tell you—it did not disappoint. Below, everything you can expect to find inside the world's biggest Starbucks.
FLOOR TWO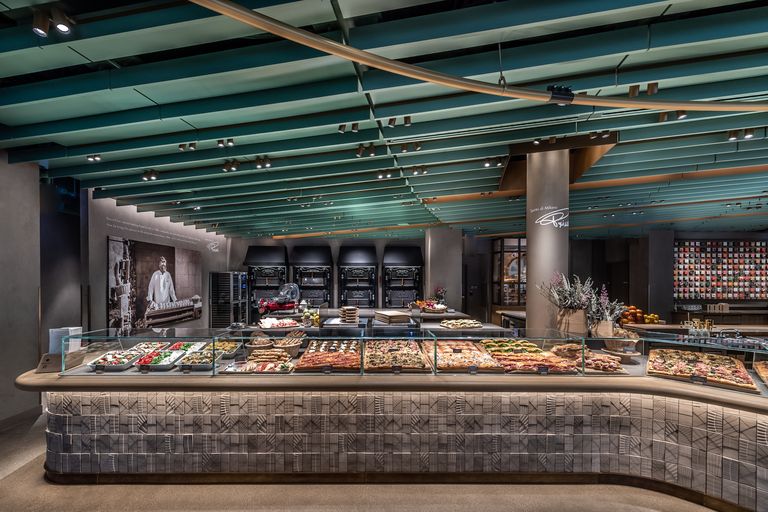 Step onto the cool curved escalator—the first in the midwest!—and you'll be greeted by a massive Princi Bakery. This is the Princi headquarters, so to speak, with a conveyor belt bringing food and baked goods from this floor, where everything is made, to the first and third floors. Rocco Princi serves as the food purveyor for all Starbucks Reserve Roasteries, so if you've been to any of the other locations, you may recognize some of his food.
There are cornetti (Italian croissants) galore, breakfast and lunch sandwiches, cakes, cinnamon rolls, pizzas, salads, and gelato made with liquid nitrogen. That last menu item can only be found in Chicago's Roastery, BTW. There's also plenty of seating and lots of light, and, of course, the golden cask that acts as a centerpiece of all four main floors and physically transports coffee beans through all the stages of roasting.