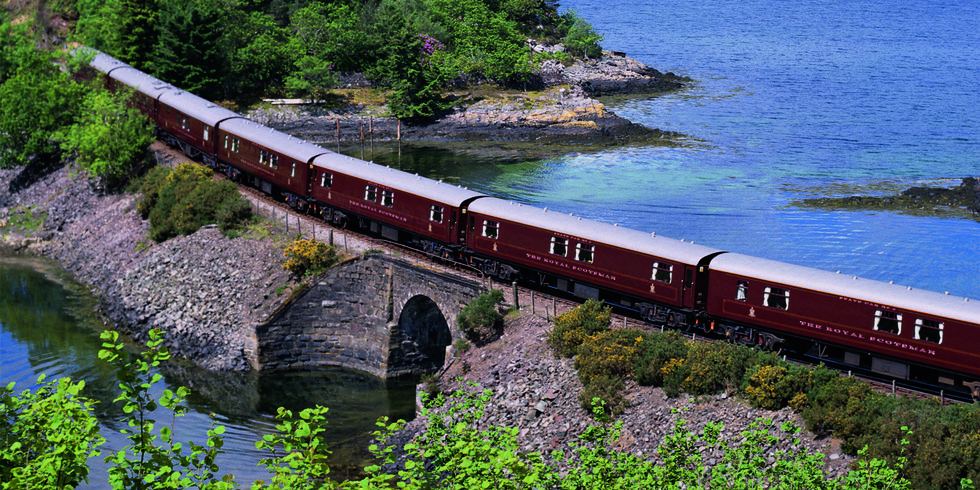 "All around us are people, of all classes, of all nationalities, of all ages. For three days, these people, these strangers to one another, are brought together." That's a quote from Agatha Christie's Murder on the Orient Express, which—either brilliantly or bizarrely—I've been reading in anticipation of my own three-night journey aboard a luxury sleeper train.
In my case, the train is the Belmond Royal Scotsman, and its course is set for the Scottish Highlands, a region known for its jaw-dropping and loch-filled landscapes. Beginning in Edinburgh, our route–dubbed the Western Journey–will take us northwest to Spean Bridge, toward the coastal town of Arsaig, down to Fort William, south to the Bridge of Orchy and Wemyss Bay and finally, back to Edinburgh.
Another point of difference between my trip and the one featured in the famed whodunit of 1934: that whole murder business. I am, however, in for four-course dinners, daily afternoon tea, cocktails on board, an epic spa experience, a waterfall hike and an impromptu dance party on a station platform.
Train Prep
I landed in Edinburgh the day before the train's departure and spent the night at a two-bedroom flat at Circus Place that's recently been added to the Onefinestay collection. The upscale home-sharing site is on point with their picks, and the photos lived up to my expectations. Although I've been traveling for more than 14 hours, I'm giddy with excitement over the home's Kit Kemp-inspired décor and feel compelled to take as many iPhone snaps as I can. Bonus points earned for the oversized, candy-colored headboard that made me feel like royalty.
In the morning, I took the 20-minute walk to The Balmoral, the historic hotel next to Waverley Station, which served as the meeting point for the train trip. Along with the other passengers, I hand my luggage to the team of stewards, who transfer everything to our personal cabins on the train. Because this is the Royal Scotsman and not your run-of-the-mill commuter coach, we follow a Scottish bagpiper to a red carpet on the station platform. There, our iron steed's manager, Fredrik, is standing with a tray of champagne flutes. Each passenger is greeted by name as we step on board. A whistle sounds and the adventure begins. I regret that I am wearing my standard in-flight getup and not something a bit more apropos for an experience that hearkens to the Golden Age of luxury travel.