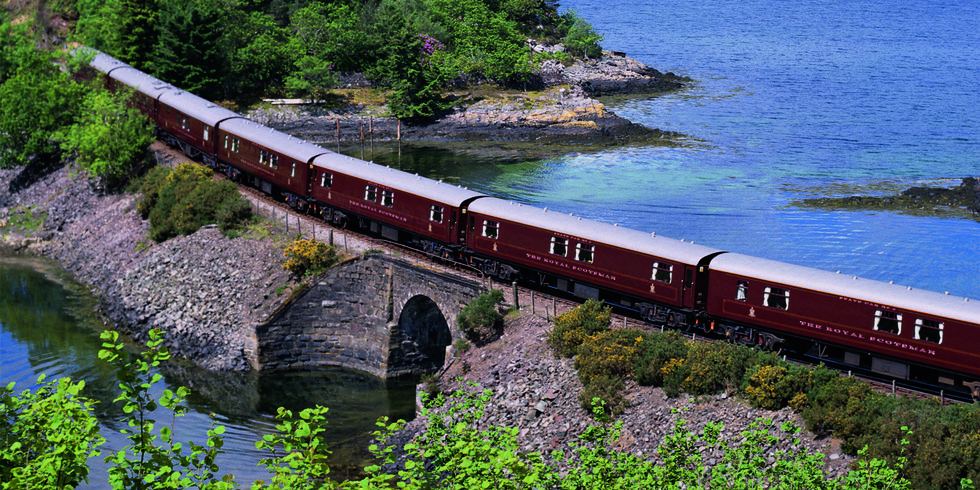 "All around us are people, of all classes, of all nationalities, of all ages. For three days, these people, these strangers to one another, are brought together." That's a quote from Agatha Christie's Murder on the Orient Express, which—either brilliantly or bizarrely—I've been reading in anticipation of my own three-night journey aboard a luxury sleeper train.
In my case, the train is the Belmond Royal Scotsman, and its course is set for the Scottish Highlands, a region known for its jaw-dropping and loch-filled landscapes. Beginning in Edinburgh, our route–dubbed the Western Journey–will take us northwest to Spean Bridge, toward the coastal town of Arsaig, down to Fort William, south to the Bridge of Orchy and Wemyss Bay and finally, back to Edinburgh.
Another point of difference between my trip and the one featured in the famed whodunit of 1934: that whole murder business. I am, however, in for four-course dinners, daily afternoon tea, cocktails on board, an epic spa experience, a waterfall hike and an impromptu dance party on a station platform.
The Grand Tour
For the first few hours on board, I was awestruck by the elegance of my surroundings, then by the fact that I was experiencing everything on a moving train. I'm ordering a martini on a train. I'm reaching for a second scone and an oversized dollop of clotted cream on a train. The Royal Scotsman's new spa car makes it possible to get a massage and a facial–also, on a moving train. I indulged and opted for both because how often do you get to say you experienced lymphatic drainage…on a train.
Next, it's time to take a tour of our roving home on rails, and a steward shows each party around individually. My tour guide is Liam, a Scottish 20-something who is able to smile—I'll come to find—for four days (that's 96 hours) straight. We start off in the Observation Car, which is outfitted with various sofas, armchairs and marble-topped side tables. Here, passengers can snag a corner for reading the paper or meet with new friends to chat over evening canapés. At one end of the carriage there's a fully-stocked bar; on the opposite end, there's a door to an open-air veranda, where you can step out for fresh air to snap uninterrupted shots of the scenery that's whirling by. The day that we traverse Glenfinnan Viaduct (read: the backdrop for the Hogwarts Express in the Harry Potter films), there's practically a stampede for the patio.
Beyond the Observation Car, there are two mahogany-paneled dining cars with tables arranged for groups of four, six and eight—mingling here is highly encouraged. Next up is the newly outfitted spa car, followed by the sleeping cabins. The train can accommodate 40 passengers in total, split among 15 twin cabins, three doubles and four singles. Each cabin is decked in exquisite Edwardian style décor and has an en-suite bathroom with a shower, a desk, wardrobe and a picture-perfect window. I spend my first morning on the train lingering in bed and staring out that window as we pass Ben Nevis, the British Isles' highest mountain. It's a treat to go sightseeing in the Scottish countryside in my pajamas.