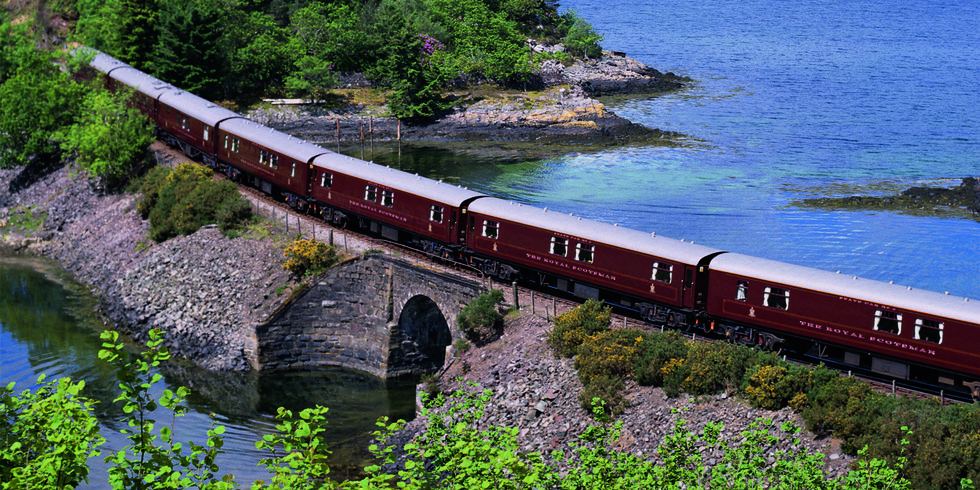 "All around us are people, of all classes, of all nationalities, of all ages. For three days, these people, these strangers to one another, are brought together." That's a quote from Agatha Christie's Murder on the Orient Express, which—either brilliantly or bizarrely—I've been reading in anticipation of my own three-night journey aboard a luxury sleeper train.
In my case, the train is the Belmond Royal Scotsman, and its course is set for the Scottish Highlands, a region known for its jaw-dropping and loch-filled landscapes. Beginning in Edinburgh, our route–dubbed the Western Journey–will take us northwest to Spean Bridge, toward the coastal town of Arsaig, down to Fort William, south to the Bridge of Orchy and Wemyss Bay and finally, back to Edinburgh.
Another point of difference between my trip and the one featured in the famed whodunit of 1934: that whole murder business. I am, however, in for four-course dinners, daily afternoon tea, cocktails on board, an epic spa experience, a waterfall hike and an impromptu dance party on a station platform.
The Spa
Anyone who has applied mascara in a car or attempted to apply their makeup on a morning commute will appreciate how extraordinary it is that this particular mode of transport offers massages, manicures and full facial reflexology. Color me impressed, especially when I realize that simply walking from my cabin to the spa car in a robe and slippers requires a bit of balance. Later, I'll ask my spa specialist, Anan, how she does it. She assures me that she's never fallen, not even while perched on a client's back during a Thai massage. As for manicures and pedicures, she says she and her fellow spa colleague, Bethany, have trained themselves to sync their brush strokes with the movement of the train.
Also impressive: the spa itself, which is an outpost of English bath and body brand, Bamford. Though the Royal Scotsman has been around since 1985, its Bamford Haybarn Spa was added just this year, making it Europe's very first spa within a train. The spa has outposts in 1 Hotels in South Beach and Brooklyn, in London at The Berkeley Hotel, and in the Cotswolds at their Daylesford flagship. Quite a bit smaller than their hotel and stand-alone locations, the Royal Scotsman spa car has two separate treatment rooms, both designed with sustainable wood from Scotland and the Cotswolds.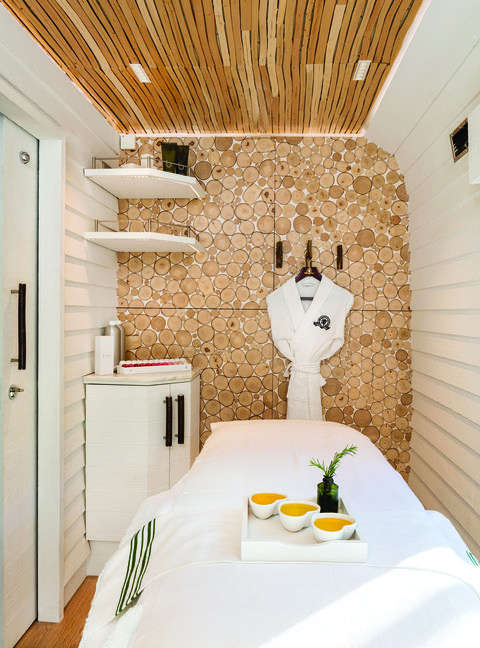 My facial consists of reflexology, lymphatic drainage and the use of hot and cold jade stones for relaxation. Among the Bamford products Anan uses, there's a cleansing balm, exfoliating mask, nourishing lotion and something called the Awaken Elixir—a concentrated blend of apple, lemon and red grape extracts that's used to gently resurface the skin. As Anan works, she burns Peruvian palo santo wood and plays meditative tunes. No shortcuts have been taken; I could be in one of Bamford's non-mobile locations. The only giveaway that I'm on a train is when Anan suddenly pulls the window shade closed because we're stopped at a station and there are curious travelers on the platform. My massage the next day was equally blissful. I soak up the scenery—glistening lakes (or lochs, as they're called here) and pastures filled with cows—as I'm kneaded into a deep-tissue, euphoric stupor.