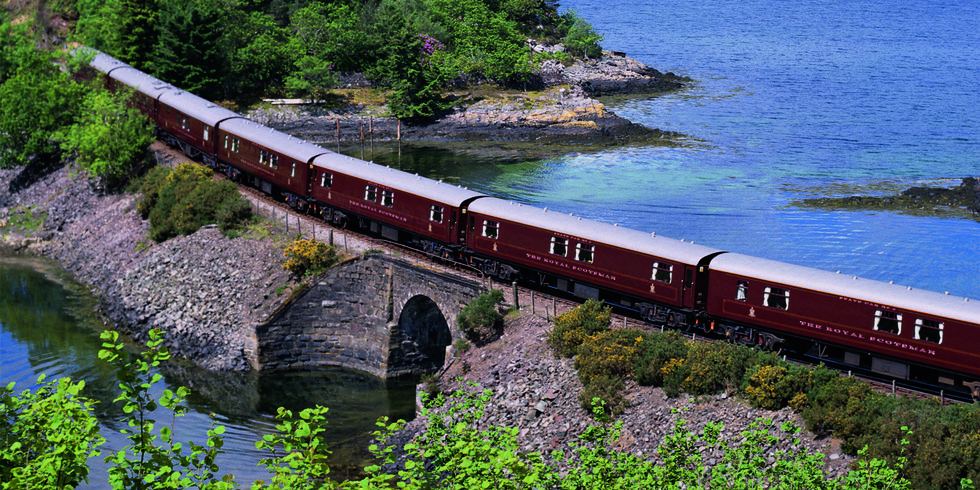 "All around us are people, of all classes, of all nationalities, of all ages. For three days, these people, these strangers to one another, are brought together." That's a quote from Agatha Christie's Murder on the Orient Express, which—either brilliantly or bizarrely—I've been reading in anticipation of my own three-night journey aboard a luxury sleeper train.
In my case, the train is the Belmond Royal Scotsman, and its course is set for the Scottish Highlands, a region known for its jaw-dropping and loch-filled landscapes. Beginning in Edinburgh, our route–dubbed the Western Journey–will take us northwest to Spean Bridge, toward the coastal town of Arsaig, down to Fort William, south to the Bridge of Orchy and Wemyss Bay and finally, back to Edinburgh.
Another point of difference between my trip and the one featured in the famed whodunit of 1934: that whole murder business. I am, however, in for four-course dinners, daily afternoon tea, cocktails on board, an epic spa experience, a waterfall hike and an impromptu dance party on a station platform.
Excursions
It's the second day of my trip and I'm shimmying across a bridge made of only three wire ropes: two for my hands to grasp and one for my feet to teeter along. Steall Waterfall is to my left and Nevis Gorge—with its boulder-lined paths, rushing waters and rolling hills—surrounds me. Six people, all fellow travelers from the train, have successfully made the pass already and I'm nervous I'll be the first to plunge into the river below, completely ruining my street cred among the Observation Car regulars. Turns out, even on a train trip, cabin fever is the last thing on my mind.
In addition to all the onboard amenities, the train offers a full itinerary of excursions, all included with your stay. There's afternoon tea at Inverlochy Castle Hotel in Fort William, a walk along the Silver Sands of Morar, and a ferry ride to the Isle of Bute to tour Mount Stuart—the 19th-century Victorian Gothic mansion that belonged to the one-time wealthiest man in Britain. If you'd rather hang back on the train to relax, read or head to the spa, that's always allowed, too.