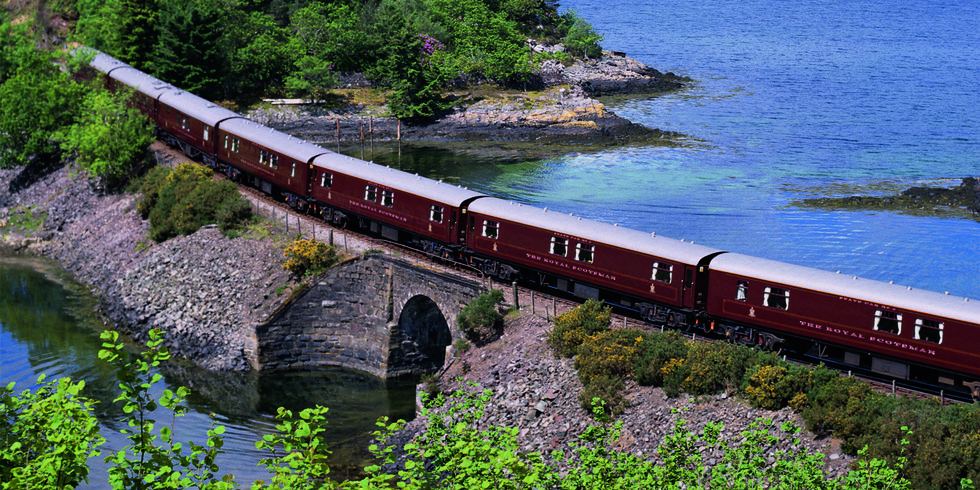 "All around us are people, of all classes, of all nationalities, of all ages. For three days, these people, these strangers to one another, are brought together." That's a quote from Agatha Christie's Murder on the Orient Express, which—either brilliantly or bizarrely—I've been reading in anticipation of my own three-night journey aboard a luxury sleeper train.
In my case, the train is the Belmond Royal Scotsman, and its course is set for the Scottish Highlands, a region known for its jaw-dropping and loch-filled landscapes. Beginning in Edinburgh, our route–dubbed the Western Journey–will take us northwest to Spean Bridge, toward the coastal town of Arsaig, down to Fort William, south to the Bridge of Orchy and Wemyss Bay and finally, back to Edinburgh.
Another point of difference between my trip and the one featured in the famed whodunit of 1934: that whole murder business. I am, however, in for four-course dinners, daily afternoon tea, cocktails on board, an epic spa experience, a waterfall hike and an impromptu dance party on a station platform.
Food & Drink
If a train is moving at speed X for Y number of days, how many martinis should you consume? The answer: keep 'em coming. At least that's what it feels like on the Royal Scotsman, where every excursion ends with a tray of cocktails and a steward is always checking in to see if you'd like another. If whisky's your thing, the bar is stocked with over 50 different varieties, and tastings are encouraged.
As for the food: breakfasts are hearty, lunch always includes dessert and dinner is a multi-course feast with wine pairings. There are no menus, but every morning a steward runs through the day's meals with each guest to make sure all dishes planned are to their liking, and dietary restrictions are catered to. Expect dishes like sea bass as a starter, roast loin of venison for an entrée, and a white chocolate panna cotta with poached strawberry and almond tuile for dessert.