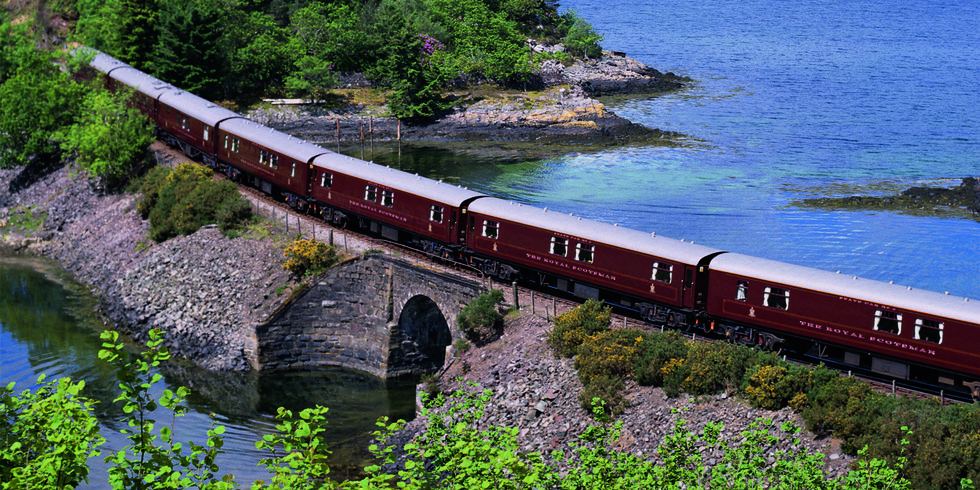 "All around us are people, of all classes, of all nationalities, of all ages. For three days, these people, these strangers to one another, are brought together." That's a quote from Agatha Christie's Murder on the Orient Express, which—either brilliantly or bizarrely—I've been reading in anticipation of my own three-night journey aboard a luxury sleeper train.
In my case, the train is the Belmond Royal Scotsman, and its course is set for the Scottish Highlands, a region known for its jaw-dropping and loch-filled landscapes. Beginning in Edinburgh, our route–dubbed the Western Journey–will take us northwest to Spean Bridge, toward the coastal town of Arsaig, down to Fort William, south to the Bridge of Orchy and Wemyss Bay and finally, back to Edinburgh.
Another point of difference between my trip and the one featured in the famed whodunit of 1934: that whole murder business. I am, however, in for four-course dinners, daily afternoon tea, cocktails on board, an epic spa experience, a waterfall hike and an impromptu dance party on a station platform.
My Fellow Passengers
Agatha Christie's cast of characters includes a princess, a count and a world-famous detective. On my trip, there are doctors, lawyers and even a scientist who works in the same Edinburgh-based lab that cloned Dolly the sheep. Clearly, I'm riding along with a tour group that's just as glamorous as Christie's fictional one. Although I'm a lone traveler, I never eat a meal solo during my entire time spent on board.
A three-generation family from Austin, Texas on board stands out due to their enthusiasm for Scottish culture. At their grandmother's request, all the men in the group arrive to the very first dinner in full Highland regalia—kilt, sporran (a leather pouch worn around the waist), knee-high socks, brogues and all. Keep in mind that not even the Scots are dressed in traditional gear until the third night. Other passengers varied in age and traveled from nearby and afar: like an English woman traveling with her mum, a German journalist and a pair of cardiologists from Bavaria celebrating their 25th wedding anniversary. On an intimate train ride, private moments are possible–but not as simple as they'd be on the ground. One night, as we listen to live folk music in the Observation Car, I spot the couple celebrating their anniversary starting adoringly at one another. He turns to me and says with a smile, "After all these years, I cannot resist her electricity."
By the final night, a group that started as strangers has grown so close that the evening's entertainment truly feels like a farewell party. There's a fiddler on board, and a dance party ensues, spilling out on to the station platform where we're parked for the night. A glorious tangle of Texans, Brits, Scots, and more spin each other around in a traditional Scottish line dance.
Agatha Christie got a few things right: train travel is luxury at its best, and it is all about the people. As for the spa, airplanes have got some catching up to do.