With the festive season now well and truly underway, diaries are being filled with party after party. As fun as this time is, it can have a detrimental impact on our skin.
Here, nutritionist Aimee Benbow, BSc (Hons), MSc, ANutr at leading ethical vitamins company Viridian Nutrition, reveals the three party season habits that can disrupt the skin the most, along with advice on how to counteract damage.
The Christmas cocktails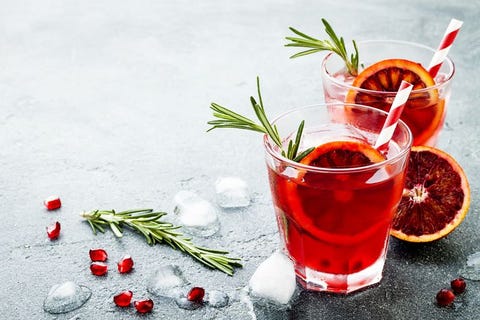 The festive season often ignites a wave of social events that inevitably involve the consumption of alcohol. It is no secret that a sudden increase in alcohol intake has a negative impact on one's internal organs however, it can also play havoc with our skin.
"Alcohol is one of the fastest ways to dehydrate the skin," says Benbow. "It holds practically no nutritional value and will drain the skin of its essential oils and nutrients. Depriving the skin of moisture will see it appear dull, lacklustre and even aged."
According to Benbow, it's not just moisture that the skin is deprived of through alcohol consumption. "Vitamin A is a nutrient that supports the immune system and is essential for the eyes and skin. The excessive consumption of alcohol can rob the body of vitamin A and lead it to look dull and lacklustre in appearance. We obtain vitamin A from food sources as either retinol or beta-carotene. Beta-carotene is the best way to get vitamin A because the body converts it at the rate required, thereby eliminating the possibility of toxicity. If you have a jam-packed festive diary that involves a lot of alcohol, I would strongly advise taking a beta-carotene supplement in order to ensure that you do not deprive the body of essential vitamin A."
We can also thank the sugar in booze for tainting our complexions. "Alcoholic beverages are often laden with sugar and are considered 'high' on the glycaemic index. Consequently, when we drink wine, beer and cocktails, we get a sudden spike in the body's insulin levels. This spike in our sugar levels can trigger inflammation of the skin and even conditions such as acne and rosacea."
High consumption of sugar means more bad news for those that enjoy Christmas cocktails. "Sugar binds to proteins in a process referred to as 'glycation' which in turn leads to the production of 'AGEs' which are responsible for overall ageing. Therefore, large intakes of sugar accelerate the ageing process and pave the way to premature ageing."
Benbow adds that water is essential after an evening of alcohol to prevent dehydration of the skin. "Ensure that you drink plenty in the days after."