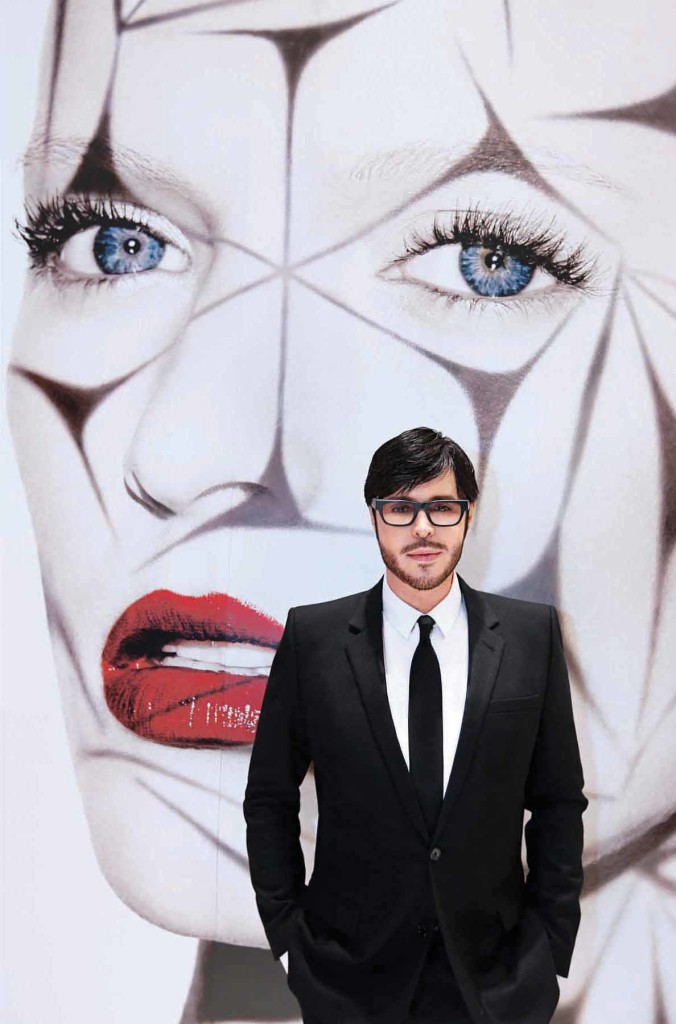 François Nars at the Omotesando boutique in Japan
Tarbes, South of France. Fashion magazines strewn across the plush bedroom floor. A young boy flips through his maman's collection; sketches out in colour the exacting details of the photographs palpitating from the glossy pages.
"It is such a distant memory from many years ago, but at the same time, I remember it so well," reminisces François Nars, now in a Park Hyatt Tokyo suite for this exclusive interview with BAZAAR. The boy who eventually became an iconoclastic image creator and beauty mogul, and founded the make-up brand Nars, has always looked to his mother – her grace and beauty, her astounding fashion magazine collection and wardrobe of Yves Saint Laurent – for inspiration. "I remember the very first issue that my mother had bought. Like it was yesterday; like I was with her … It had a black cover and Marlene Dietrich was written in gold across it. No picture, just a black cover, which I thought was so amazing."
BRIGHT BEGINNINGS
Nars has always had a unique eye for fashion and beauty, but what really set him apart was a nascent talent that led to an acceptance at the prestigious Carita Beauty School in Paris. Eventually came an apprenticeship with French make-up maestro Olivier Echaudemaison.
And then – 1984. At a time when beauty looks were heavily made up, Nars's signature make-up style was gaining momentum. The fresh skin and daring use of colour caught the eye of fashion tastemakers – most notably Polly Mellen, creative director of Allure, who urged him to transplant to New York City to further what was definitely a burgeoning career.
Vogue. Harper's BAZAAR. Milan. Paris. New York. London. Nars created beauty looks for fashion giants such as Versace and Marc Jacobs. He collaborated with some of the most famous photographers of all time – Helmut Newton, Steven Meisel, Paolo Roversi – on unforgettable images, including Madonna's notoriously risqué looks in her '80s videos and book, Sex. And who could forget that '90s supermodel look made famous by Naomi, Linda, Christy – all of whom Meisel immortalised with that fashion spread shot in New York City.
TRUE CALLING
But something was still missing. After many years of lugging around products to blend, mix, and match to come up with the desired effects, textures, and hues, Nars decided to come up with his own brand of lipsticks – only 12 colours sold exclusively at Barneys New York when it launched in 1994. Rich and saturated in pigment, shod in a black soft-touch packaging designed by Fabien Baron (who still oversees Nars's packaging and store designs today), the shades and sensation were like nothing that had ever hit the market.
Due to overwhelming demand, a full cosmetics line was thence launched. Known for products with extraordinary colours, textures, and tongue-in-cheek names – most famously, Orgasm, a seductive shimmery peach-pink blush that first debuted in 1999 – and original creations such as the Multiple (which can be used to accentuate eyes, lips, and cheeks) the brand now offers over 600 products, including skincare. Although currently owned by Shiseido, Nars himself is still at the helm as the creative visionary – his is the last word for all products as well as advertising campaigns, which he shoots for every new collection. With a new spring collection starring Tilda Swinton, an autobiography set for release this year, and a 20-year brand milestone, Nars's meteoric ascent is nowhere near burning out. Here, he shares a moment with BAZAAR.
The pictures from your photo shoot with Tilda Swinton for the Spring/Summer '15 collection look amazing. What mood and setting did you first have in mind for it?
I wanted to do a very timeless portrait. Not very fashionable in a way so the clothes were very discreet. It was really about focusing on her face, making her look amazing – and she is really amazing naturally so the make-up had to stay natural. I wouldn't have designed a better collection than this one to go on Tilda. She was the ultimate model and muse.
It looks very much like a painting, actually.
Yes. I like that it's very timeless. Like one of those portraits if you see them in 10 years it is still very accurate.
Similarly, your products have stood the test of time. They appeal to consumers and professional make-up artists alike. What is it that keeps inspiring you?
I like timeless things. So I guess when I create something – packaging, visuals – I try to think, "How will it look in a few years?" When I created Nars 20 years ago, we wanted to create a logo and packaging which we would not get bored of after three or four years, and a visual that would remain very accurate even in the next 20 years and more.
Much of what influences you seems to linger between the '20s and '30s era. Is there a specific moment in time or any subject that is inspiring you right now?
Well, you know that my library is in my head. All those decades always inspire me. I have so many things that inspire me at the same time. Little things. In New York I live in front of Central Park, and I look at the colours of the park changing right now. When I come back it will either be all gone or all red. I look at the sky. Sometimes very simple things inspire me to create a colour. I'm always looking at movies, these are always my thing, my inspiration, from everywhere, especially silent movies. Like you said, the '30s will always be there, regardless of what; I always keep it in my memory. As a photographer, it's always inspiring for me to look at the lighting. Also the fashion and make-up, of course. A complete era for me, it's always there, no matter what.
Tell us, how do you make the colours so individual?
It's an impulse. To me, make-up is always love at first sight. They either love it or they hate it. It's just like some colours I make are not necessarily a bestseller. Some I never thought would be a major sell become huge sellers. It's very hard, so I don't think too much about that. I'm very spontaneous. Women out there are the only ones who can say "I love it, it's exciting", and we are just there to propose to them.
Do you ever try any of the products on yourself?
Yes, I try it on myself, on my hand; it's not really a taboo. I even did it when I was a small boy. Back then, I would look at David Bowie and copy him. Personally, I believe make-up is not always just a girl's thing.
You've done so much with many international magazines, and you've seen it all. Have you ever thought, "I want to work with someone new"?
I've seen a lot of talented people out there. I love Mert [Alas] and Marcus [Piggott], I think they are extremely talented. Steven Klein I love extremely, total genius.
Do you feel that you have transitioned from one place to another, in terms of your photography style?
There has definitely been an evolution. I think I'm getting better and better. You get more comfortable as you keep taking more pictures. I know how to direct the model better. My goal is to always make people look great. That hasn't changed from day one. There are many different ways to shoot but the goal is to always create an image, a beautiful image.
A lot of the photography you have done is quite iconic, and your work goes back to Motu Tané, the island you own. Do you go there often?
Well, thank you, that's so sweet. I am doing my best. The most I have really stayed there on the island was maybe four months, but never for long. I've always been back and forth. I love being there to shoot. The atmosphere, the models, and everybody always having a good time there makes it a good place for shoots, definitely.
Do you have any advice for an aspiring make-up artist or young photographer?
Be focused and passionate, and love what you do, because you cannot get into any of those jobs – photography, make-up, styling, or design – if you don't have passion. Know what you are doing and have a vision, and make it really come to life. Most importantly, work very hard. It's a lot of hard work. For the past 30 years I've worked very hard to get to where I am today. It doesn't just happen overnight. From the first days I started in Paris when I was 18 years old, I was working very hard. I was in studios practically all day and all night, Saturday, Sunday. I'd carry my box of make-up all around Paris, and then I moved to New York. But it didn't feel like work because I loved it so much.
It's passion …
Yes, exactly; you don't care about waking up at 4am or working until six in the morning, you love it. It's just something you have to be passionate about, otherwise you have to do something else.
You have always highlighted that make-up is all about having fun and being audacious and always about being unconventional. Do you believe this will have a positive effect on women?
In the crazy world we live in today, make-up should be something that makes you happy. It should be one thing in life that cheers people up. Thank God for make-up, something that makes people feel good.
But a lot of women are also afraid of experimenting. What would you say to them?
I would say have fun with make-up, but in a very simple way. Make-up is a very easy thing to remove if you don't like it. You choose a lipstick and try it: Don't like it? Take it off. A haircut or a hair colour, it's … you know. It takes a lot more work to remove hair colour, and if you cut it too short, you will have to let it grow for a week or something. But, make-up in a way is the easiest – in a matter of one minute, it's off. So, don't be afraid.