The allure of Salvatore Ferragamo's Tuscan Wildflowers with Bijou Karman.
The charm and beauty of nature has long inspired artists, designers, and poets alike—birthing vivid imageries that enrapture the hearts and minds of wandering passers-by. Exploring the serene beauty and magic of the countryside around Florence—home of Ferragamo—Salvatore Ferragamo unveils Tuscan Wildflowers: a visual multimedia project that aims to connect different places and cultures from around the world. Bringing together a selection of international artists, the campaign is a celebration of identity and unbridled imagination. In a Harper's BAZAAR Malaysia exclusive interview, American artist and illustrator, Bijou Karman shares her inspiration behind the collaboration.
Please describe your artistic style.
My work is a mix of vintage style, fashion, plants, flowers, pop, and bright colours.
How did you start your career and if you could start over, would you choose to do this again?
I started my career by sharing my work online. From there I started to pick up work and more clients. Even though I look back at some of the illustrations I posted and completely cringe now, I still think it's a good idea to share your work as you grow as an artist. It is important to be part of the dialogue
Do you think the pandemic has changed your approach to your art?
The pandemic has made me slow down and place more value on the time I spend creating my personal work. I loved having time to focus on my paintings, and created my biggest pieces yet during 2020.
What was it about this collaboration that made you say yes?
I was instantly excited to work with Ferragamo, as I love their brand. I was also thrilled with the concept for the illustrations, combining local wildflowers with the season's accessories. I was able to draw my two favourite things: fashion and flowers!
What was your inspiration for this collaboration?
I took inspiration from each unique location—Hawaii, Las Vegas, and Miami. I studied their local wildflowers and tried to imagine I was creating a postcard to entice you to visit each locale.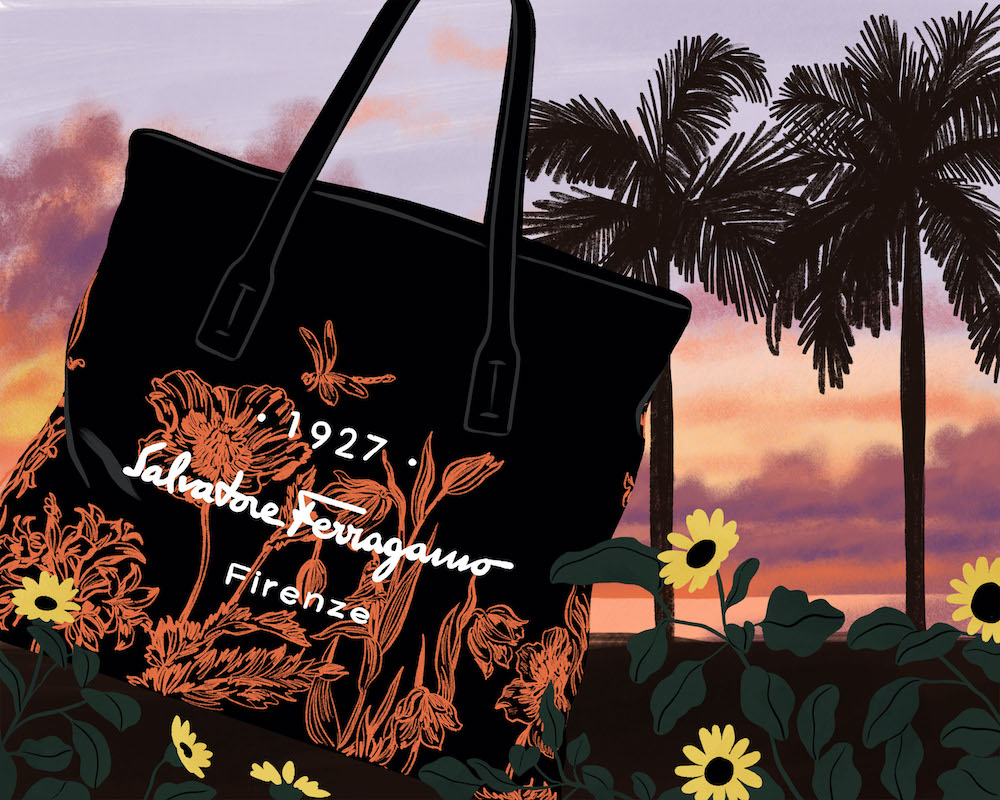 I love the Econyl tote bag, made from regenerated nylon. I think it's fabulous that Ferragamo is making an initiative to work with regenerated materials — Bijou Karman
You chose specific flowers for this collaboration, why is that and do they have a particular meaning?
I chose the native wildflowers of each region, including hibiscus and naio plants for Hawaii, cactus flowers and milk thistle for the desert of Las Vegas, and beach sunflowers with palms for the Miami sunset.
If you could write a story about your artwork for this collaboration, what would it entail?
It would be the story of a fabulous Tuscan woman taking a glamorous vacation all over the US, stopping at the Ferragamo boutiques in Miami, Las Vegas, and Hawaii for souvenirs along the way.
What is your opinion on the relationship between fashion and art? Do you think there should be more collaborations like this?
I meld the two in my work, and am equally inspired by both. It excites me when the two worlds collaborate, especially when it's a designer and artist I love.
The collection celebrates the beauty of flowers, what's your favourite flower?
I have too many to pick just one… daisies, ranunculus, cactus flowers, and passion flowers are my favourites.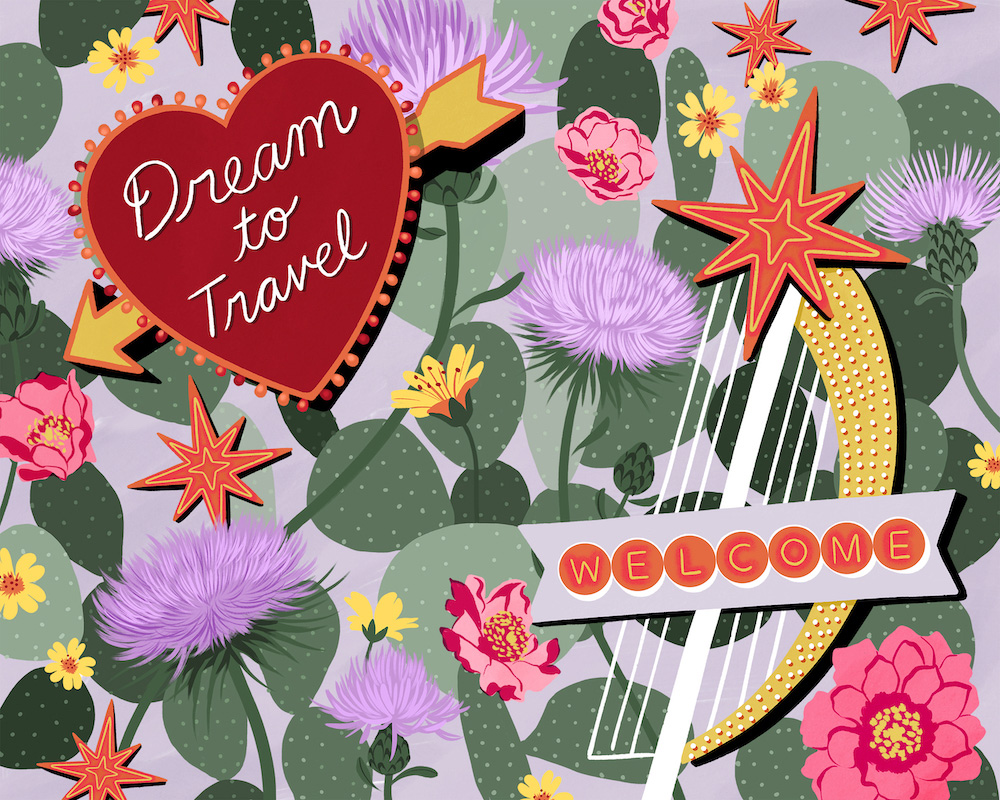 How has travelling honed your artistic skills?
My travels feed my bank of images and inspire me to draw new things, new colours, and new shapes.
What is your fondest memory of travel and where would you like to visit next?
I fell in love with Mexico City, where I went with a few girlfriends. I loved the colours, the food, and the style. I would love to go back and visit other parts of Mexico too.
Have you been to Tuscany? If yes, could you give us a few recommendations?
I have been to Tuscany but it was ages ago! I'm afraid I'm not the best person to ask for a recommendation.
– – – – –
Images courtesy of Salvatore Ferragamo. 
Sustainable Options: Read more articles on Salvatore Ferragamo here.