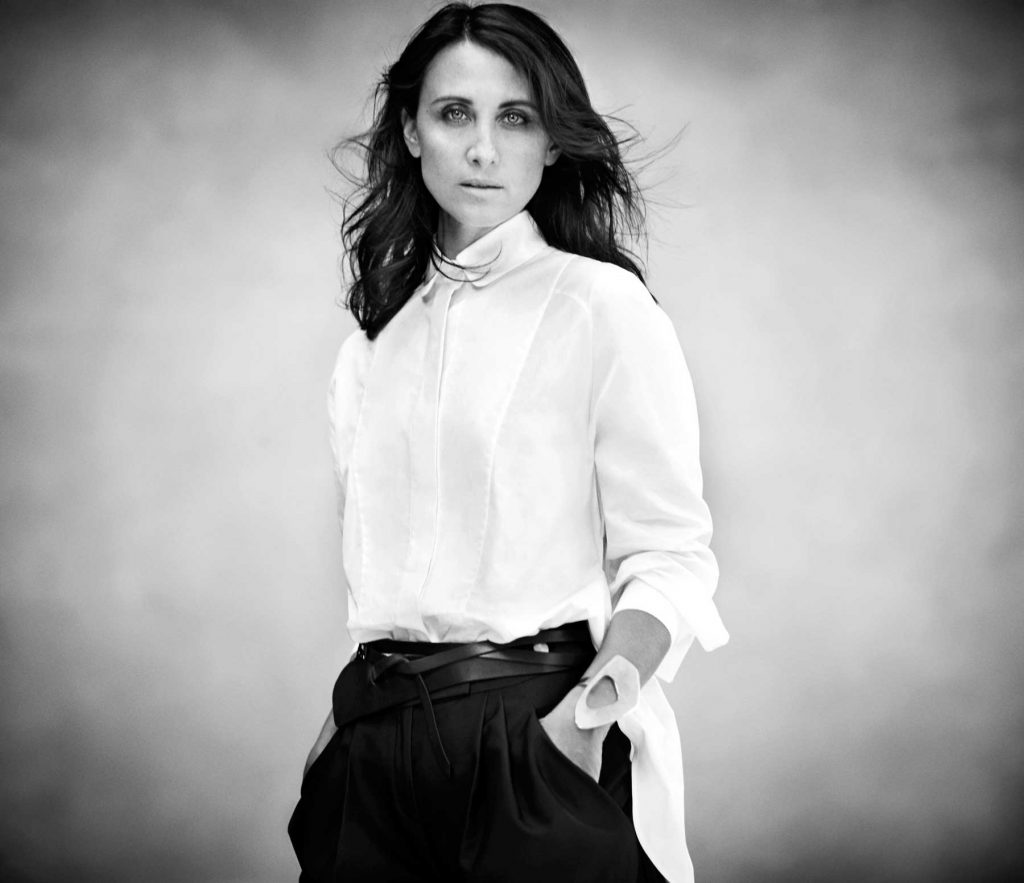 Alessandra Facchinetti, photographed by Boo George 
6.30am I wake up naturally at the same time every day, even if I go to bed late – I have a personal clock. I go straight to the kitchen and prepare my coffee. My first conversation of the day is probably with my dog, Zac. He tells me, "Let's eat breakfast!", and walks around me while I'm trying to prepare it. Zac is gorgeous. He's like a human; he's really well-educated.
6.50am I can get ready in 20 minutes. I pick out what I'm going to wear the night before. It depends on my mood. One day I'm really dressed up, the next I'll jump into a pair of jeans and a shirt. Maybe I'll wear the same thing for three days. Usually I'm more into monochrome, but this week I've been very colourful. Lately I've been wearing a lot of prints. Every day is a different combination of a printed suit or whatever. I have a lot of white shirts in my closet; I collect the men's ones. I have 500 shirts, about 30 Tod's bags, and more than 35 pairs of Gommino loafers. I had to call an archivist to organise everything. I like buying a lot of T-shirts. Recently I've been into the Acne ones – the cut is great. And I have a lot of denim. Right now I'm wearing a pair from 3×1. I have a big closet and a studio where I leave my archival books and magazines and pictures. I don't throw anything away. I've just started to count them, and I have close to 3,000 books: architecture, art, interiors, jewellery – everything.
7.15am I use Kanebo cream, then do my make-up in the car. I love MAC. I use their mascara or YSL's, but what I can't live without is perfume – I might have 80 perfumes! I like to mix them. I'm really into Le Labo. I used to wear Poivre, which you can only buy in London, but I just bought Santal and Frédéric Malle Lipstick Rose.
7.40am I walk or take a cab to the studio, depending on the weather. I live close by; I can be there from my home in 20 minutes.
8am I arrive at the office and have my second coffee. I try to have no more than three a day. At the moment I'm really into green tea. I started it three months ago, and I have more energy now. I drink two or three teas in the morning, one in the afternoon, and maybe one during dinner. The office is very calm, which is unusual for a design office. My studio is similar to my house; it's like a living room. There's beautiful furniture from Italian interior designers, paintings, and photographs, some of the art pieces I like, perfume, candles – everything is really charming and peaceful. There are pictures by Man Ray, an abstract painting by Nikolas Gambaroff, and work engraved on glass by Rudolf Stingel. Another favourite is Markus Schinwald. I like to start my day very early, an hour before everyone arrives, so I can answer my e-mails and go through the news. I read a lot of Italian papers and the International Herald Tribune. On Saturday morning I like to read the Financial Times.
9am We keep the schedule very organised and divide the day between my teams for ready-to-wear, shoes, and accessories. Maybe I'll work on prints, maybe I'll work on different fabrics, and then colours – the usual.
1pm We try to have everybody go out for lunch, otherwise we would never stop working. Sometimes we all go out to a restaurant. It's very easy in Milan to find a nice place to eat, but I never eat pasta, actually. I eat more vegetables and light meals.
2pm In the afternoon, I'll have a meeting for bags, then finish with shoes, and maybe a meeting in between with Mr. Della Valle [Diego Della Valle, Tod's chairman and CEO]. I often have a lot of appointments, but there are days when I can sketch and think about what I'm working on. I listen to music; I like everything from classical to rock. I have a lot of DJ friends who give me stuff. Lately I've been listening to Bon Iver. It's more quiet, so I'm in a calm moment. My father [Roby Facchinetti] is a pop star – he wrote a song about me when I was born. He used to be on stage, and now he's doing a TV programme, The Voice of Italy. He and my brother are judges on it.
4pm I take a tea in the afternoon. I like to be with the girls when they stop to have a cigarette. I don't smoke, but it's something that breaks up the day – it's more like a ritual. The studio is almost like home. All of the girls are friends; there are none of the strange feelings that sometimes happen in an office.
5pm We go on with our appointments until eight o'clock, sometimes even later. It's a long day.
8.30pm I go out to dinner with friends or for work, always to the same places. There are a couple of very good Japanese restaurants, such as Zero, and I also like to go to La Latteria on Via San Marco, a traditional Milanese restaurant. I love red wine; I have one glass every day. For cocktails, I like a mint julep. There's a bar in Milan called Dry that makes the best – you've got to have more than one. The other place for cocktails is Nottingham Forest. I tell everyone to go there. It's very small, and you get the feeling of a '70s club mixed with a Hemingway kind of Cuban bar. Saturday is my day when I don't work. I go food shopping, then I get things for my home. I have a flower shop close to my house called Foglie, Fiori e Fantasia. The florist is fantastic – she always shows me new things. At the moment I'm into daisies. I found one that's white and green, no yellow. Every Monday morning we change the flowers at the office. I like to go to art exhibitions or go antiquing or see friends. My favourite bookstore in Milan, Milano Libri, closed, so I'm in a bad mood. But the people who worked there just opened a new place, so that's my future. I was in London recently, and I really like Broadway Market. They have a good food market, and all of these new bookstores that focus on art. Otherwise I go to the Whitechapel Gallery. If I go to the cinema, I follow what is out right now, or I watch a lot of old movies. I love Fassbinder and Visconti, and all of the French Nouvelle Vague films. I used to do pilates and yoga, but in the past two years since I started with Tod's, I've lost it. If I think back on what my dreams were when I was younger, I would have been a ballet dancer. I used to dance; it was one of my biggest passions.
12am My home is like a cabinet of curiosities, full of objects found around the world. I'm very eclectic – there's a sofa from the '50s, one from the 18th century, a contemporary chandelier – but everything seems to be in the same moment, you know? I like to shower before bed and wash my hair. I try to change up my shampoo; right now it's Klorane, but I don't have a favourite. I put on my pajamas and lie a little bit with my dog. Vera Persiani, a friend of mine, does custom handmade pajamas, so sometimes I give her fabric to work with. In the past, it was difficult to fall asleep, but now the moment I touch the bed I'm in another world.