RAG & BONE SPRING/SUMMER '16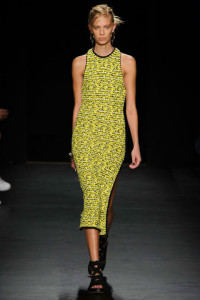 Rag & Bone Spring/Summer '16
The Brooklyn Youth Chorus set the tone for Monday night's Rag & Bone show, suggesting at the collection's direction. What followed was a fun, strong, effortlessly cool ode to street-cum-sport style that was right on the money. (And also season-less.)
While the shapes and silhouettes were spare—long vests, roomy skirts, slim dresses and pencil skirts and bombers—there was a ton of texture via tweeds, mesh, knits, leather and bits of shine all over the place.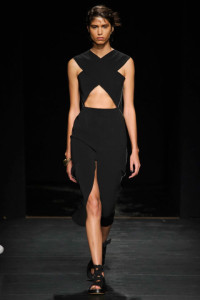 Rag & Bone Spring/Summer '16
Fashion's fascination with sport doesn't seem to be waning any time soon, and if collections like this one keep offering plenty for those who both partake and just pretend, it'll be around for a long time yet.
3.1 PHILLIP LIM SPRING/SUMMER '16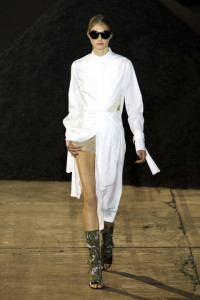 3.1 Phillip Lim Spring/Summer '16
Phillip Lim's pre-show notes implored everyone to stop and smell the flowers. But knowing that he's one of the hardest working designers in the business, one wonders if it was Lim himself looking back on the last 10 years and saying, "Ok, maybe I can take a breather." While he probably won't, it would be well-deserved. In a decade, 3.1 has created a cult following for his contemporary with a designer attitude collection.
For Spring, the flowers came up literally via florals on little silk tunics and wrapped tops and paper bag-waisted trousers, which were interspersed with sportier fare that illustrated the architectural drapes, cuts and layers that Lim has favoured of late.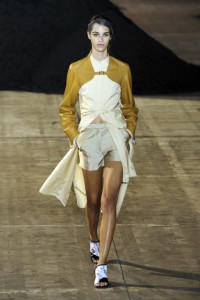 3.1 Phillip Lim Spring/Summer '16
There were a lot of messages here, as if Lim, while stopping to smell the flowers, struck upon a lode of ideas he wanted to figure out. Like wrapped and knotted cotton tops with leather harnesses and leather moto jackets in caramel colors. Regardless—come next March, when the weather's still a little peaked, that jacket will feel just right.
TOMMY HILFIGER SPRING/SUMMER '16
Tommy Hilfiger Spring/Summer '16
If you like pina coladas and getting caught in a giant tidal pool in the middle of NYFW, you'll like Tommy Hilfiger's Spring collection as the designer brought a little bit of island life to New York. Mustique, meet Manhattan on a Monday.
His colors started with the Rasta green, yellow and red and brought in preppy blues and whites. All working in an explosion of bajas, bikinis and beach-combing babes. There were crochet bikinis, tanks and mini skirts in tiers of festive colors, and shore-worthy totes and jute sandals to match.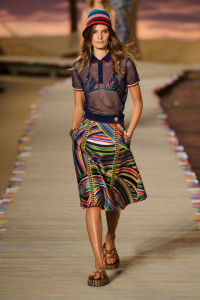 Tommy Hilfiger Spring/Summer '16
Dresses and skirts came out in every stripe—literally—meant for beach, shopping, boardwalk and dinner. It's as if no manner of vacation (or expat living) was ignored. While the opening series of denim pieces are the most likely to see life beyond the beach, this day was about a party. As we buckle down for fall, give up our summer Fridays, dodge the yellow school bus traffic, can't we just—for a moment—pretend we still have our toes in the sand?
CAROLINA HERRERA SPRING/SUMMER '16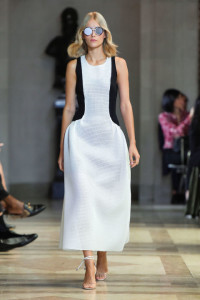 Carolina Herrera Spring/Summer '16
Carolina Herrera is the archetypal lady. For Spring, she chose the uptown ilk, hashtagging it pre-show and presenting in the at atrium at the Frick. But lest you think that this uptown gal was all cinched waists, motifs and matching lip-and-nails, think again. Herrera took pink—that most girlish of hues—and worked it into a modern, sculpted, delicate dream of a lineup.
Pink, cerise, poppy and hot pink were the perfect bookends to navy, white and black stories, too. And for every organza and silk confection, there was a look grounded in a techy sport fabric—just filtered through Herrera's vision of femme. See: a black-and-white mesh gown with racer-like details balancing a molded hip.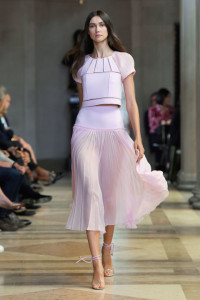 Carolina Herrera Spring/Summer '16
"Today I am choosing happiness," the designer pinned to her inspiration board. But happiness and design chops are not mutually exclusive. Herrera showed cut-out looks throughout the lineup—tops, skirts and dresses whose sheer thin lines offered keen visual interest and grounded the cotton candy prettiness.
PRABAL GURUNG SPRING/SUMMER '16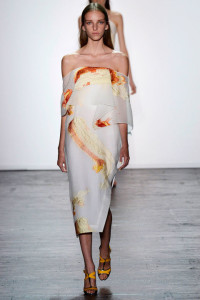 Prabal Gurung Spring/Summer '16
Just as the show note and delicacy of Givenchy earlier this weekend served up the first poignant moment of SS16 Fashion Week, Prabal Gurung offered its second. Before his show, a group of Buddhist monks filed onto the stage to chant and sing a prayer for those affected by the April earthquake in Nepal, Gurung's native land. For a brief, blessed moment the chatter of the weekend slowed as everyone was reminded that there's more to life than clothes.
And yet, when clothes are as pretty as these were and delivered with as gentle a message, it's ok to get wrapped up in them. Gurung melded two ideas: the abstract, near meditative brush strokes and colors of Laxman Shreshtha's paintings with the sun-meets-saffron-and-marigold colors of his homeland.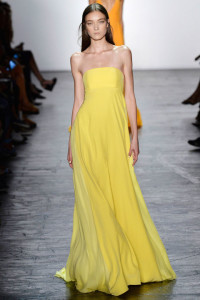 Prabal Gurung Spring/Summer '16
But it was the final trio of gowns in darkening shades of yellow, marigold and saffron, with their sweeping skirts that offered a dramatic tableau as they walked out. They were simply cut and elegant. And a sincere way for Gurung to express his love for his homeland.
ALEXANDER WANG SPRING/SUMMER '16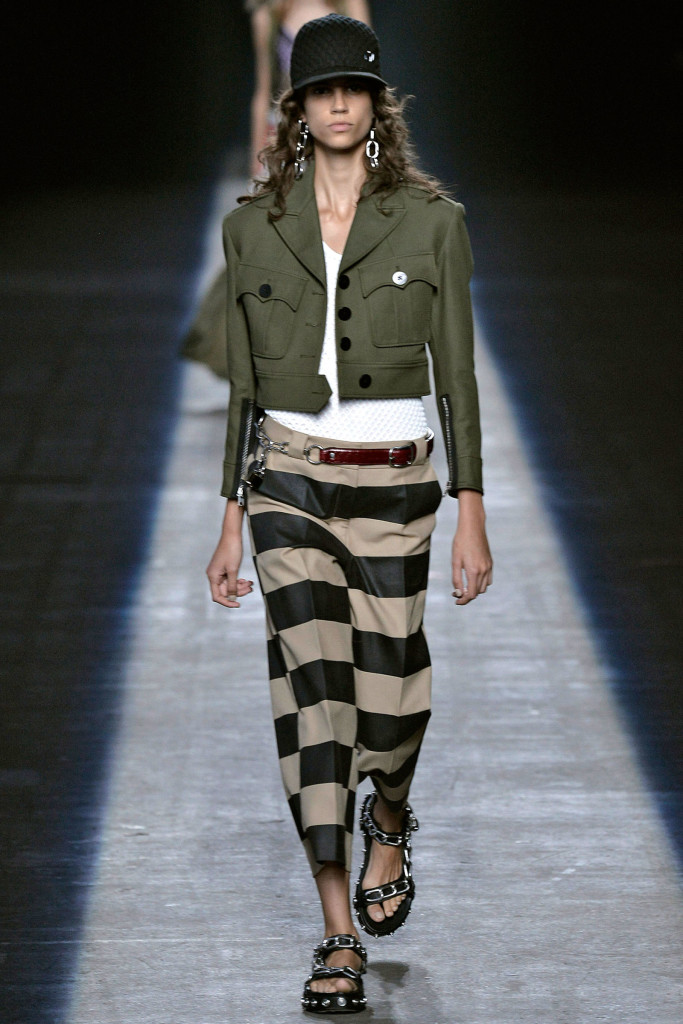 Alexander Wang Spring/Summer '16
It's slightly bizarre to think that Alexander Wang has been in the business for 10 years—he still seems like such a kid. The energy, the youthfulness, the energy, the parties, the energy, the fun friends, the energy. Tonight, his spring collection felt like an amuse bouche to the real party—one where Lady Gaga and Nicki Minaj might make a Kanye West sandwich with a side serving of The Weeknd (all sitting front row)—which came later replete with stripper poles et al.
If the runway didn't exactly push the Wang needle forward, it did serve as a reminder of how intrinsically Wang has changed New York fashion. The overt athletic references, the bold stripes, the very jock-y-ness of it all was out in full force. And these are the things that he knew women would want. He was right, and then so many others would emulate his sporty-luxe vibe.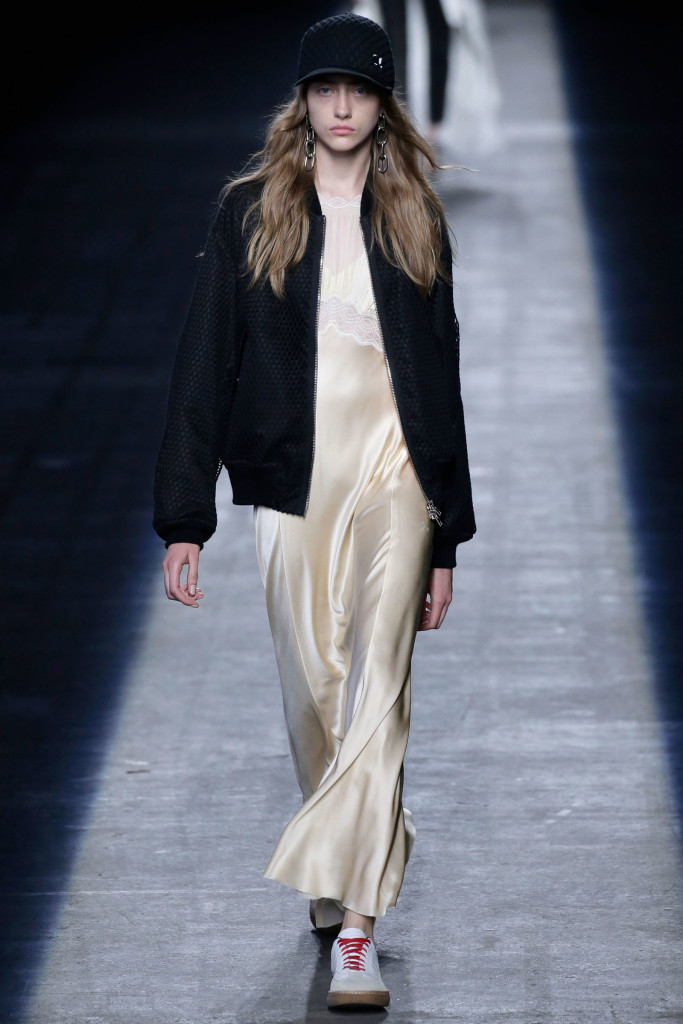 Alexander Wang Spring/Summer '16
Evening was a tough-sexy-sporty pile-up with slinky lace-trimmed negligees, embroidered and fringed black leather bustiers and gowns and cropped silky varsity sport jackets on top of leather moto pants. In Wang's world, "evening" can mean a night at the clubs, too. A decade on, Alexander Wang's tank tops, mesh shirts, varsity stripes, punk leanings and energy are still winning him fans with shoppers, critics and buyers. He's all grown up now, with two labels under his belt, a handful of CFDAs and, at 31, a long career ahead. Happy Anniversary, Alex!
GIVENCHY SPRING/SUMMER '16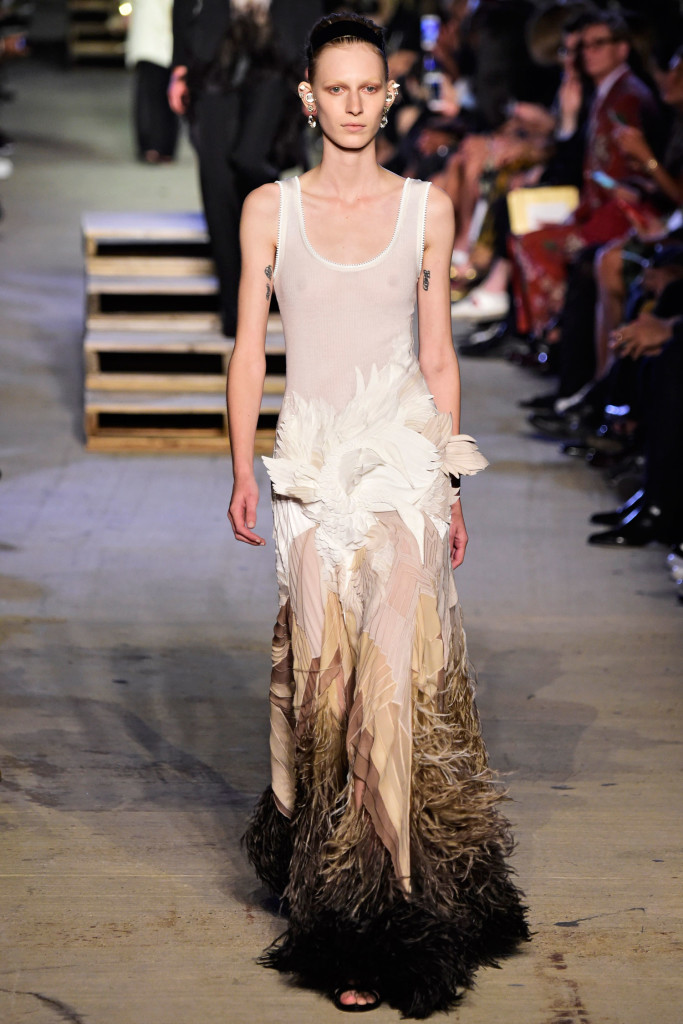 Givenchy Spring/Summer '16
Say what you will, but the French have a history of supporting Americans. Our Constitution is based on French philosophy. New York's most famous monument—that gorgeous lady standing in the harbor—was a gift from the French. And on this day, a sacred date, when the fashion crowd often cringes that we have to do this thing that we do today of all days, the sweetest tribute came from a French designer who partnered with a Serbian-born New York artist. Givenchy's Riccardo Tisci and performance artist Marina Abramovic who directed, created drama, spectacle and respectful homage.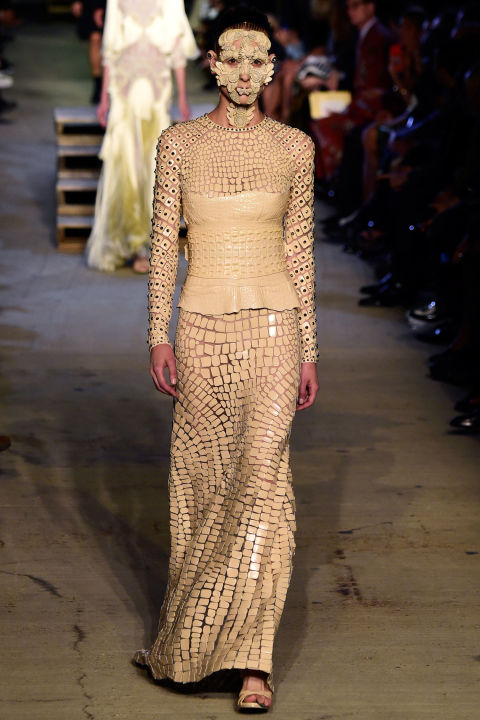 Givenchy Spring/Summer '16
The clothes ranged from black, white, lace and silk, done up in cinched, wrapped, tied and ruffled iterations of tanks, skirts, suit pants, lingerie and dresses. Mid-way after a series of men's looks, it all started to deconstruct and then morph into golden, couture-like gowns. the girls donned face masks, and the level of craftsmanship was cranked up 20 notches.

JOSEPH ALTUZARRA SPRING/SUMMER '16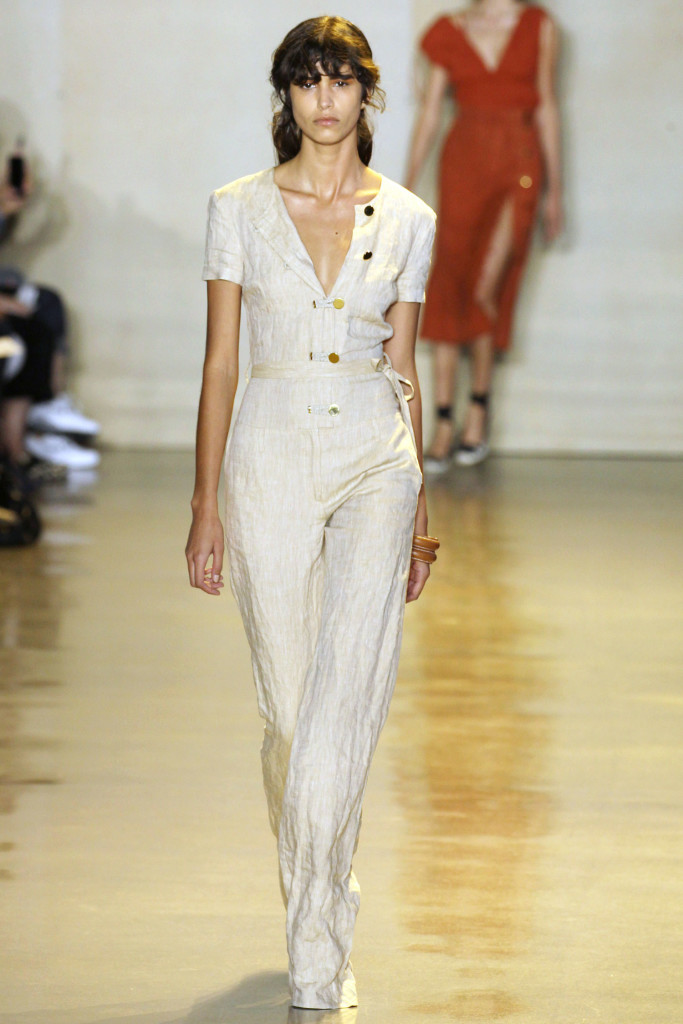 Altuzarra Spring/Summer '16
The first few exits of Joseph Altuzarra's collection came out with the most subtle of skirt slits imaginable! And Mica Arganaraz walked in a sand linen jumpsuit (utterly stunning in its simplicity), ready for a Jeep ride across the Sahara or a walk across Spring Street. Altuzarra wasn't playing to the expected. Rather, he was making his legions of fans to wait for it. His spring collection referenced his Basque roots, he said, in the colors and rich materials. But it was also a study in sportswear—the wearable kind that defined American fashion decades ago and gave the European masters a run for their money. How about some toggle sweaters and swingy pleated skirts (there's that slit!)? Or all those saddle and shoulder bags that came out one after another in near-edible chocolate and caramel leathers. This was daywear at its best.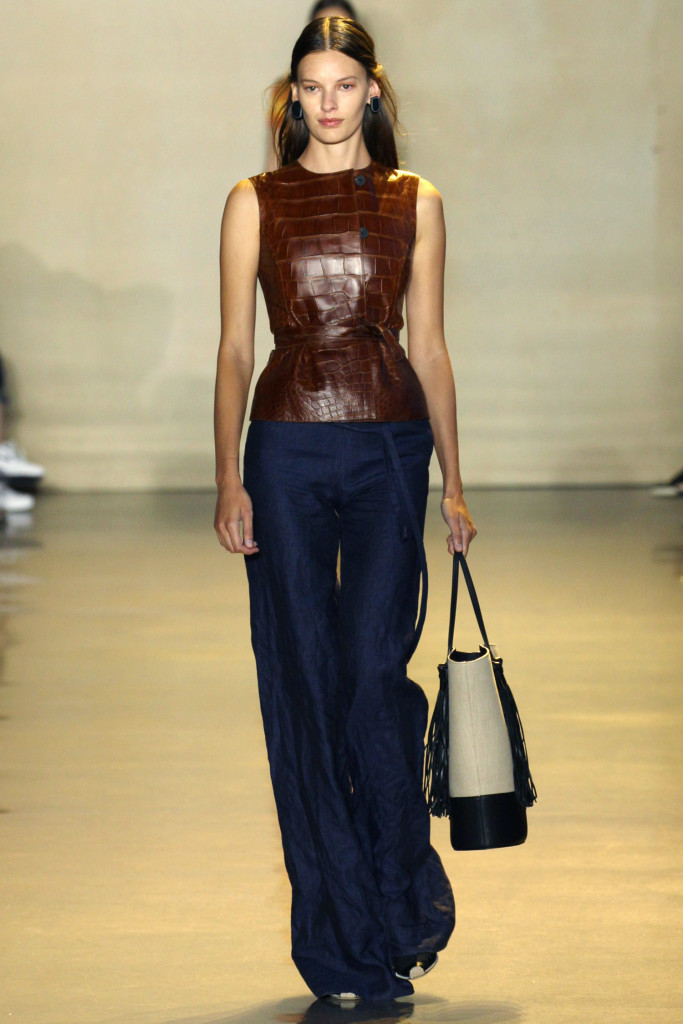 Altuzarra Spring/Summer '16
About that croc. He used it wisely and judiciously elsewhere, on a cinched brown coat and a vest worn with vibrant blue trousers. Altuzarra likes his women strong and sexy, and these two looks hit their mark. The best part was that the thigh-high slits weren't the news here, though much has been made of them of late on social media. They're Altuzarra's signature, sure, but not his only game. Pleated dresses and skirts in burnt reds and oranges, trim pant suits and cinched slim dresses with open necklines slightly tugged off the shoulders rounded out his runway. And it all ended on a very detailed evening note where he painstakingly jeweled and beaded white gauze dresses and black tunics and skirts. Shifting the focus yet again.
JASON WU SPRING/SUMMER '16
Jason Wu Spring/Summer '16
Jason Wu found that balance between ultra femininity and minimalism—two ideas he's flitted around since bursting on the scene nearly a decade ago. If fashion has taught us anything, it's that you can have it both ways. Masculine/feminine. High/low. Tough/soft. The collection was smart, polished and offered a lot of choice that was pulled together by a cool summer-meets-fall palette of bottle green, melon, pink, black, white and a cha-cha floral print.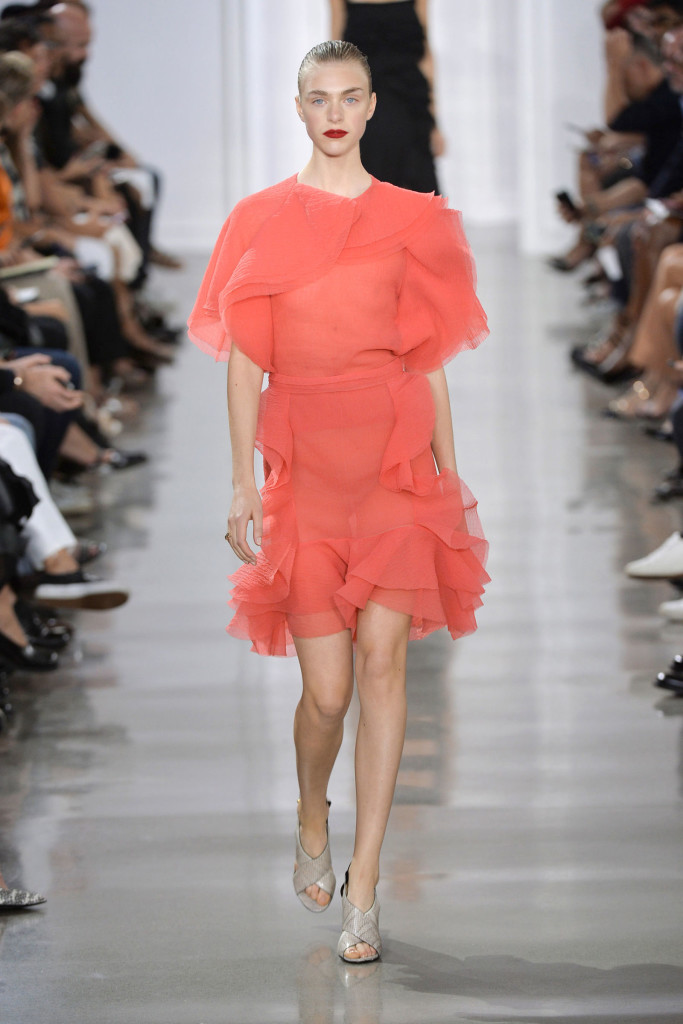 Jason Wu Spring/Summer '16
Sometimes the dichotomy played out in a single exit. Sporty sweaters topped ruffled sheer skirts with floral motifs or the crisp tailored line of a long vest cut in soft white mink (somehow, on a hot late summer day, it made sense). Wu's dresses let loose the flou, with ruffles and frills piled on top of vibrant pink. But you could still imagine this hanging in the same closet as a sexy sheer black lace cami and tulle skirt that preceded. There's always two sides to a story, right?
Text: Nandini D'Souza. Images: Getty & Imaxtree
Via: HarpersBazaar.com