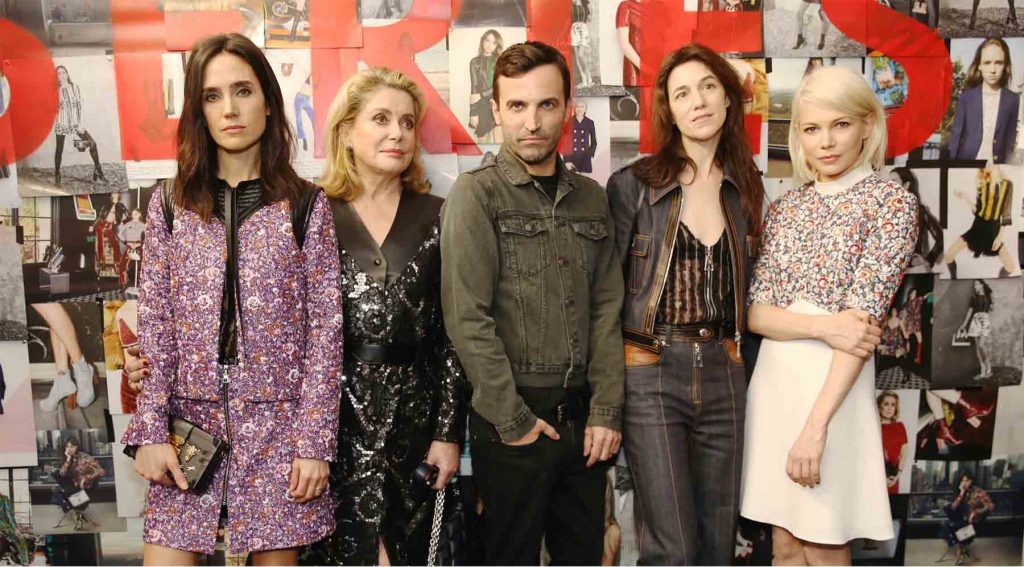 Jennifer Connelly, Catherine Deneuve, Nicolas Ghesquière and Michelle Williams at the 'Series 2 –Past, Present and Future' exhibition held in Los Angeles
That the Spring/Summer '15 collections riff on ideas of feminism would literally be the understatement of the season. Even Hollywood gave a discreet nod to the ideology with Gillian Flynn's Gone Girl made filmic by cult director David Fincher. However, the cultural trope of the "cool girl" that Flynn alludes to – the girl that is the antithesis of the "good girl" but who is as much of a fiction – somehow resonates with the perfectly evolved collection Nicolas Ghesquière presents, his third for Louis Vuitton.
One thing is certain: Ghesquière is quietly taking his time. This is alluded to at the beginning of his Spring show, which launches the seminal Fondation Louis Vuitton – the Frank Gehry-designed building made of glass panels and steel that speaks to art and heart. A video is played and this luminous line from Frank Herbert's Dune rings out: "A beginning is a very delicate thing." When the Balenciaga wunderkind left that esteemed house after 15 years to join what was without doubt one of the most sought-after creative helms in the business of fashion, it was as if pundits everywhere collectively held their breath. But that was in 2013, and now, in his third innings for Louis Vuitton, Ghesquière is showing his true colours. Last Autumn's '70s aesthetic is pumped up with volume no better evidenced than model Miranda Kerr. She mesmerises in lush kaleidoscopic flocked velvet, the threads a riveting tapestry of self-confidence. It is an extension of the streamlined A-line minis and quieter hues of his first collection for the house; this one seems to indicate Ghesquière is fleshing out his muse. "I can be a great scientist and look for ideas, but I want to tell you I can also be a great classic designer. I get older like everyone, and at 43, I want to think, OK, I have a signature, but I'm totally able to build something that is more timeless," he says.
So who is this girl then? For one, she knows herself. "If she invests in a skirt or a jacket or a dress, I make the promise not that it is never going to be completely démodé, or never out of fashion," reveals Ghesquière. "Keeping my consistency, keeping my story, but going in a more simple way. I want to build a wardrobe with the girls at Louis Vuitton. I wasn't looking for a big break from my last season, I want to define my cool girl." This time the collection builds on the Seventies aesthetic by taking it further. Saturated hues are punctuated by classic monochrome, texture takes centre stage, and crochet shift dresses make the cut with beautifully tailored jackets and blouses. Paying homage to the Seventies and the height of feminism is easy enough with de rigueur mini dresses but taken to the next level with clever twists and detailing: think topstitched denim, glossy striped eel leather, and leather embossed with floral print. Show-stealers include boot heels shaped in the LV monogram flower as well as the red-on-black update of the monogram canvas.
Beyond the collection, the cool collaboration continues. Ghesquière gets gal pal and Academy Award-winning actress Jennifer Connelly to star in the new Spring/Summer '15 campaign, shot by a who's who of A-list photographers. Juergen Teller, Bruce Weber, and Annie Leibovitz shot 'Series 2' across Paris, Miami, and New York, and Connelly joins Freja Beha Erichsen and Jean Campbell who starred in the 'Series 1' for the Autumn/Winter campaign last year.
Next, a host of actresses rocked up with Ghesquière in LA recently at the premiere of
'Series 2 – Past, Present and Future', an exhibition that took the audience inside the mind of the designer. They were, Connelly, Michelle Williams, Charlotte Gainsbourg (yes, the daughter of Jane Birkin who was quite the poster girl of '70s hippie chic) and … Catherine Deneuve, 71 – because clearly, there is no age limit when it comes to Ghesquière's cool girl.