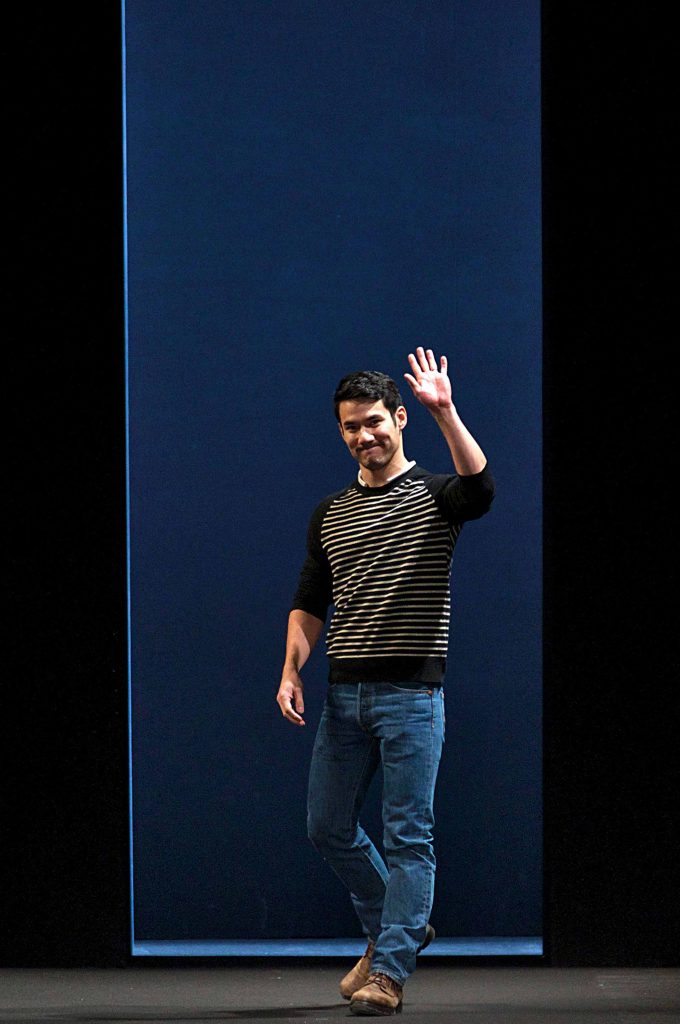 Joseph Altuzarra
7: 30AM I have an alarm on my phone, a very soothing sound that I often do not hear. My husband, Seth [Weissman], has to nudge me out of bed. I'm not a tremendous morning person, so I need time to wake up. I need everything to be very relaxing — a phone call from a factory with a problem is an awful start to the day.
8:30AM I have a little water, take a long shower and brush my teeth. I don't have a complicated beauty regimen. I've used Kiehl's Facial Fuel moisturiser for the last 10 years. I put some stuff from American Crew in my hair, and that's pretty much it. Getting dressed is the fastest part of my morning because I wear the same thing every day, which my team makes fun of me for. I have one pair of jeans and a pair of leather jeans that I wear with boots, a T-shirt and a sweatshirt. The leather pants I have made by my factory, one pair a year. I'm going to sound unfashionable, but I have American Apparel T-shirts that I buy over and over, and I'm wearing a Cheap Monday sweatshirt I bought during college. I have a lot of boxers and boxer briefs, for some reason. I get them at a place in Paris. They just find me. I have maybe 40 pairs, including some I don't wear, with hearts on them.
9:00AM My husband leaves before I do, so I'm alone in the apartment. It takes me a long time to pack my bag, and I clean a little and check my email.
9:30AM I hail a cab — I'm a big patron of New York City taxicabs. I don't know how to drive. Seventy per cent of the time I bring my dog with me. Her name is Bean, like a jelly bean. She is so used to this routine that when I go to pick her up to get into the cab, she almost jumps into my arms. She's a schnauzer and likes any toy with a face. It's weird; she goes for the eyes first. Every animal toy we get her is pristine except that it's eyeless or faceless. Schnauzers are bred to hunt rats, and it's super apparent — if we're walking and she sees a squirrel, it's out of control. I listen to music when I'm commuting. Lately I've been into the Gone Girl soundtrack. Sometimes I listen to more pop-y stuff, like FKA twigs, and a lot of older music as well. I love Carole King. And I love Salt'n'Pepa. Have you seen the really weird "Push It" commercial on TV? It's an ad for Geico, where a guy tries opening a door that says push, but he's pulling it, and Salt'n'Pepa are like, "Push it, push it."
9:45AM I always order an egg-white omelette with cheese and mushrooms from the same place, Prince St. Café, on Seamless, and 
have it delivered. My team knows that when my breakfast arrives, I'm about five to 10 minutes away.
10:00AM I stop by Smile to Go [cafe] and get an iced coffee. I drink it iced no matter the time of day, no matter the weather, and come in to work. The environment is pretty relaxed. My CEO, Karis [Durmer], brings her dog as well. I eat and check my email again. I have this compulsive thing that I don't like having any unopened email — I have to have zero unread in my inbox first thing in the morning, and especially when I'm going to bed. I'll look at The New York Times and Women's Wear Daily and touch base with my design team or the communications or production teams about issues with the factories, like questions about how things should be made.
11:00AM I work with two stylists, Vanessa Traina and Melanie Huynh, and get their feedback. Vanessa comes in and looks at the clothes; if we're doing looks, we'll try them on the models and discuss, take pictures and see if we need anything new to be developed. I've known Vanessa for seven years and Melanie for nine —they're my two closest friends. They're not big going-outers and neither am I. We'll go out for dinner, but we have sort of quiet social lives. We're so comfortable with each other that we can be very honest, getting into little arguments, but we have a wonderful time. I'm not a tortured designer. I still have the iPhone 5s; I'm not a crazy technology enthusiast. I use Instagram sparingly, and I'm crazy about closing my apps to save the battery. I use Seamless and Uber quite a bit, Dark Sky for the weather and WhatsApp with Melanie, but no workout apps.
2:00PM Around lunchtime I go get something from Smile to Go or from the deli. It's pretty healthy! Usually I'll look at the internet while I eat — fashion sites or the Times again.
2:30PM After lunch I have meetings with my design team and make decisions about fabrics, trends and shoes, and I'll touch base with Karis. A lot of my day revolves around drawing. I have templates I draw on, and while I eat, 
I listen to, like, the same two songs over and over. I've been listening to Röyksopp and Robyn's "Monument," some classical, like Rachmaninoff's "Piano Concerto No. 2," and the Harry Potter soundtrack — it's actually very good. I drink a lot of water and Snapple diet peach iced tea. Seth and I are both addicted to it, independently of each other. If I'm in the office all day and night, I might have five. I don't know how the company found out I drink it, but they sent me a case where they'd customised the facts inside the caps. I still have one. It says, "Real Fact: Snapple isn't too sexy for Joseph's catwalk." Snapple is pretty much my main guilty pleasure. I don't, like, pop open a bottle of wine when I get home. I used to bite my nails, but I stopped by force of will. I was getting sick a lot, and 
I thought that the nail biting was a contributing factor.
6:00PM I take a cab home, or sometimes I'll walk because I like to give Bean a little exercise and to relax my mind.
6:30PM I walk to the gym and work out with my trainer, Chase. I've been trying to be more healthy. I run a bit and go through a battery of exercises — it's a great stress reliever.
8:00PM I have a strawberry shake and walk home. Honestly, 95 per cent of the time we just order in for dinner. I love sushi, and Hana, in our neighbourhood, is our big place — Seth and I may or may not be keeping them in business. I like Thai food, I like Italian; I'll eat sort of anything. I made a crumble this weekend, and that's in the fridge. We're big TV people; we have a dining room, but we eat in the living room so we can watch it and decompress. Homeland is amazing, and I like The Good Wife, House of Cards and Veep. I actually love watching shows like 60 Minutes or Frontline. I just like to hang out when I have time off, sometimes watching movies — When Harry Met Sally, The Godfather, In the Mood for Love — or going for a run. I love reading fiction. I really liked The Goldfinch, and I'll reread classics like Lolita. I've been trying to get into poetry, so I just bought a collection of poems by W.H. Auden.
11:00PM Seth goes to bed earlier than I do, so then I do research and get on my email one last time, and that's usually how my day sort of ends.
Midnight My bedroom is very dark; we have blackout shades. I need total darkness to sleep and I need it to be very quiet. Usually we watch more TV right before going to sleep. I'm now trying to stop looking at my phone that late — you sleep much better. We'll take Bean in the bed sometimes, but invariably after, like, 15 minutes, she wants to go to her own bed. We have a lot of linens from Frette, but that's coloured by the fact that we just got married and we registered there. We're not usually that fancy.
This article first published in the June/July 2015 issue of Harper's BAZAAR Australia.