The third instalment of Louis Vuitton's Artycapucines sees the Maison's iconic Capucines bag reimagined by six new contemporary artists.
When the Capucines made its debut in 2013, it came little to no surprise the bag became an instant darling amongst the fashion elite. Named after Rue des Capucines—where Louis Vuitton opened his first store in 1854—the bag's impeccable silhouette offers a refined polish to any wardrobe. Its clean yet structured lines delineate an elegant and confident persona that epitomises the crème de la crème of contemporary style.
This year, the Artycapucines Collection returns with six leading contemporary artists— Gregor Hildebrandt, Donna Huanca, Huang Yuxing, Vik Muniz, Paola Pivi and Zeng Fanzhi—who will "bring their unique visions" to the timeless Capucines bag. The third chapter of the limited edition series underlines the magnetic beauty of the Capucines; bringing together years of artisanal expertise and raw talent to create a mesmerising pièce de resistance.
The Capucines' distinctive design provides the perfect canvas for the artists' ingenuity and individuality. From Donna Huanca's tactile interpretation, to Huan Yuxing's beautifully embroidered and vivid rendition, and Gregor Hildebrandt's stunning monochrome take of the iconic handbag, the Artycapucines collection is a delight to behold. And with only 200 pieces available per design, the bags are desirable works of art worth the investment.
Discover the bags here: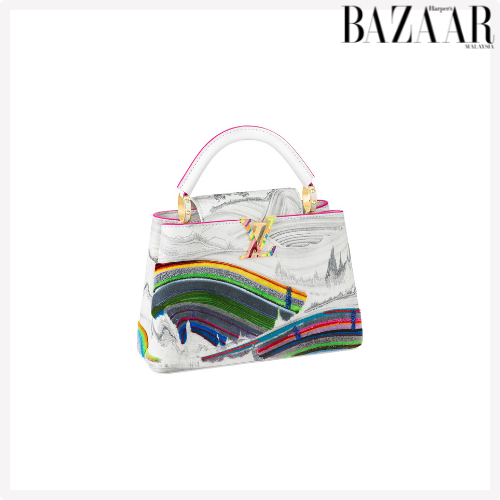 Huang Yuxing
Chinese artist Huang Yuxing's vivid artwork is grounded in the traditional realist Chinese technique known as Gongbi. Expressive and vibrant, Huang's Artycapucines features a wondrous landscape of rainbow-like mountains that are created using tufting-stitch embroidery. A handcrafted metal LV signature inlaid with colourful enamels together with the bag's striking hot-pink edging completes the exuberant piece.