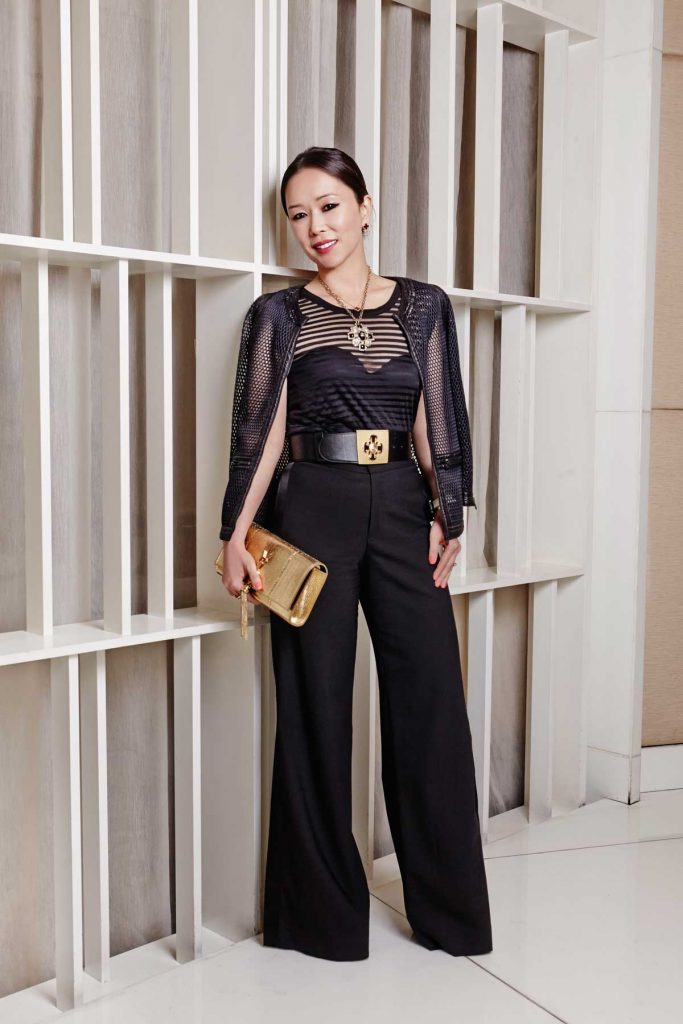 Shawna Yap has a charming irreverence about her. As rich as her social credibility is, you get the feeling that she does not take the jet-set life too seriously, even if she is away most weekeends for soirées with international friends. Lounging in a private room of the Mandarin Grill at the MO – practically her second home as she entertains there that much – she lightly taps on her iPad, chatting about the youngest Kardashian, Kendall Jenner, currently gaining cred on fashion runways. "Can you believe how popular she is? She is absolutely stunning and does not have to, well, try too hard," she says, with a glint in her eye.
As the team works on her hair and make-up for the shoot, Shawna is completely at ease. "Mandarin Grill is like my own kitchen, almost. I'm here at least once a week so the whole team knows exactly what I like," says the California-born and bred Shawna, adding that she simply loves Malaysia. "I moved here about 15 years ago, after I got married to my husband, who's Malaysian. It's funny, though. We both studied in the US but it was in South Korea, where my parents are originally from, that we met," notes Shawna.
"Back then I was working in television, hosting a programme where I discussed the differences between Asian and Western medicine. He used to watch the show. When we first met, he didn't recognise me as the girl on TV, although he did say that I looked familiar. "I like to think that it was just meant to be – I am a firm believer in fate, after all," she smiles.
Unpacking her well-loved Louis Vuitton suitcase and garment bag – investment pieces purchased almost 25 years ago – Shawna reveals jackets from brands such as Chanel and Bottega Veneta, and tweed and silk shorts. As timeless as the statement luggage she kept them in, the pieces are currently on high rotation in her wardrobe. "My style? I think of it as preppy with a twist," she reveals. "Jackets are really my thing – I am usually in one, working it over evening gowns and everything else. Although, that also means that the air conditioner at home is switched on 24/7," she laughs.
For this shoot, Shawna pulls out a leather jacket from Fendi, which she wore when Anna Fendi was in town for the '60 Years of Made in Italy' extravaganza at Pavilion KL. "It's my current favourite. Anna absolutely loved it on me and told me to wear it every day!" shares Shawna. "When we were at the Fendi store in Pavilion, Anna picked out a Fendi Baguette to match my jacket and I just had to get it – I mean, it's not every day that Anna Fendi personally chooses a bag for you. She's such a fantastic woman and I look forward to meeting her again on my next holiday in Italy."
For another outfit, Shawna accessorises her look with a large Hermès silk scarf, tucked under her belt. "If there's one thing I collect, it has got to be silk scarves. My mum got me into wearing them, and over the years I've collected countless scarves from different brands, especially ones from Hermès. They are easy to travel with and their versatility means I can wear one around my neck, over my shoulders, and even as a top – with a jacket thrown over, of course."
Listing Jacqueline Kennedy Onassis and Anna Wintour as her style icons, it is her mum who Shawna credits as one of her earliest style influencers. "My parents are both very fashionable and I have to admit that I was pretty pampered growing up," she confesses. "I probably started to develop an interest in fashion when I was about 10 years old. My first designer bag was a Fendi Baguette!"
These days, Shawna favours Balmain, Chanel, and Hermès. "I have my eye on a couple of Balmain pieces – the designs are unique and the detailing is absolutely divine. Another favourite label of mine is Farah Khan. I met Dato' Farah many years ago at a party and we've become good friends since. I love both her style and her label. Her designs are very international and they travel so well; her embellished dresses don't wrinkle and I don't have to pack too many accessories because they're already so glamorous."
Accessories-wise, Shawna says she prefers to keep things classic. "I usually wear my wedding ring, a Cartier Love bangle in rose gold, and my heart-shaped Chopard Happy Diamonds ring. These are pieces that I will never part with, for their sentimental value, of course." As for shoes, Shawna has no issues dancing in her towering five-inch platform heels all night long. "Even though I did suffer from a slipped disc once while I was partying in them at a yacht party," she laughs.
It's this incredible positivity and energy she brings to everything in life that makes Shawna endearing. This year, instead of throwing a birthday party, she's used the money to help five infants undergo much-needed heart surgery. Style with a heart – now that's real.
Photography: Felina Hung/Lensworks Studio