It's finally happening. After a 17-year wait, we are finally getting the long overdue Friends Reunion! Say it with me now: could we be anymore excited?
Friends made its debut in 1994, and lasted for a whole 10 seasons. The Emmy-winning series grew from your usual half an hour sitcom into a phenomenon, becoming one of the most successful scripted television shows in entertainment history. A cultural touchstone among Gen X, two decades in Friends continue to find audiences with millenials and Gen Z through syndication, particularly so through Netflix.
So great was its influence and appeal that the show attracted guest appearances from the Hollywood elites, among them stars the likes of Ben Stiller, Bruce Willis, and Jean-Claude Van Damme, as well as powerhouses such as Academy Award winners Robin Williams, Julia Roberts, Brad Pitt, Susan Sarandon, Reese Witherspoon and yes, even Sean Penn. The fashion set loved the show too, with cameos from models Isabella Rossellini, Brooke Shields, Jill Goodacre, Rebecca Romijn, Elle Macpherson and designer Ralph Lauren.
As much as we tuned in to delight in the antics of Chandler, Joey, Ross, Monica, Rachel and Phoebe (played respectively by Matthew Perry, Matt LeBlanc, David Schwimmer, Courteney Cox, Jennifer Aniston and Lisa Kudrow), the distinctive styles of the ladies in particular helped to inform the fashion of the '90s, thanks to the handiwork of costume designer Debra McGuire.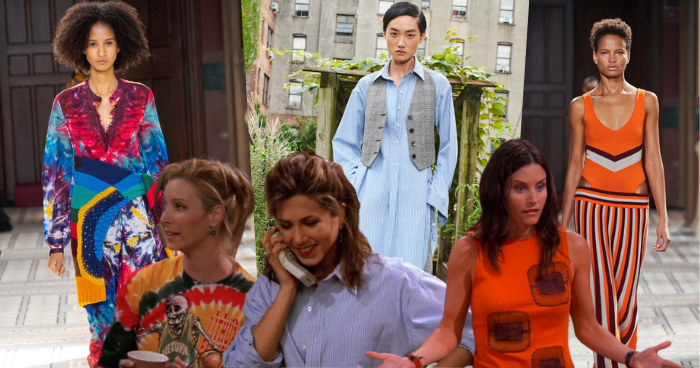 Fashion is a cycle, and for the past few seasons now, the '90s have made quite the impression on contemporary designers. In honour of Friends: The Reunion (it airs today!), we look back at several key looks from Monica, Rachel and Phoebe to see how they are now interpreted into the trends of Spring/Summer 2021.
BLACK & WHITE
Each Friend has her own way of pulling off the BW look. Phoebe Buffay (Lisa Kudrow) just loves her florals, an ultra-feminine approach adopted by the likes of Giorgio Armani, Valentino, Prada and Tory Burch this season.