Introducing Coach Fall 2021 with Special Appearances by Some of Your Favourite Stars!
Months of lockdown has encouraged us to explore other means of communication and expression digitally—a move that was embraced by the fashion industry with open arms and vigour. Coach took the digital experience one step further, unveiling a virtual presentation dubbed "Coach TV" in collaboration with photographer Juergen Teller and Frances Frances, who wrote and directed the "pre-show" vignettes.
Because Forever is, by definition, something that continues.—Stuart Vevers
Exploring the contrast between pop culture and fashion, the theme drew on Stuart Vevers' vision of mixing past, present and future to reflect the essence of everyday dressing. And what better way to do so than with a nifty programme that viewers can relate to? "I have always loved exploring the intersection of fashion and pop culture at Coach," said Vevers in a statement. "I am excited to bring my latest vision for the house to life via 'Coach TV.' I wanted both the collection and the presentation to make sense and resonate in these unique times and I am excited to share both in a way that I hope will entertain and inspire."
The programme gave us a whiff of nostalgia and epic blast-from-the-past moments that featured Coach Family members such as Jennifer Lopez, Michael B Jordan and K-pop stars HyunA and Dawn to name a few. Friends parody? Check. Tele-shopping services and ads peppered in between the all too familiar glitches? You got it!
This season, Coach's Fall 2021 collection continues last season's narrative of community, responsibility and mixed-season wardrobing, featuring an amalgamation of plush cozy coats, printed midi skirts, dresses, comfy knits and loose silhouettes alongside borrowed elements from past season shows (note the charming Rexy sweaters). Comfort was of the essence, evidenced through constructive layering that blended indoors and outdoors dressing in harmony. Need to run to the grocers quickly? Just grab your shearling jacket and sandals (or fluffy clogs) and you're good to go! Other highlights include a special collaboration with American outerwear brand Schott NYC and Coach's bestselling Rogue bag as seen on Kaia Gerber and Kim Gordon.
With a collection focused on the timeless appeal of classics and practicality, it comes little to no surprise the Rogue bag is the highlight of the season. A favourite of Stuart Vevers, the bag—inspired by free spirits, rebels and dreamers—is available in three sizes and offers a wide selection of textures and materials that include contrast stitching, colour blocking and textural jacquard to name a few. Underlining their commitment to the environment, the bag is also crafted from environmentally conscious materials. The signature textile jacquard for example, is made from a blend of organic cotton and recycled plastic bottles. Below, we highlight our favourite Rogue bags from Fall 2021.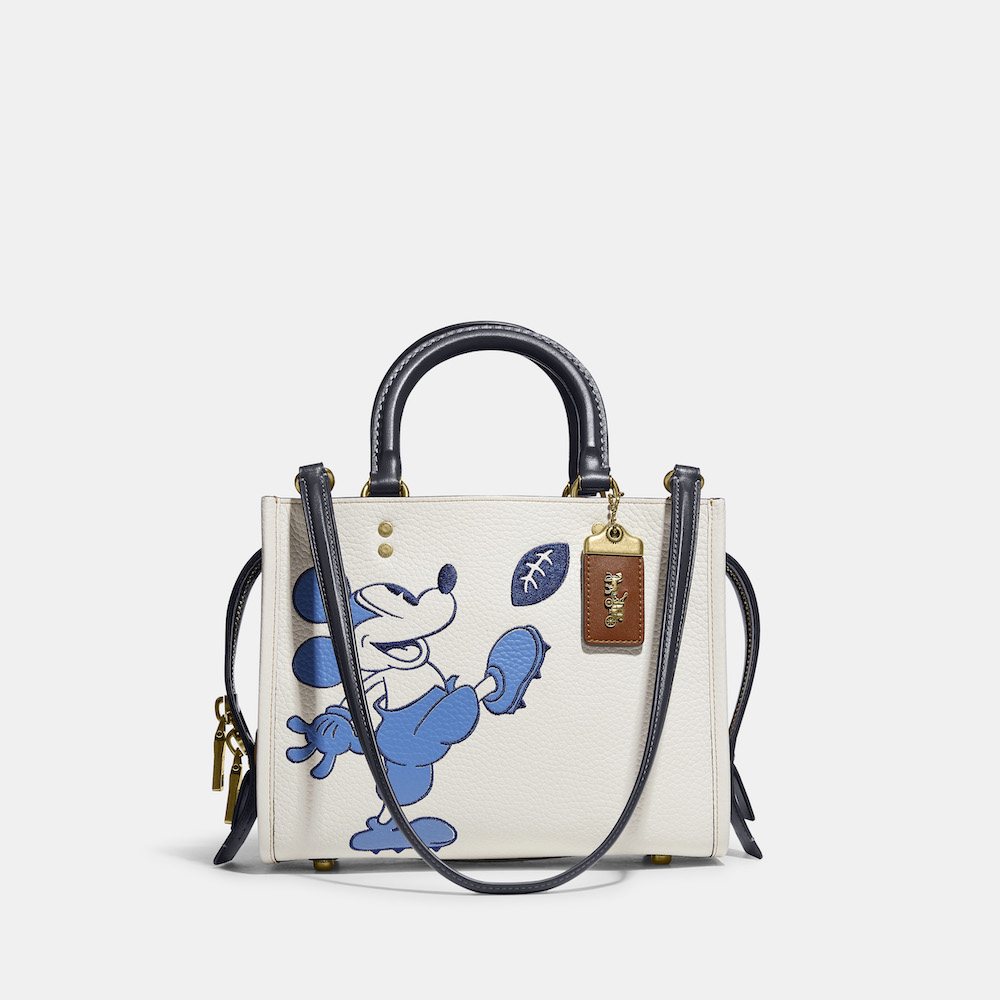 Game On!
A special collaboration featuring Disney's one and only Mickey Mouse, the bag is crafted from natural pebble leather and buttery soft glovetanned leather. Its neutral colours will match any outfit in your wardrobe seamlessly.