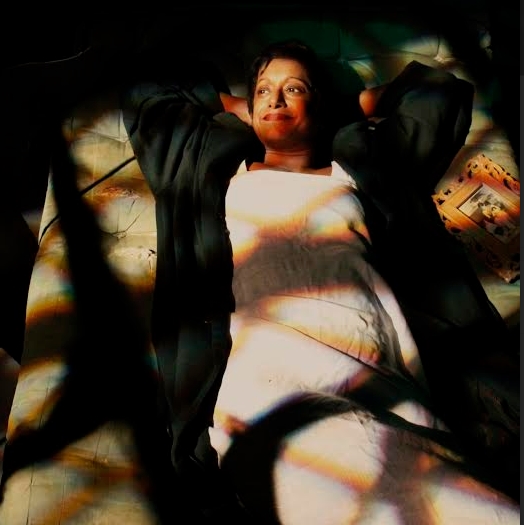 Jo Kukathas
Image: Tania Knutt
Harper's BAZAAR: How did the idea for the showcase come about?
Jo Kukathas: When Instant Café Theatre (ICT) turned 25 last December, we had marked it with a play called Raj and the End of Tragedy. On the last night of the play, many of the ICT alumni came to celebrate our 25th birthday, and the talk turned to talk of a "reunion" show. Then, some months ago, in response to some national-type nonsense, [comedian] Rashid Salleh posted on Facebook: "Where is Instant Café, and why aren't we making comedy of this?" A lot of other ICT folks chimed in, and so did a lot of our followers. But of course, what we are truly inspired by is the current state of the nation and the synergy behind the fact that ICT turns 2.6 decades old just when the number 2.6 becomes part of the national discussion … Snap!

HB: What are some of the social issues people will be privy to with it?
JK: People are living the issues. The haze, murky political wheeling and dealing, shirts of various colours, the law, the price of chapati, the ringgit plunging deeper than Kim Kardashian's cleavage (I can't believe I sunk to a Kardashian joke) … but we will also be going down mudah lupa lane. After all, this is to celebrate 2.6 decades of D'Nonsense in D'Nation. We need to laugh, or else we'll cry.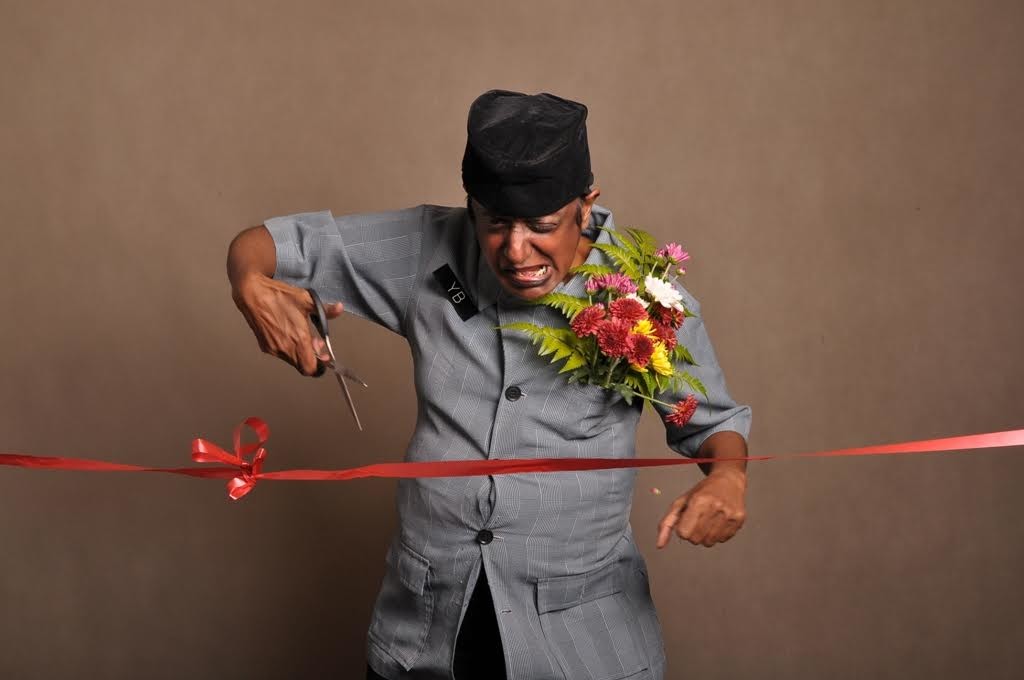 YBeee of the Ministry of Ribbon Cutting, one of the many beloved faces of the venerable Jo Kukathas
Image: Faizal Mustafa
HB: What was the biggest challenge of the show?
JK: We are writing new songs and sketches, and updating some of the classics. The challenge has been choosing what to do out of so much funny material. That's why we are doing two sessions – the show at the PJ Civic Centre and a series of smaller shows at Damansara Performing Arts Centre.
HB: Your dream audience?
Nelson Mandela, Mahatma Ghandi, Tunku Abdul Rahman, and Monty Python.
HB: The last hilarious thing someone said to you?
"It was a donation."
D'State of D'Nation is on Dec 1 at PJ Civic Centre, and from Dec 4 to 6 at Damansara Performing Arts Centre. For details log on to:
www.instantcafetheatre.com
ABOUT THE INSTANT CAFÉ THEATRE COMPANY Some people started a theatre company, you won't believe what happened next…
In late 1989 four friends Jo Kukathas, Andrew Leci, Jit Murad and Zahim Albakri decided to start their own theatre company. They called a diverse group of friends to join them – actors, musicians, writers, lawyers, teachers, insurance agents, the unemployed. Two sleepless months later the ensemble performed for the first time in a café upstairs of Bon Ton Restaurant in KL. Those were dark days in Malaysia and their humour was political, edgy and deeply subversive (orsometimes just plain silly.) Most people said they wouldn't last a month in that authoritarian climate. Luckily most people were wrong. The company soon garnered a loyal following with their black comedy, using dark humour to comment on everything from the absurdity of contemporary society to tyranny,stupidity and corruption. From the start Instant Cafe was a home and a fun but ruthless training ground for a generation of talented Malaysians – for whom sleep deprivation became the norm. It became a revolving ensemble of actors, musicians, directors and writers who together formed a writing/performing ensemble to collaborate, research, improvise, write, devise and perform its own distinctive work. 2.6 Decades Later they are gettting together – to do a Reunion for D'Nation. And for D'Love of You. Performers and writer for D' State of D' nation include: Jo Kukathas, Zahim Albakri, Jit Murad, Andrew Leci, Shanthini Venugopal, Indi Nadarajah, Allan Perera, Sandy Sodhy, Chacko Vadaketh, Na'a Murad, Paula Malai Ali, Patrick Teoh, David Gomes, Rashid Salleh, Junji Delfino, Nell Ng, Edwin Sumum, Kam Raslan, Afdlin Shauki, Maya Tan Abdullah, Diong Chae Lian, Joanna Bessey, Manesh Nesaratnam, Reshmonu, Sean Ghazi, Ghafir Akbar, Gavin Yap, Tria Aziz, Zalfian Fuzi, Ayam Fared, Gan Hui Yee, Nish Tham and Kuah Jenhan.