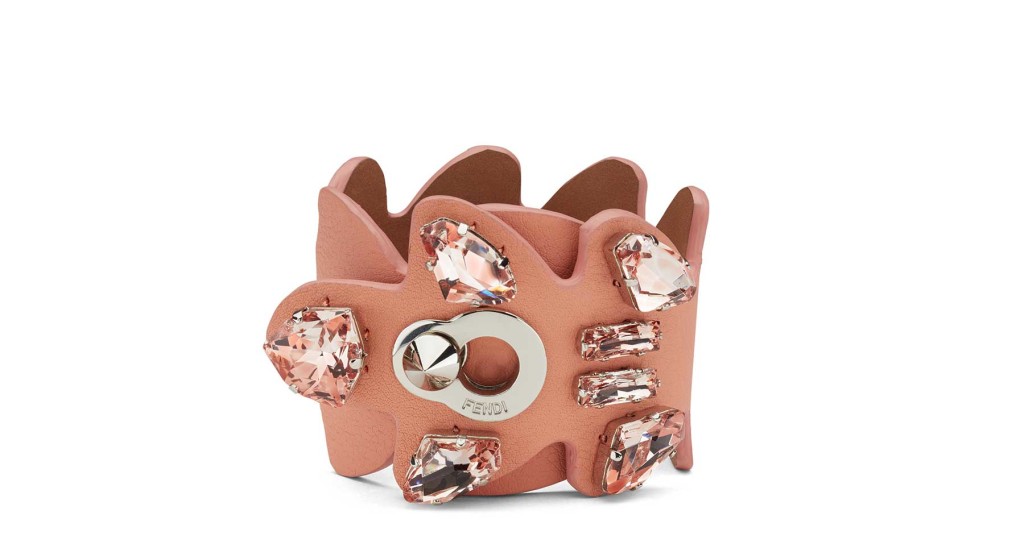 Cuff, Fendi 
CANCER
June 22 – July 23
Instead of seeing a blip in a close relationship as a near-disaster, why not think of it as a valuable opportunity to clarify an area of confusion? Around July 6, when the Sun is opposed by Pluto, you should find the courage to finally express all those views you'd normally keep to yourself. Just bear in mind it's possible to do it in a no-nonsense way that at the same time shouldn't offend anyone involved.
Mantra of the month A narcissist is someone better looking than you.
LEO
July 24 – August 23
If obliged to keep information to yourself, others will understand you've had to be discreet. In the second half of July, you'll be able to disclose the details. Look forward to a position you've hoped would be yours.
Mantra of the month Much unhappiness is from comparison.
VIRGO
August 24 – September 23
Territory negotiated single-handedly in the past is best tackled with somebody reliable. Accept support without feeling the need to prove how self-sufficient you can be. Once you trust their motives, things will fall easily into place.
Mantra of the month The more laws, the less justice.
LIBRA
September 24 – October 23
With unexpected career or financial developments, you won't want to sound smug but you should be pleased. Once Mercury hits the highest point of your chart on July 8 you'll see how to disclose some promising news.
Mantra of the month When all else fails, read the instructions.
SCORPIO
October 24 – November 22
Opportunities before you might not offer huge financial rewards. Enhance your reputation by showing how well you navigate work others find baffling. Trust that time and effort invested in this way will bring dividends in the long run.
Mantra of the month Don't let what you can't do interfere with what you can do.
SAGITTARIUS 
November 23 – December 21
You cannot assume loved ones will support plans they see as fanciful. Be prepared to take the first crucial steps on your own, without accusing anyone of disloyalty. You might think they're being difficult but they genuinely want what's best for you.
Mantra of the month Focus on similarities, not differences.
CAPRICORN
December 22 – January 20
With others loading so much onto your shoulders, you'll wonder whether you can take the strain. You'll find you have all the strength required. The only danger is that people will think they can make a habit of overburdening you. Put them right.
Mantra of the month Easy Street is really just a blind alley.
AQUARIUS
January 21 – February 19
You'll soon have to take on a very conscientious role. Make sure that from mid-July your input is acknowledged by those expecting you to do a tremendous amount. Also, establish parameters outside which you won't be available.
Mantra of the month The first step in overcoming faults is to admit to them.
PISCES
February 20 – March 20
The month starts well with Neptune allied to the Sun. However, you mustn't be so distracted by off-duty involvements that those in authority question your commitment to more serious areas. Prove you can divide your time responsibly.
Mantra of the month Never do your best card tricks for the group you play poker with.
ARIES
March 21 – April 20
Having been forced to negotiate complex arrangements you should soon see the fruits of your labour. The Full Moon in early July should encourage you to finalise details with those who can influence your long-term future. Whatever happens, stay cool.
Mantra of the month If money talks it says nothing worthwhile.
TAURUS
April 21 – May 21
Refuse to travel or attend meetings against your wishes. There will be endless talk of plans in which you'll have little interest and you mustn't give in to pressure. By mid-July focus on secret ventures of your own. Until then, make it clear you're nobody's puppet.
Mantra of the month Praise and criticism can both be frauds.
GEMINI
May 22 – June 21
Once you develop a new strategy regarding finances, you must take action. Others might be unnerved if they think they're in danger of being eclipsed. They'll simply have to adjust; it is time for you to make decisions that suit you instead of them.
Mantra of the month Achieving starts with believing.