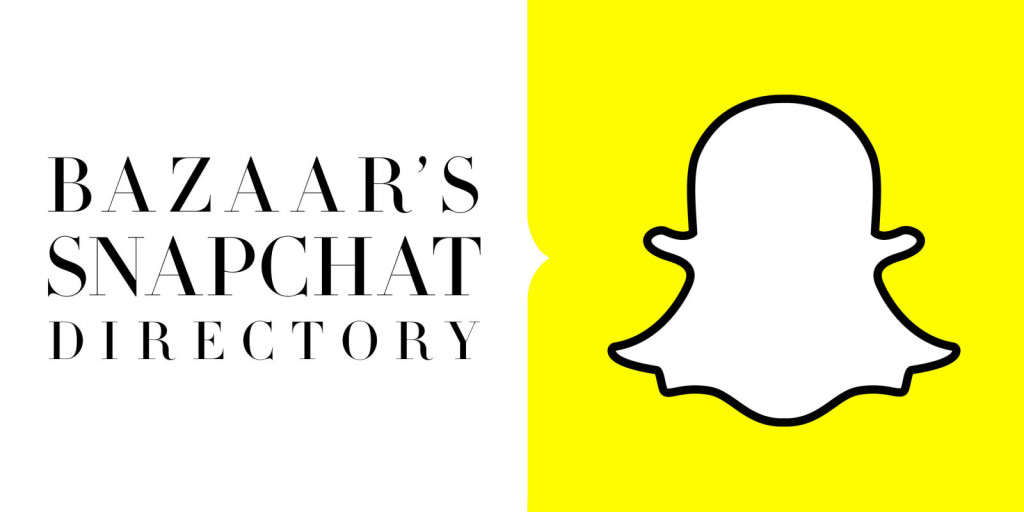 Update 7/22/15: ​Back in February, David Yi gave BAZAAR his official guide to navigating the world of Snapchat—along with who to follow on the new favorite app. With more celebs, models and bloggers stepping up their snap game, we rounded up the latest must-follow accounts to add to your radar below:
Rickthesizzler: ​Mega-star Justin Bieber finally gave in last month and shared his Snapchat account with the world—giving all the Bieliebers a firsthand look at his life, from riding around in his custom Maybach, goofing around with his best friends to spending quality time with his little brother Jaxson.
Kylizzlmynizzl: ​The youngest Jenner, Kylie loves a good Snapchat singalong, you'll find her lip-synching to her favorite tunes while riding around Calabasas, and also glimpses of her supermodel sister Kendall Jenner.
Rihanna: ​The account is run by Rihanna's best friend, Leandra Simone, which gives us a real behind-the-scenes look at the pop diva, from her late-night munchie runs to bathing her new puppy.
CalvinHarris: ​While we're still waiting for a glimpse of life with superstar girlfriend Taylor Swift, for now Harris shows off his funny side, recording humorous moments from a life on the go. ​
Haileybisboring:​ ​Quite the contrary, Hailey Baldwin's snapchat records hilarious moments with her movie-star dad Stephen Baldwin, and dance parties with her crew including Kendall Jenner, Jayden Smith and more.
ChiaraFerragni: It's true the #BlondeSaladNeverStops, see what it's really like to be a blogger, country hopping, attending fabulous parties, and working on photo shoots with major brands and magazines.
Joan_Smalls: ​From the perfect supermodel selfies, to peeks at life on-set, you won't want to miss a minute of her story.
KellyBellyBoom1: ​Want to know what it's like to be one of the newest Victoria's Secret angels? Follow the Swedish-born stunner, Kelly Gale, for a look at her workouts and photo shoots with the legendary lingerie brand.​
ChelseaLeyland: ​From working the party circuit and constant travels, get an inside peek as life as a DJ-about-town, plus you can't help but be entertained by her American accent impersonations.
DevWindsor: ​Top model, Devon Windsor, who splits her time between New York and Los Angeles, loves to bring her Snapchat followers along for the ride.
​ShaninaMShaik: ​The Aussie model also shares a behind-the-scenes look at life on set, where she always has her bulldog, Chopper, by her side.
Jas: She may smize for the camera, but Victoria's Secret angel Jasmine Tookes shows off her fun and goofy side on the app, whether she's hanging at home with model boyfriend Tobias Sorenson (thesorenson87) or girl's night out with Victoria's Secret babes.​
Original Post, 2/10/15: If Facebook is where your parents live, and Instagram and Twitter where millennials hang, Snapchat is where kids of Generation Z have gone to seek refuge. The app, which made its debut in 2011, initially attracted teens who wanted their own place in the universe to send everything from silly scribbles to salacious sexts, knowing that they would be purged within seconds.
Today, it's become the most relevant social media platform that's available. Free from intuitive features that readily hand over information into a newsfeed or a home page, the platform isn't the easiest ones to learn. Which makes it cool—like a secret club—for only those "in the know" to understand.
And for adults who have been able to grasp its concept, it's become the speakeasy for social media.
Recently, Snapchat debuted its Discover feed with partners like ESPN, Yahoo News, CNN, Cosmopolitan, Warner Music, among others, a place where users can find breaking news stories updated throughout the day. It's also the same place where Madonna recently premiered her video, "Living for Love" last week. From scripted shows that have already debuted like "Literally Can't Even," to live feeds from events like Sundance or last Sunday's Grammys, Snapchat is proving that it's only getting more relevant and quickly taking over.
If you're still not sold on Snapchat and still a little puzzled as to who to follow—or what it's about—here's BAZAAR's starter kit of the best users who are using the app correctly, and who you need to follow now.
Bobbyhundreds- If you want to see how Snapchat is supposed to be used, there's no one else to follow than Bobby "Hundreds" Kim, co-founder of the Los Angeles streetwear brand, The Hundreds. Kim uses the platform to tell daily stories of his life, from attending influencer conferences with Nasty Gal's Sophia Amoruso, to getting pulled over by cops. Whatever the tale, there's always a takeaway and insight that Kim shares.
psimadethis- Erica Domesek of the popular DIY site, P.S. I Made This, has translated her social media prowess into creating hilarious stories on Snapchat. In one story she's off on an eating sojourn with two friends in Santa Monica. In another, she's watching hot boys eating during a Super Bowl party. It's like watching Domesek's own reality show in real time, and we're completely glued to our phone screens.
Man_Repeller- The always witty Leandra Medine gives you a quirky, behind-the-scenes look atThe Man Repeller. Consider Leandra's Snapchats your front row ticket to New York's fashion scene and all things cool.
Diplo- Who doesn't fantasize about hanging with Diplo as their best friend or permanent companion? The swaggy DJ takes insider videos into his jet-setting life where users are able to see him changing (ahem, while shirtless) into his Grammys outfit, to listening to exclusive beats he's working on. Whatever the case, it's obvious that it's Diplo's world, we're only watching (avidly on Snapchat).
Nowthisnews- Founded in 2012, NowThisNews is one of the first and only news outlets that completely lives on social media. With its bold, humorous graphics, it translates easily onto Snapchat as one of the most exciting and insightful news channels germane to this generation.
JeromeJarre- As if becoming one of the world's biggest Vine stars wasn't enough, Jerome Jarre, the 24-year old social media wunderkind, went onto Snapchat last year to do the same thing. Now with millions of followers, you can watch Jarre live Snapchatting from award shows, to hanging with celebs like Robert de Niro and Pharrell.
Hannahbgood- The always fashionable DJ Hannah Bronfman's Snapchats are the perfect balance of her duo life—health/fitness expert and curator of HBFit by day and one of fashion's hottest DJ's by night. From her motivating workouts to her videos from behind the turntables at New York's best parties, her snaps will give you major FOMO.
Frmheadtotoe- YouTube beauty guru, Jen Chae, of the popular channel, Frmheadtotoe, recently amassed over 1 million subscribers. She's since taken that momentum and launched a saccharine but informative Snapchat where users can see what products she's currently using and how she applies makeup. The best part of her Snaps are when she documents each step of her beauty regime from a naked, makeup free face, to full, finished face.
Ryanseacrest- The busiest man in showbiz also has one of the busiest Snapchats around. Seacrest provides an intimate and compelling behind-the-scenes look into his life, from hitting the red carpets, to interviewing your favorite celebrities.
SophiaAmoruso- What is it like to be a #girlboss? From the looks of Amoruso's own Snaps, pretty amazing. The 30-year old doesn't hold back when it comes to filming antics such as using her own hair as sunglasses, or poking fun at herself while riding down a Los Angeles street. Obviously, Amoruso is saying that a #girlboss just wants to have fun.
Ireneisgood- One of the biggest models in South Korea and now a burgeoning street style star stateside, Irene Kim, provides an inside look into the many shoots she's on, to her hair transformations, and her insane outfits she's prepared for New York Fashion Week.
VashtieKola- If you've ever had serious FOMO, now's not the time to follow fashion insider and New York City It Girl, Vashtie. The DJ provides her followers with an intimate look inside the exclusive fashion world and the ins and outs of all things cool.
Atrak- The Canadian DJ takes his followers on a dizzying, 24/7 worldwide adventure, jumping from one continent to another, doing so with style, humor, and frenetic energy.