BAZAAR presents an exclusive collective called the BAZAAR #DigitalDiary where we go into the lives of new-age Malaysian girls living abroad, local by heritage and international by culture. Stay dated with our #BAZAARDigitalDiary hashtag for a delectable churn of our local millennial ladies. Watch this space as BAZAAR has the best of the new breed.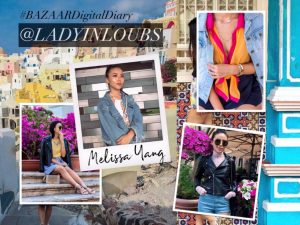 The one who roams the world with wild abandon is the one who turns pavements to runways. She who dares will make the world her stage. Meet BAZAAR's #DigitalDiary fashion savant, Melissa Yang. Emerging fashion 'IT' blogger and social media starlet, the new colour of cool comes in many patterns and prints personalised to the digital identity of @LadyinLoubs. Closet contentment is one chic click away.
Fashion
https://www.instagram.com/p/BaMOiZ4gqaF/?taken-by=ladyinloubs
Philosophy
Fashion is always fun and ever-changing. Don't box yourself into a certain style category. Have fun experimenting with different trends and always go for what you think works for you and your body type.
Style
I like having basic pieces that are slightly more feminine and I build my style around those pieces depending on the season/trend. Recently I've also been trying to experiment a little more with different silhouettes.
Key pieces
Good denim, basic whites and accessories.
Designers
Chanel, Dior, Balmain (pretty much anything French)
Accessories
My current favourites are from Wanderlust+Co because I love layering the accessories. But this changes overtime.
Jewelry
I don't usually wear fine jewelry pieces. I tend to like switching up my accessories game, so I usually go for more affordable fashion jewelry pieces.
Signature Item (in the good life of fashion!) –
Definitely oversized sunnies! Also my small Hermes CDC bracelet that I pretty much wear daily. Unlike the leather ones, this bracelet is more feminine and is a good base to do an arm stack.
Style Icon
Olivia Palermo, Nicole Warne, Annabelle Fleur.
Faux Pas
Wearing clothes that don't fit.