Best Eco-Luxury Retreat: Six Senses Laamu, Maldives
I come to my senses as soon as our speedboat draws up to the jetty of the spectacular island before me, and a man dressed in mint-green, known as my "guest experience maker", hands me a drawstring pouch and gently nudges me to remove my footwear. Off came my shoes—and my daily stresses—as soon as my feet came down to earth. Six Senses Laamu's no-shoe policy is my first sign of liberation, and the start of my journey of integrated wellness here.
The style of living here is about being one with nature, where the outside and the inside merge as a cohesive whole. Villas are fashioned out of local wood, and feature rustic thatched roofs, transparent bathtubs, rainforest showers, alfresco lounging areas decked with cushions made from sustainable materials, and a mini rooftop for obvious stargazing purposes. The lettuce and herbs on your salad are harvested from the Leaf Garden, while the still water is filtered and desalinated on the island. If you're looking for gleaming marble and polished silver, you've simply come to the wrong place. Luxury in this corner of paradise comes in the purest and simplest forms, adding to the awe-inspiring views.
My first morning started with a stroke of luck—a sighting of an eagle ray on my way to breakfast at the over-water Longitude restaurant. The first meal of the day is a serious affair here, that even long-term vegans can proclaim that they're spoilt for choice. After a hearty meal of paleo granola sloshed with almond milk and Maldivian tuna omelette, I am ready to take advantage of the immediate access to the electric blue waters. My snorkelling excursion on the house reef, part of the brand's eco code of conduct, is well-rewarded, as I swim alongside not one, but two hawksbill turtles.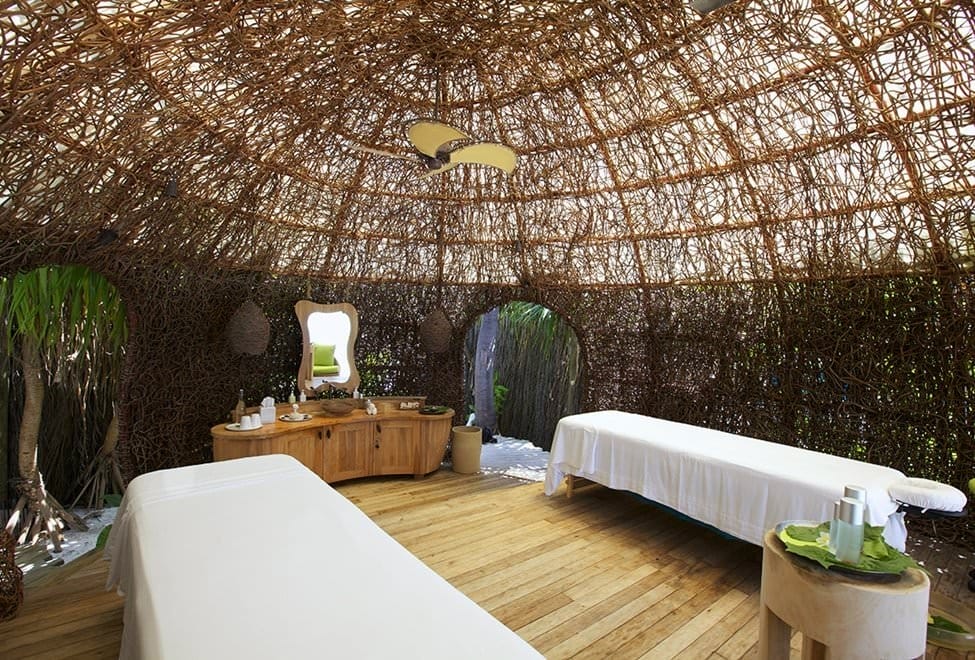 This sun-in-my-hair, wind-in-my-face holiday in Maldives is all fun and peachy, but I wasn't about to let myself get distracted from my main goal. After my dosha analysis, the wellness programme of my choice, Cleanse & Detox, is personalised with Ayurvedic spa treatments, meditation practices, and a yoga schedule. The final goal? To become a more centred individual, with clarity of thought, and peace of mind. My introduction to the holistic powers of Ayurvedic healing starts with a two-hour Abhyanga massage, followed by a Shirodhara session where warm medicated oil is poured slowly over my third eye. It didn't take long before my mind drifted away to a happy place. Then, I got to detox through a dry massage using herbal choornam powders called Udvarthanam. Coupled with a steam and bath session after, I notice visible reduction in water retention and better skin texture.
A good night's sleep is also part of the wellness equation, as I swap out my magnesium pills for the Makura pillow filled with buckwheat hull. I awaken from my deep slumber, ready to take on another challenge—counteract gravity with aerial yoga. With the help of a hammock in an airy yoga pavilion, and encouragement from my yoga instructor, I lie suspended in the air, listening to calming waves crashing as I stared into the horizon.
My last dinner, at the magical Japanese restaurant Zen, of soft shell crab tempuras, tuna tacos, and sashimi boats, end the experience on a high note. After dinner, I take a long stroll along the jetty back to my water villa. In this moment of silence, surrounded by the starlit sky, the heart is content, and I wouldn't have it any other way.
Laamu Atoll, Maldives. Tel: +960 680 0800. www.sixsenses.com