Don't be surprised when you hear seasoned travelers (and shoppers) refer to Shanghai as the "Paris of the East." While the two cities have many differences, they have much in common on the fashion front; Shanghai (like the City of Light) is a shopper's paradise. As China's style capital, Shanghai is home to a population of insatiable shopping addicts—and the fashion landscape is primed to cater to their favorite pastime. This bustling metropolis has become one of the most cosmopolitan cities in the world, with all the luxury brands you are already familiar with...and then some. Expect streets lined with luxury labels, boisterous plazas, colorful open-air markets, glitzy malls and trendy unique boutiques.
The endless luxury offerings make sense once you consider the stats: more than half of the world's retail development resides in China, with 35 million square feet currently under construction in Shanghai alone. Major roads like Huaihai Road and West Nanjing Road are lined with shiny new malls—which are home to glittering flagships for key labels like Prada, Chanel and the like. Boutique luxury brands to love—like Isabel Marant and Victoria Beckham—fill the racks in department stores like Lane Crawford. In addition, expect to find edgy international shops, like 10 Corso Como and Dong Liang, curating a completely unique retail experience for their demanding clientele.
If you're heading to Shanghai, sharpen up your bargaining skills and increase your credit card limit. Warning: You may need to buy some additional suitcases at the end of your trip. Here, our expert tips to shopping this complex and exciting retail Mecca.
FRENCH CONCESSION BOUTIQUES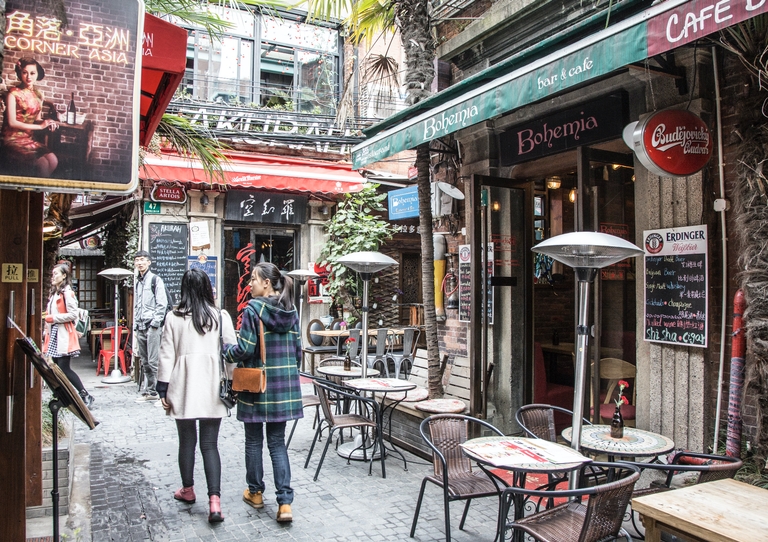 For higher-end Shanghai brand shopping, cruise the leafy streets of the former French Concession, lined with tiny boutiques from aspiring local talents. The busiest stretches lie along Changle Road (between Maoming Road and Chengdu Road) and Xinle Road (between Donghu Road and Maoming Road). Julu Road and Fumin Road contain a smattering of interesting boutiques, while Shaanxi Road is budget shoe heaven if you fit a size 37.
Dong Liang (184 Fumin Road) fills an 80-year-old lane house with smartly tailored capsule collections, plus funky purses, slippers and specs by China-born indie design labels like He Yan, Ricostru and Chaireyes. A few doors down, Shanghai based designer Helen Lee (172-1 Fumin Road) shows off her eponymous label of edgy easy-to-wear fashions. Across the road, Madame Mao's Dowry (207 Fumin Road) hosts pop-up fashion and homeware showcases amidst its Cultural Revolution inspired art and souvenirs. Pop your head into the framed windows at Catie Lo (105 Wukang Road) and transport yourself into a vintage storybook where super feminine dresses, purses, shoes and accessories are beautifully displayed in antique cabinets and dressing tables and arranged over luxe velvet armchairs. In a standalone boutique on the quiet end of Changle Road, find organic skincare infused with Chinese herbal ingredients like goji, hawthorn and mulberry at Ba Yan Ka La (1221 Changle Road). The beautifully scented lotions, handmade soaps and candles make for fantastic gifts.