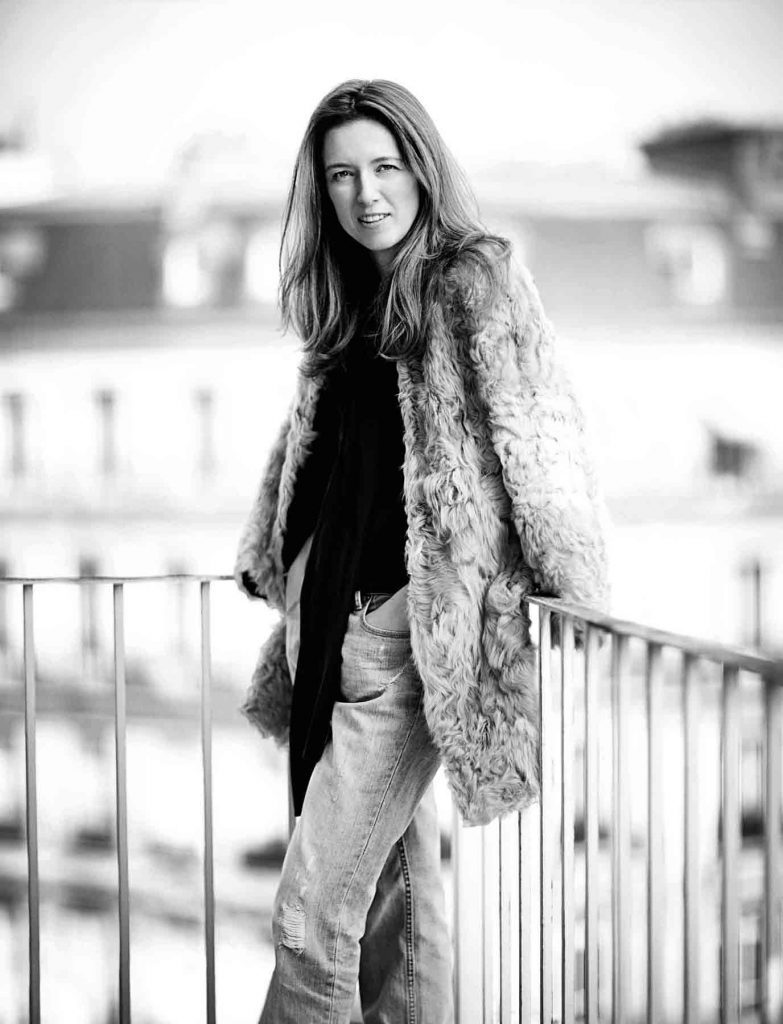 Clare Waight Keller
7AM When I wake I check to see where my dog, Harry, is. He's a mini dachshund, and often sleeps right next to my bed. He's kind of old now – 15 – so he doesn't hear me, and if I'm not careful, I'll accidentally tread on him and he'll jump up like a horse. He gets a shampoo and blowout once a month, but he hates it. Now because he's a bit slower, he's like a vacuum across the park when we walk him; his fur picks up everything. I make him food twice a week, couscous and fresh chicken. He is a very well-kept dog. Then I go and check on the children because normally one of them is still asleep. I've got twins, Amelia and Charlotte, who are 11, and a little one, Harrison, who's three.
7.15AM I'm off into the kitchen getting the kids' breakfast. They change what they're interested in more or less every day. So it may be something quite French such as pain au chocolat or a baguette with Nutella, or they might go for a peanut butter sandwich or cereal – it's a whole revolving list of breakfast opportunities. I'll have a cup of tea while I'm with them, and then a fresh fruit juice with vitamins.
7.30AM I do a fast shower, never more than five minutes. I use Aesop and SkinCeuticals products; and a lot of organic things, like Dr. Jackson's, a British brand; and these French liquid vitamins in glass vials they sell here in Paris. I don't do a lot of make-up. It's some quick Laura Mercier cover stick and mascara. I am low-maintenance when it comes to all that. I tend to overbuy on creams, though. It's a very French attitude – the skin is the most important thing.
7.45AM I think of what I'm going to wear the night before, or it takes me forever. I'd love to be like a guy who can just pick up a pair of trousers and a shirt every day and off you go, but it takes a little more effort for a woman in this job. I have about 25 Chloé blouses, a series of greys and neutrals. With shoes, it's insane. It's terrible to name the number, but it's probably around 130 pairs.
8.15AM I walk Harrison to school. He's always in a bouncy mood, talking about the things on the street – the birds in the park or the diggers or things like that. It's refreshing to have that innocent perspective in the morning and not have to think about the day ahead. The one other time I get any exercise is on Saturday morning. I play tennis in the woods at nine o'clock come rain, snow – anything.
8.25AM I drop Harrison off, jump in a taxi, and head to the office. That's really the first time I look at e-mail. We have a rule at home that we don't have any kind of electronics at the kitchen table. Otherwise you can end up being like a zombie. I give my husband, Philip, a call because I might not have seen him. Occasionally I'll go on Instagram. I mostly follow friends and a lot of fashion people, Michel Gaubert, and a few surfers. My girls and I do a surf trip every summer, usually in Cornwall and a bit in California, where the big waves are and the cold water. I don't like the sun so much; it becomes irritating. I much prefer cold weather.
9AM When I arrive at the office, I check to see what I have on. At the beginning of the week, it's a meeting with my CEO. Then I come down to the studio and we start working through the season. We recently launched a new fragrance, LoveStory. When we're working on fragrance projects, there's a day that they come in with the different formulas. We do an initial test where you spray it, smell it, and give reactions, then they take it away and come back a week later. During that week you will have worn it at different times to get a feeling of how it changes.
1PM We're in France, so lunch is at one o'clock on the dot. Everybody vanishes and you cannot get ahold of anyone. Sometimes I eat with friends at a restaurant called Market, with colleagues in the office, or at my desk. I have something light, local, and organic – mostly salad. This is normally the time of day that I can answer e-mails and get my phone calls. I just have one iPhone, and everything's on it – it's like a travelling library. I get inspired by all sorts of things, like a fantastic David Shrigley installation I saw recently. He's hilarious. I just did something with Jenny Saville; I collect a lot of contemporary British artists, and I'm often at the Palais du Tokyo here in Paris.
2.30PM I have my days very structured, so I know exactly which day is for which area, like one that is just accessories and one that is just fittings. Maybe it's a British thing, but I always have a big cup of tea around. I hate coffee. If I'm in Paris on the weekend, I love to go to the flea markets. I'm not too bad at bargaining – I can be quite charming. Recently I bought a beautiful Murano glass lamp. The style of my home is quite eclectic. I have everything from 18th Century to 1960s to contemporary furniture, wicker chairs, and rope stools. I also love driving for hours. I have a very old four-by-four that's starting to cave in, so I'm looking to get a Land Rover. The only time I get to listen to music is in the car. It's a mix, from Coldplay to Neil Young, the Eagles, Wilco, Portishead, Oasis, and Carly Simon. When I have my kids in the backseat, theirs is more Lady Gaga, Taylor Swift, Ellie Goulding, Rihanna, Lily Allen …
9.35PM I call my mum in the cab on the way home. She loves to talk about astrology and tell me what she saw in my sign this week.
10PM When I come home late, I'll eat something light – fruit, perhaps – and have a glass of red wine, which is perfect to get that light buzz so I'm completely relaxed. I'm not someone who likes alcohol on a big scale. If I get home at a normal time, I'll eat with my husband. I'll cook farro and usually something vegetable-based – I haven't eaten red meat in 25 years – or sometimes I'm super happy to have eggs and toast. Philip is an architect, and he works a lot at home and travels to England once a week. We'll eat and he'll tell me about his day and have a family catch-up.
10.30PM I finish putting the children to bed and try to give myself that last hour. I don't get to look at books or magazines as much as I'd like to, but I love shopping for them. I read fashion magazines at work – all the major titles, plus the trade papers, and a few niche magazines including Holiday, The Gentlewoman, and Self Service – but at home I read other stuff. I've been collecting books for 15 years, so I have several thousand. I love finding first editions, rare books, and funky, strange ones – books of American T-shirts and books on wood that might kick-start a collection.
11.30PM My bedroom is quite cosy and simple, mostly greys and whites. There's a fireplace, a mirror, a modern portrait, and one 18th-Century portrait above an Indian dresser. Philip laughs at me that I always like having the TV on but never watch it. I enjoy doing a lot of things at the same time – I might have a magazine next to me and I'll be going through the Internet and checking my phone. I guess that's why I don't have problems going to sleep, because I'm so intense looking at stuff during the day that when I'm on the pillow, I'm out.
If I'm in Paris on the weekend, I love to go to the flea markets. I'm not too bad at bargaining – I can be quite charming.
Images: Boo George; Imaxtree