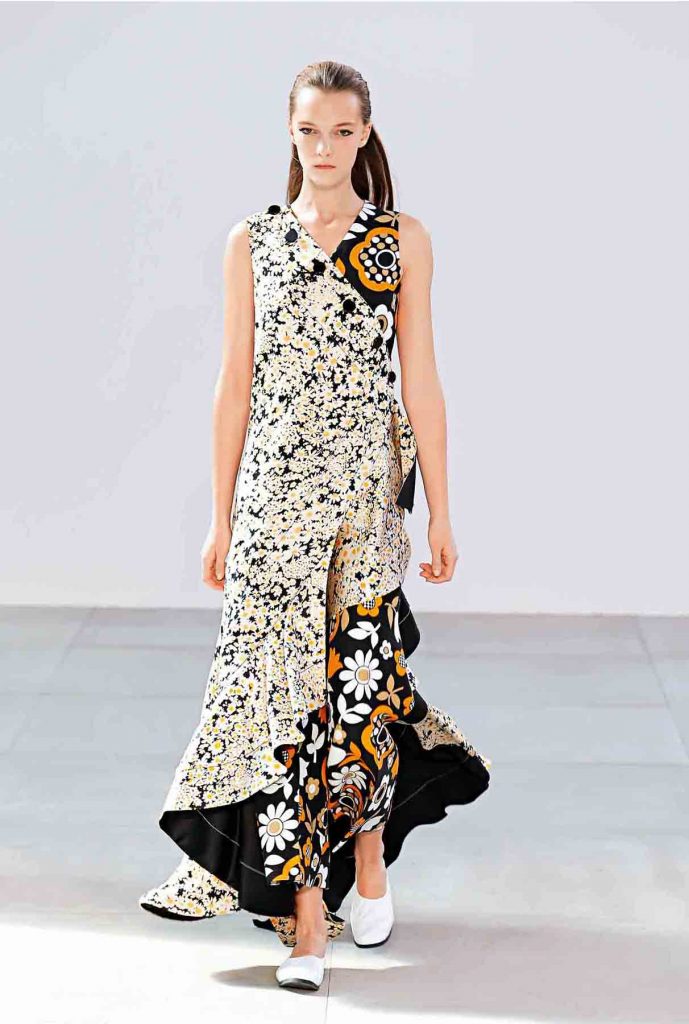 When Phoebe Philo started work on her Spring/Summer '15 collection, she made a deliberate decision not to confine her ideas to any specific themes or narratives, simply letting her thoughts flow from one point to another. The result was a strong 40-look collection that cleverly answers the question of what real women want to wear. It is perhaps Philo's least cohesive Céline collection yet, but also one that has been injected with new energy and lighthearted freshness.
Take for instance the florals. The old Philo would have edited them out of her earlier rigid work. These weren't like the moody florals of Resort '12, printed on leather bikers and sharp pencil skirts. Here, they were loose and free-flowing in soft, feminine colours that called to mind the bohemian Seventies.
Under Philo, Céline has become the go-to for women who require power pieces in which to charge forward. Now a softer side has emerged, clothes to waft around and amble along in. The densely fringed and frayed knit dresses which opened the show made a strong point. They were soft and romantic, but in a womanly way. Philo has a special talent for stripping away the delicate girlishness and preciousness often associated with flower prints, fringe, and ruffles, pairing them with strong black trousers or a tailored coat.
Even when she did cut-outs, they weren't the usual sexually charged pieces. Hers had something off-kilter about them, with little holes cut into the stomach area or large ones high at the waist, seamed with embroidery and revealing more trouser than skin.
Philo might have loosened up and expanded but her work is still recognisable. The predominant silhouette was long, lean, and graceful. She touched on the strong military trend with a pair of army jackets; hers had graphic panels of high-shine leather spliced in. There were still plenty of the precisely tailored trousers and coats that are the brand's bread and butter, now updated with surrealist details such as an unexpected cowbell tied around the waist on string or giant patch pockets. Some even had glaringly white porcelain hands clasped around the neck or snakes and lips pinned onto lapels. It will be interesting to see Philo pushing this richly detailed brand of minimalism and relaxed sophistication forward.