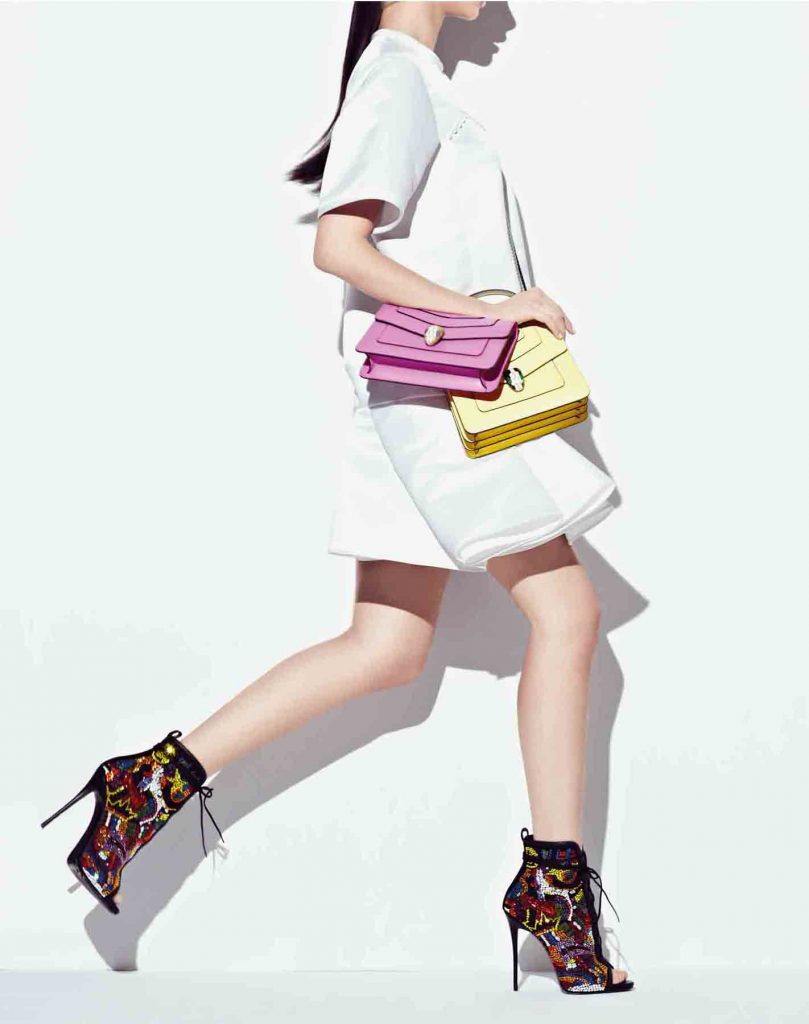 Sensuous femininity, dazzling colours, a certain softness – these are the qualities that make Bulgari jewels instantly recognisable. For Spring/Summer '15 they've applied those very codes to a comprehensive accessories lineup that will find a place in the modern woman's hardworking wardrobe.
For her day-to-day there is the Bulgari Bulgari collection of roomy totes that are structured for practicality but still retain a gentle softness. The handles are luxe golden chains linked through the Roman coins that are the brand's signature; the length adjustable so the bag can be slung nonchalantly over the shoulders like a gym duffle. Big enough to transition from work to weekend and in fresh hues like baby blue and apple green, they'll liven up a classic neutral outfit.
Colour plays a big part in the new collection with cues taken from the rich jewel tones that are the brand's USP. The Musa collection, for instance, consists of boxy cocktail bags in lizard skin that's been painted in the hues of amethyst, rubellite, and topaz. These are paired with gems in contrasting tones for their clasps.
Other cocktail highlights include the Serpenti Hypnotic range – a line of lizard box clutches with the Bulgari icon snaking around the side, its head and tail forming the clasp with gleaming eyes crafted out of malachite, amethyst or jade. Equally stunning are the Minaudière Melone bags, which call to mind large precious eggs. If they looked like they've been intricately worked on, it's because they have. One minaudière takes an artisan up to 18 hours to complete. There is a piece that comes in glossy black enamel and gold lizard skin in a graphic Art Deco motif while another featured Monete coins inlaid in sleek black and silver.
It isn't all precious evening glamour. The Monete coins also pop up as a sophisticated touch on more casual fare. The Monete Tubogas bags come in a rectangular shape featuring a front flap with the ancient coins set on a Tubogas frame (the smooth metal tubing that Bulgari names its chains) as its clasp. With its classic silhouette and long ladylike Tubogas chain, it's an easy-to-wear piece that is both desk- and dinner-perfect.
But the star of the collection has to be the Serpenti day bag. The snake is the brand's most recognisable icon, in the past worn by Elizabeth Taylor in Cleopatra and today by stars such as Naomi Watts on the glitziest red carpets.
For this season though, the serpent takes on a more relaxed attitude; the bags have been refreshed to fit in with a younger, more active lifestyle. Emphasis is placed on colour. Bulgari debuts two new shades – a pop pink called Wild Orchid and the creamy yellow French Vanilla. Longtime fans of the brand might prefer the ones in scarlet or emerald croc skin, but their daughters would probably spring for the mini versions with their youthful crossbody straps. And of course, Bulgari is smart to design for both in mind with this versatile collection.
 Images: Chuan Looi