As 2023 rolls in, with it, comes all manner of exciting book releases – making it a great start to the new year for dedicated book people. With that, we're offering some great reads for the slowed-down days and weeks ahead. Sink your teeth into a new memoir by the Duke Of Sussex, get cracking on the latest novels from TikTok sensation, Lauren Asher or discover something else entirely – but, trust us, you'll be spoilt for choice this month.
Below are some highlights for January 2023.
Fiction
Maame
By Jessica George
Lovable heroine Maddie Wright has a dead-end office job and a dad ill with Parkinson's disease. When her mom returns from Ghana for a year, Maddie leaps at the chance to get out of the family home and starts living her life. She even pushes for more recognition in her career, and throws herself into the bewildering world of internet dating. But it's not long before tragedy strikes, forcing Maddie to face the true nature of her unconventional family. Smart, funny, and deeply affecting, Jessica George's Maame deals with the themes of our time – family, racism, culture, female pleasure, love, and friendship – with humour and poignancy.
Shop Now
Non-Fiction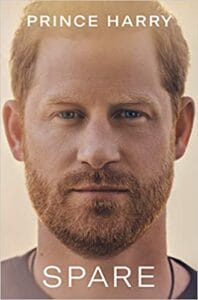 Spare
By Prince Harry
This hugely anticipated memoir from Prince Harry, Duke of Sussex, is likely to be one of the year's biggest books. With its raw, unflinching honesty, Spare is a landmark publication full of insight, revelation, self-examination, and hard-won wisdom about the eternal power of love over grief. The memoir will address, among other events, the tragic death of Princess Diana, who died when Harry was just 12 years old. The best part? The proceeds from the book will be shared with various children's charities around the world.
Shop Now
Mystery & Thriller

Age Of Vice
By Deepti Kapoor
Five people are dead in the surreal aftermath of a violent 3 a.m. incident in New Delhi. From here, author Deepti Kapoor's sprawling crime fiction epic only gets deeper and darker. A profile of the feared Wadia crime family, Age of Vice promises action and intrigue, romance and betrayal, wealth and corruption—all set in the shadowy corners of contemporary India.
Shop Now
Horror
How To Sell A Haunted House
By Grady Hendrix
Horror story maestro Grady Hendrix, author of The Final Girl Support Group comes back with another thrilling book. His latest book follows a pair of estranged siblings forced to sell the family home when their parents die during the pandemic. But, as disturbing events stack up in the house, Louise and Mark have to learn that sometimes the only way to break away from the past is to burn it all down.
Shop Now
Fantasy
Hell Bent
By Leigh Bardugo
The hugely anticipated follow up to author Leigh Bardugo's smash hit Ninth House, the sequel story Hell Bent finds young Alex Stern tasked with retrieving a soul from beyond the gates of the underworld. Expect sinister artifacts, eldritch tomes, dubious allies, occult rituals, and a puckishly subversive take on elite higher education. Dark academia has never been so much fun.
Shop Now
Romance
Final Offer
By Lauren Asher
From TikTok sensation Lauren Asher comes the final book in the Dreamland Billionaires series. Six years ago, handsome Callahan Kane broke the heart of young Lana Castillo. Full of regret, he pledged never to return to Lake Wisteria. When an inheritance situation changes everything, the lovers must face each other again. Book Three in Lauren Asher's Dreamland Billionaires series is all about second chances.
Shop Now
Read More: 18 Best Romance Books Of 2022