SHEEP As the ruling animal this year, you benefit from strong energy. The Tai Sui resides in your sector; carry his amulet to keep him on your side and find yourself with a distinct advantage over other signs. You are flanked by a Big Auspicious star as well as a Small Auspicious one. This indicates success and happiness comes in all forms and sizes for you. Whatever you take on, the challenge can be just as rewarding as the prize. Luck Enhancers: Activate the Purple Star 9 in your sector by wearing purple and silver; this brings money luck as well as spiritual contentment. Afflictions: A low spirit essence makes you vulnerable to insecurity. Don't let others dictate your self worth – stay convinced of your own abilities. Secret Weapon: You enjoy long-run luck, so always be patient while working towards big harvests. There is a lot to reap as long as you pace yourself. Love: You prefer to be chased rather than do the chasing. Still, you are not indifferent to love; and it will be those who can see that, who will be able to catch you.
Illustrated by Jun Kit, the brilliant illustrator who was part of an exhibition titled 'Gangguan', presented by OUR ArtProject.
MONKEY 2015 brings the Star of Future Prosperity for the cleverest sign in the Chinese zodiac. There is great promise for those willing to take on gargantuan projects with long timeframes to fruition. If you think big and have the patience to see things through, the year could be a turning point. You have small successes along the way, but don't be in a hurry to claim the big prize. Every small achievement is a stepping stone to your ultimate goal. Luck Enhancers: Carry the Power Mirror to strengthen the power of your speech; this will enable others to appreciate your ideas. Afflictions: You have to deal with the Robbery Star; be careful not to get mugged or cheated. Carry the Anti-Burglary amulet and get the Anti-Burglary Totem for the southwest of your home. Secret Weapon: Your wit and intellect. Love: Enjoy intimacy and romance. An auspicious time for marriage!
Illustrated by Zac Lee, the award-winning artist who recently showcased his fifth solo exhibit at Shalini Ganendra Fine Art. This year, he is one of the talents featured by SGFA in its Asia Week New York debut.
ROOSTER Despite less than welcome indications, you are strong in 2015 with an excellent life force. Big success will be the result of your hard work and determination. You'll weather some difficult periods, but the Rooster performs best when the going gets tough. Take on the challenge and allow your elemental advantages to bolster your potential. Luck Enhancers: Placed west, the Heart Sutra Pillar will suppress the resident Five Yellow. Now you control all that could go wrong, turning mishaps into opportunities. Afflictions: The Five Yellow and the Three Killings both land in your sector of West this year. These need to be remedied with a Heart Sutra pillar and the Three Celestial Guardians. Secret Weapon: Your resilience and spiritual strength help you make the best of every situation. Love: Your vibrant inner vitality makes you irresistible.
Illustrated by Irene Hoff from her World of Beast collection. Currently based in Bali, this Dutch artist has spent most of her life in Asia.
DOG Look forward to a year filled with personal and professional satisfaction. The Peach Blossom star indicates a fulfilling love life, while the 4-9 Ho Tu brings big profits and commercial success for those in business. You have to deal with a weak spirit essence, which you can correct using the Element Balancing medallion. Vanity mustn't get in the way of your happiness; while you may not get the personal recognition you feel you deserve, enjoy the fruits of your labour. Luck Enhancers: The Big Profits 2-7 Ho Tu mirror is your best bet. Everyone born under the Dog sign should carry one. Afflictions: You have a few this year, but mainly it will be your weak spirit essence and low Wind Horse that you will feel the most. Let others take the limelight and enjoy the little things, which can turn into big things, given time. Secret Weapon: The Dog is naturally loyal and kind. This gains you a lot of friends, who will be there for you through good times and bad. Love: You're feeling romantic, dreamy, and in the mood for love. Fabulous times for the single, but those married should beware of temptations.
Illustrated by Mils Gan, BAZAAR Malaysia's senior graphic designer. Artistically she enjoys working with charcoal, ink, and chalk.
BOAR The Ho Tu brings business luck. You also have the Earth Seal, indicating success and in all you pursue, and a star of Big Auspicious from the direction of the Rat; projects you undertake could well take off in a big way. Opportunities come via a friend born under the Rat sign. Luck Enhancers: Carry the Big Profits 2-7 Ho Tu mirror, and place the Earth Seal in your home sector of northwest. You are also one of the four signs featured in the year's Paht Chee chart. Displaying the Harmony Crest ensures you keep allies. Afflictions: Your weak life force and spirit essence make you less confident. Don't let others intimidate you. Secret Weapon: Your sense of humour, amiability, and ability to charm people from all walks of life. Love: There is magic in the air!
Illustrated by Lalitha NJ. This Malaysian-born artist based in Scandinavia works primarily with watercolour.
RAT Joyous indications on all fronts. The Number 8 Prosperity Star flies into your sector, bringing new opportunities to make money and augment asset wealth. You are flanked by two Big Auspicious stars, and could well be getting your big break this year. Keep eyes and ears open. Luck Enhancers: Capture good luck coming your way by wearing the number 8 as a lucky talisman, be it in the form of a ring or pendant, or even incorporated into your phone number or license plate. The number 8 is always lucky, but it brings exceptionally good fortune for the Rat this year. Afflictions: Your weakness in 2015 will be your poor life force and spirit essence, and you may find yourself easily influenced by others. Make sure all influences in your life are positive. Stay away from those who make you feel bad about yourself. Secret Weapon: Your engaging personality! The Rat is always the life of the party. Keep up the good cheer because you have the ability to charm others into doing exactly what you want. Love: Romance may take a backseat as you focus on other aspects of life. Some of you may be lacking confidence. Don't. You are very engaging when you want to be.
Illustrated by Jun Kit.
OX The Heavenly Star of 6 this year means things fall into place without you having to do all that much. Guided by the cosmos, listen to what the universe is telling you. Pay attention to the signs and allow your intuition to have a say. There is no need to be overly logical in the way you lead your life, because things may well not make any logical sense. Promising stars in your chart include a Big Auspicious star, which you share with the Rat. This could also mean that friends of the Rat sign may be the key to big success. Luck Enhancers: Activate your animal sign sector of Northeast with a Tiger and Ox crystal globe. Crystals enhance intrinsic Earth energy and bring lots of friends; they also strengthen lucky indications brought by the Heaven Star. Wear diamonds; these are fabulous Earth enhancers. Afflictions: You are at conflict with the Tai Sui or the Grand Duke Jupiter, who resides in the sector of your astrological nemesis the Sheep. Avoid facing southwest when at your desk, dining, or having an important conversation. Carry a Tai Sui amulet, and place a Pi Yao or the Tai Sui plaque in the southwest to appease him. Secret Weapon: Your resilience and hardworking ethic keeps you above the fray. Don't let temporary setbacks floor you. Avoid getting into unnecessary arguments. Don't be averse to losing small battles to win the war. Love: Romance blossoms unexpectedly for the Ox this year. Those of you who are single could find love even if you are not looking for it.
Illustrated by Jun Kit.
TIGER With the heavens guiding you this year, all will end well. The Heaven Star features prominently, bringing support from mentors. Have faith you can deliver, and don't let your temper get the better of you, or you could give strength to the Yearly Conflict star. Stay calm, and pounce when the time is right. Luck Enhancers: The Tiger and Ox Crystal Globe brings out all that is lucky in your home sector of Northeast. You benefit from Wood energy, and wearing the colour green (especially stones) activates wealth. Afflictions: Combat the Yearly Conflict star that brings disagreements into your orbit by carrying the Anti-Anger amulet. Secret Weapon: Your drive and determination. Keep your eye on the prize. Love: You are socially popular and appealing in 2015.
Illustrated by David Loong, an artist whose freestyle manner in expressing emotion through art is captured in every stroke of paint.
DRAGON The Dragon can look forward to exciting indications with the Big Auspicious star and the Golden Deity star, which together manifest huge opportunities. Dragons are great at dreaming big, but this is a year when you should take those dreams much further, and turn them into reality. Don't let doubt hold you back; be confident, push through the skeptics, and believe in yourself. Luck Enhancers: For those who want to capture big money luck, carry the Big Money Magic Mirror featuring the Dragon and Snake. Those with friends, colleagues or even spouses born in Snake years are especially lucky; working together brings benefits, and joy. Afflictions: Watch out for the Three Killings, which could bring troubles in threes. Carrying the Three Celestial Guardians as an amulet will help. Secret Weapon: Your confidence and courage. The Dragon can move mountains, as long as your heart is in it. Stay enthusiastic and interested; this way, there is little you cannot achieve. Love: You may not prioritise love, but those who have their eye on you will put you first.
Illustrated by Hafiz Mohd Nordin, a fine art graduate who is mastering the art of intricate ink drawings.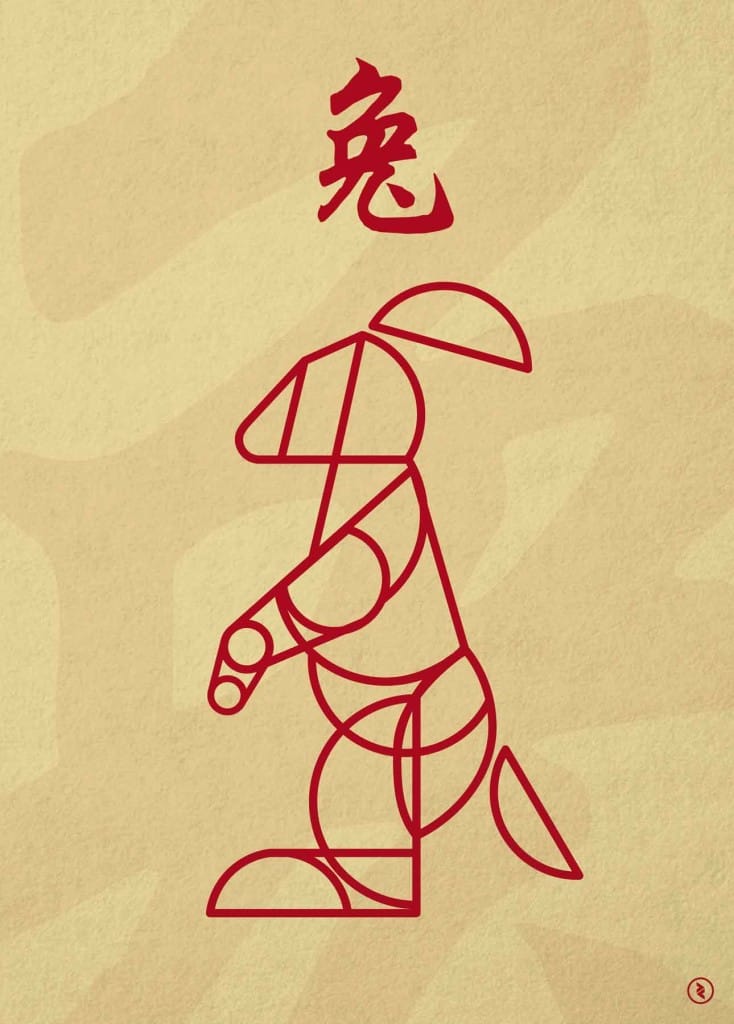 RABBIT If there is one winner of the zodiac race in 2015, it would be the Rabbit. You enjoy the Victory Star, and you are the only sign who benefits from it this year. In competitive situations, chances are high you will come out tops. You also enjoy the Ho Tu of the 1-6 variety. This brings good judgement and great wisdom. Luck Enhancers: Carry the Scholar-Wisdom Ho Tu mirror featuring an image of a rabbit and the wish-fulfilling tree. This opens up huge opportunities for you in a year when your astrological ally the Sheep rules. Afflictions: You have to contend with the Three Killings; never have your back to the west (do not sit facing east). Secret Weapon: Your good nature. Stay virtuous, and you will come out on top. Love: A good year to meet someone new for those who are still single, but pace yourself. Love that blossoms slowly is best.
Illustrated by Rubinden Kumar. Known for his Helvetica posters, this young illustrator is on the rise with his interesting painting methods.
SNAKE Two Big Auspicious stars bring you double success luck in 2015! Look forward to a magical year with the help also of the Golden Deity star. Let things happen; you don't need to be in control all the time. Sometimes it is better to leave things to chance. The outcome will be good whatever course you take. Enjoy the year, keep striving, and believing in yourself. Expect positive things and they will manifest in your life. Luck Enhancers: The Big Money Magic Mirror activates that 2-7 Ho Tu resident in your sector, which not only brings wealth luck but also huge success. The Dragon is your friend; those with Dragon-born people in their inner circle can expect them to be great sources of strength, support, and inspiration. Afflictions: Beware that the illness star doesn't get the better of you. Take care, and don't wear yourself out trying to do too much. Secret Weapon: Your ability to conceal what you are thinking. The Snake is the ultimate poker player; difficult to read, never revealing too much, and acting only when the time is right. Love: You're irresistible, so finding love will not be difficult.
Illustrated by NK. A talented young artist from Malaysia based in the Philippines who works with children from poor families, spreading the joy of art.
HORSE You have two Big Auspicious stars, so despite some risks indicated by the number 7 in your sector, what you lose is more than made up for. Keep your wits about you, be generous, and set up a flow in your life. Let go of some stuff to make way for new things. You benefit this year, as the Sheep is your secret friend, indicating you will enjoy the support of hidden allies. Luck Enhancers: Carry the Harmony Crest of 2015, which features the Horse, Sheep, Boar, and Tiger. Success will come from having solid backing from those in positions to help you. Make things happen by being proactive. Afflictions: The Loss Star will be your biggest setback. Carry the Rhino and Elephant amulet, and have the Anti-Burglary Totem in your home sector of South. Don't cry when you lose things; see it as an opportunity to refill, replace, and replenish. Secret Weapon: A free-spirited creature, you possess a wild side. But channel all that unbridled passion into worthy causes. Love: There's danger of your partner straying if you are not attentive enough. Make time for your significant other if you don't want heartache.
Illustrated by Bahijah Wahid, artist and designer of quirky tees for Arttee Apparels, a creative collaboration with her husband.