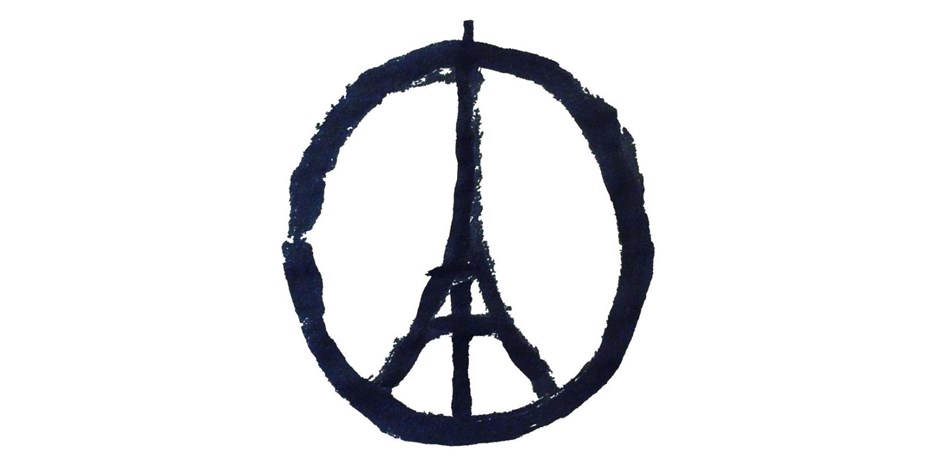 Illustration by Jean Jullien
As people all over the world take to social media to voice their support for Paris following the devastating terrorist attacks, one symbol has become the dominant image associated with the tragedy and the grief in its aftermath. Within hours of the news breaking on Friday night, a unique drawing featuring the Eiffel Tower at the center of a peace sign started popping up all over Instagram, Twitter and Facebook.
Like most viral images on social media, the source is unknown to those who share it — but the context of this particular icon compelled a deeper search for its origin. Slate discovered the original to be the work of a French illustrator by the name of Jean Jullien. Jullien, who has created other graphics to depict notable political and cultural events (including the Ferguson shooting and the Charlie Hebdo massacre that took place in Paris earlier this year), posted his "Peace for Paris" drawing to Twitter after learning of the attacks.
"I turned on the French radio and I heard about what was happening. So I just sort of started checking on my friends and family through social media, and everybody was saying 'I'm OK'," Jullien told Slate via Skype. "And just because this is what I do, I draw, I reacted graphically, just drawing something spontaneously with pen and paper and then sharing it as a raw reaction. With so much violence and tragedy—we just want a bit of peace."
When asked about how he landed on this concept, Jullien replied, "This was the first thing—when I put my brush on paper, this was the first thing that came… It was just me trying to combine two thoughts – Paris and peace. And somehow graphically it seemed to work. I just wanted something symbolic, something that everybody could understand easily, and everybody could share regardless of where they're from… I just wanted something universal."
The symbol, which now saturates the social media feeds for such hashtags as #PrayersforParis, #PeaceforParis and has been posted by celebrities like Kim Kardashian and Cara Delevingne is, in a way, exactly as Jullien intended: "An image for everyone." Though he never expected it to spread the way it has: "It is somehow quite organic, the way these things go—you can't really plan on it. I would just say that if people have used it so much, and if they felt like it was useful for them to share, then the image worked."
Via: Harper'sBAZAAR.com