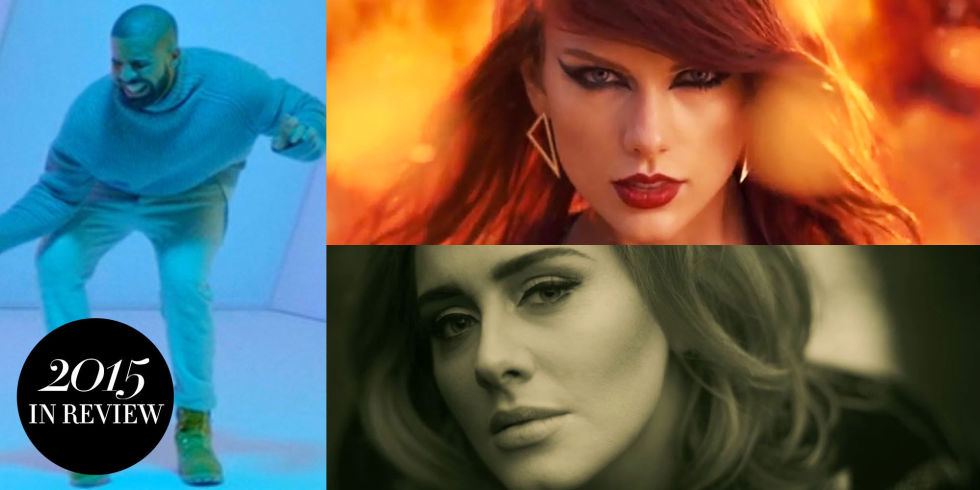 You might've already heard (and made your winning predictions for) next year's Grammy nominatioss, but which songs won us over in 2015? Here, BAZAAR rounds up the biggest songs of the year, from viral hits to new classics.
"Hello" by Adele
Without question, the first single off 25, arguably the most highly-anticipated album of the year, is one of 2015's biggest hits, meeting the perfect balance between an emotional ballad and pop chart-topper.
"Hotline Bling" by Drake

Spotify's most streamed artist of 2015 brought many a hit to the airwaves this year, whether it was from his own album If You're Reading This It's Too Late or with Future in What a Time to Be Alive. But his most influential might be this single, which boasts a viral, gif-inspiring music video.
"Bad Blood" by Taylor Swift

With a star studded, adrenaline-pumping music video and a collaboration with Kendrick Lamar, "Bad Blood" made for a major hit. After debuting the video at this year's Billboard awards, Swift racked up 20.1 million views in 24 hours, breaking Vevo's world record.
"Truffle Butter" by Nicki Minaj feat. Drake and Lil' Wayne

From Nicki Minaj's Pinkprint came this killer collaboration. With a subtle beat (a slowed-down version of house track "What They Say" by Maya Jane Coles), it's not as in-your-face as, say, "Anaconda," but it still made headlines—partially because of the title's naughty double meaning.
"Trap Queen" by Fetty Wap

Hip-hop newcomer Fetty Wap made quite an entrance to the scene, with consecutive summer hits and a studio album that debuted at No. 1. We will never think of "cooking pies" the same way ever again.
"Can't Feel My Face" by The Weeknd

The alternative-R&B singer broke out of his shell with this upbeat, funk-inspired song. It placed at #1 and a second single followed at #2 in the same week, making The Weeknd one of the few artists who've simultaneously covered the top two slots on Billboard's Hot 100 chart.
"Love Me Like You Do" by Ellie Goulding

Thanks to the box office success of Fifty Shades of Grey, Goulding's anthemic love song, which served as the movie's theme, became a massive hit last winter.
"Bitch Better Have My Money" by Rihanna

Rihanna had a big year on the fashion end—becoming the face of Dior, selling out her Puma sneaker collab (twice) and hitting the Met Gala in an immediately-iconic Guo Pei gown—but she made big moves on the music front too. Though she hasn't released an album since 2012, "BBHMM" is the badass theme song we need to get pumped for her forthcoming LP, "Anti."
"Elastic Heart" by Sia

"Elastic Heart" is the genius singer-songwriter's heart-pounding single from the album 1000 Forms of Fear. Her music video unexpectedly starred Dance Mom's Maddie Zeigler and Shia Labeouf, though some found it controversial.
"Jealous" by Nick Jonas

If anything, this was the year of the reincarnation of Nick Jonas. Forget the boy band heartthrob; the R&B solo artist is now suavely reminiscent of Robin Thicke or Miguel. The single's release last fall marked the commencement of that transition, allowing him to blow up into a full-blown star this year.
"Uptown Funk" by Mark Ronson feat. Bruno Mars

This feel-good song was ubiquitous at the start of 2015, with songwriter Jeff Bhakser telling LA weekly that he worked on the song for nine months. Seeing that "Uptown Funk" is now in the running for three Grammys (and is Michelle Obama's favorite song of the year), all that hard work paid off.
"Fight Song" by Rachel Platten

Singer-songwriter Rachel Platten brings a more inspirational track to the mix, with a simple but climactic melody and relatable, motivating lyrics. Her follow-up single, "Stand By You," is equally uplifting.
"Flesh Without Blood" by Grimes

From her long-awaited album Art Angels, which was released in November, Grimes' "Flesh Without Blood" is the indie singer's eccentric take on the modern pop song, but she makes it her own. Though uptempo and dance-worthy, Grimes sings with her signature ethereal voice.
"Where are Ü Now" by Justin Bieber, Skrillex and Diplo

Comeback kid Justin Bieber surprised audiences when he returned with a new style, both in music and fashion. "Where are Ü Now" signified his redemption as the Prince of Pop, with the help of Jack Ü, the collaborative brainchild of Skrillex and Diplo.
"King Kunta" by Kendrick Lamar

Lamar's funk-infused rap track was the explosive precursor to his long-awaited and equally provoking To Pimp a Butterfly. The album, which followed up his 2012 LP good kid, m.A.A.d city, spent two weeks topping Billboard's charts, the first album to do that since Taylor Swift's 1989 a few months prior.
"Watch Me" by Silentó

Seventeen-year-old Silentó made his debut with this viral song, which spread like wildfire among teens and (confused) adults alike. We have him to thank for two new dance moves (and vocabulary words).
"Love Me Harder" by Ariana Grande feat. The Weeknd

From her album, My Everything, Grande's duet with The Weeknd is her synth-y, grown-up song. Though mellower than her previous hits like "Problem" and "Bang, Bang," "Love Me Harder" is no less catchy.
"Talking Body" by Tove Lo

This Swedish singer, who broke through with her single "Habits (Stay High)," is known for her electro-pop sound and raw lyrics. A rookie to the major music scene, Tove Lo made an impressive accomplishment by having two pop hits just off her debut album, Queen of the Clouds.
"Thinking Out Loud" by Ed Sheeran

Songwriting mastermind Ed Sheeran shows us he's just as much a hopeless romantic as you with this charming love song. Turns out, even the Grammy judges were smitten—Sheeran got three nods for this sweet hit.
"Lean On" by Major Lazer feat. MØ and DJ Snake

Danish electro-indie singer MØ made her breakthrough into the mainstream airwaves when this collaboration blew up over the summer. In fact it's the world's most-streamed track on Spotify this year, garnering over 540 million plays.
Via: HarpersBazaar.com