You're going to be booked out
With tons of new books on the roster, there's nothing you wouldn't love this month. Trust us when we say you're going to be booked out this Fall. From steamy romances to blood-curdling thrillers and perspective fictions, there are captivating reads this month and we can't wait to add them to our 'to be read' list. 
Scroll below to see what books to read in September 2023.
Upgrade your TBR list with these books:
Things We Left Behind 
Lucy Score 
Back with another spicy read, Lucy Score will not disappoint us with this one. Things We Left Behind follows the highly anticipated couple everyone's been waiting for in the Knockemout series, Lucian and Sloane. In this enemies-to-lovers book, you see them being bonded by an old, dark secret from the past while bickering non-stop until it turns into a steamy one-night stand. But, with Sloane ready to start a family and Lucian refusing to consider the idea of marriage, these two find themselves stuck.
Release Date:
5 September 
The Long Game 
Elena Armas
From the author who brought us The Spanish Love Deception, Elena Armas is back with another swoon-worthy book. In this romance tale, a disgraced soccer executive reluctantly enlists the help of a retired soccer star in coaching a children's team. The fun part? They hate each other's guts, which means there's going to be tons of sexual and emotional tension and we're here for it! 
Release Date:
5 September
Holly
Stephen King
Calling all Stephen King's fans — the author is back with another suspense thriller that'll have you gripping the edge of your seat. Following one of King's most compelling characters, Holly Gibney, this book sees her trying to solve the gruesome truth behind multiple disappearances in a midwestern town. Compellingly brilliant, this book should be on your TBR list.
Release Date: 5 September 
Evil Eye
Etaf Rum
From the New York Times bestselling author of A Woman Is No Man, Etaf Rum returns with a spellbinding contemporary fiction. This book follows a Palestinian-American woman who gets put on probation at work after an altercation with a colleague's racist provocation. She then goes through a whirlwind of emotions trying to find the meaning of life.  
Release Date:
5 September
The Fraud
Zadie Smith
Based on true historical events, The Fraud is a historical fiction about Jamaica and Britain, and the legal trial that divided Victorian England. It's frighteningly honest and raw. 
Release Date:
5 September
The Brood
Devney Perry
If you've read any of Devney Perry's books then you know she can't do anything wrong. This is a small town, brother's best friend romance that you'll instantly love. There's going to be tons of pining, angst and fluff that will make you swoon. The book follows Wilder Abbott who has to give up his guest room to his friend's little sister, Iris Monroe. But, things take a turn when the broody man lays eyes upon her beautiful smile and blue eyes.
Release Date:
7 September
The Vaster Wilds
Lauren Groff
If none of the above are your forte, then this perspective and historical fiction might catch your eye. Written by Lauren Groff, this new tale tells the story of a spirited, servant girl alone who escapes from a colonial settlement in the wilderness and tries her best to survive. This is a powerful read about learning how to live in a world succumbing to the churn of colonialism. 
Release Date:
12 September
The Summer I Saved You
Elizabeth O'Roark 
Full of sensational angst, this steamy, single-parent romance book is on top of our reading list this month. Written by none other than Elizabeth O'Roark, you know this book will be filled with tons of tension, impeccable sex scenes and heartfelt moments. This book follows Caleb and Lucie who've known each other since they were 6 and unexpectedly fall in love with each other during the worst time of their lives. Can be read as a standalone, this is book two in The Summer series.
Release Date:
14 September
Tempt Our Fate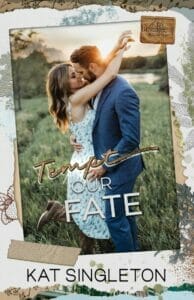 Kat Singleton
When the arrogant, self-absorbed billionaire and heartthrob opens a fancy art gallery next door to her bakery, Pippa finds herself in a pickle — falling in love with him. Tempt Our Fate is an age-gap, enemies-to-lovers romance book that has sinful, spicy scenes that will have you kicking and giggling. 
Release Date: 21 September
The Fragile Threads of Power
V.E. Schwab
From the author of The Invisible Life of Addie LaRue, The Fragile Threads of Power is set in the same world as A Darker Shade of Magic by V. E. Schwab.  Kickstarting a new adventure, this book follows a girl with an unusual magical ability who comes into possession of a device that could change the fate of four worlds. She's the only one who can bring them together―or unravel it all.
Release Date: 26 September
Land of Milk and Honey
C Pam Zhang
The award-winning author of How Much of These Hills Is Gold returns with a fantastic novel about a young chef who discovers the joy of pleasure in a dying world where food crops are rapidly dying. The book explores the themes of desire, deception, privilege and faith, and the roles we play to survive.
Release Date: 26 September