It's that time of the month again when we tell you what books to read. And, trust us August has some good sets of literary masterpieces on its roster. From a steamy romance to a dark thriller, there are tons of options for all ages.
Scroll below to see our list of new books to read in August 2023
Here are all the new books you need to read this month:
Glimmers Of You
By Catherine Cowles
Looking for a steamy romance read this month? Look no further. Catherine Cowles' newest book is a small-town romance with the brother's best friend's trope. So, best believe it's going to be filled with lots of angst, mutual pining, forced proximity, and phenomenal banter. The book follows Grae who is forced to fake date her brother's best friend in hopes that it will stray her creepy ex away, but there's no denying the chemistry that sparks when they're faking it.
Release Date: 1 August
Read Now
In The Likely Event 
By Rebecca Yarros 
From the author who brought you Fourth Wing, Rebecca Yarros is back with another sensational read. This contemporary romance book follows Izzy Astor who unexpectedly gets charmed by a rugged, blue-eyed man, Nate Phelan in a plane. However, after takeoff, they, unfortunately, get into a plane accident, changing their lives forever. Despite a few chance encounters over the years, the timing never felt right for the both of them, until Nate is tasked with protecting Izzy's life in Afghanistan. 
Release Date: 1 August
Read Now
Crossed
By Emily McIntire
Calling all the dark romance girlies – this is the one for you. Emily McIntire is back with another reimagining of a fairytale and this time it's all about the fractured fairytale of The Hunchback of Notre Dame. This unorthodox romance book sees Father Cade Frédéric, a holy priest who becomes enamoured by Amaya Paquette, a risque dancer. Believing it's witchcraft, Father Cade is doing everything he can to get rid of this weakness – the only woman he ever loves. 
Release Date: 1 August
Read Now
The Bookbinder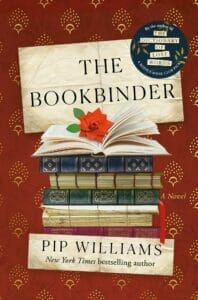 By Pip Williams
The author of The Dictionary of Lost Words is back with another classic hit. This book follows a young British woman who works in the bindery at the university press. Despite being told most of her life that her job is merely to bind the books and not read them, Peggy unexpectedly begins to see the possibility of another future where she can educate herself and use her intellect, not just her hands. When World War I upends her life in this new novel, Peggy starts to explore another slice of reality for herself and other women. 
Release Date: 1 August
Read Now
Tom Lake
By Ann Patchett
This literary masterpiece follows Lara who gets forced to tell the story of her romance with a famous actor when her three daughters return to the family's orchard. As Lara unfolds her past, she and her daughters start to reconsider the world and everything they thought they knew. The book goes into family dynamics, youthful love, and the realities of life.
Release Date: 1 August
Read Now
Good Bad Girl
By Alice Feeney
In this dark and twisty mystery thriller, a woman gets murdered in a care home twenty years after a baby is stolen from a stroller. The surprising part? The two crimes are somehow linked and someone is the key to discovering it all. Bestselling author of Rock Paper Scissors, Alice Feeney, returns with another thrilling book filled with twists and turns. 
Release Date: 3 August
Read Now
Hideaway Heart
By Melanie Harlow
In need of a fun, fluffy romance read? Then, this one is perfect for you. Written by everyone's favourite romance author, Melanie Harlow, this new novel by her will have you kicking, smiling, and giggling. Hideaway Heart follows Pixi Hart, a country music sensation who gets stuck in a tiny cabin with her hot, tall, and bearded bodyguard. The best part? There's a one-bed trope! So, do expect steamy sex scenes, built-up tension, and a broody alpha male. 
Release Date: 7 August
Read Now
The Blonde Identity
By Ally Carter
In this fast-paced, hilarious romance book, a woman with amnesia unexpectedly discovers she has an identical twin sister, who is a rogue spy. Heading off on a road trip to get away from a criminal organisation who wants her dead – her sister – she teams up with a rugged, grumpy operative to stay alive.
Release Date: 8 August
Read Now
The Heaven And Earth Grocery Store
By James McBride
Forging mystery and his masterful storytelling skills, James McBride brings us another compassionate read that will leave us in awe. This novel is all about small-town secrets and the people who keep them.
Release Date: 8 August
Read Now
The Brothers Hawthorne 
By Jennifer Lynn Barnes 
Fans of The Inheritance Games trilogy will devour Jennifer Lynn Barnes' newest book instantly. This will not be a sequel but a spin-off of her bestselling three-book series. The book will still follow the four brothers and their missions to save their families without being dragged down by emotional entanglements. 
Release Date: 29 August
Read Now